Interview with Mark Whitfield, The Man Himself
It's finally here:
As the final post in the FretDojo.com series on jazz blues guitar I've featured this month, I'm honored to welcome critically acclaimed jazz guitarist Mark Whitfield, in this exclusive interview.
Simply put, this was one of the best conversations about jazz guitar I've ever had, and I was thrilled that Mark had time in his busy schedule for our conversation.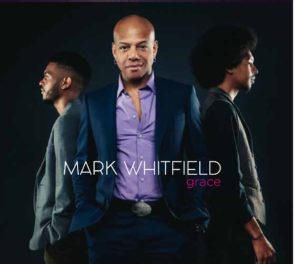 This interview also includes the title track off Mark's brand new album, Grace – his 15th album as a bandleader and first release for 7 years.
A truly family affair, the new album features his two sons, Davis Whitfield on keys and Mark Whitfield Jr. on drums, as part of the Whitfield Family Band. I highly recommend checking it out! Get the album here>>
Interview: Video Version
Interview: Audio Version
Download the Audio Version Here >> (Right Click + Save As…)
 About Mark Whitfield
Mark Whitfield is one of the most highly regarded jazz guitarists alive today.
Throughout his career, he's collaborated with legendary artists including Dizzy Gillespie, Art Blakey, Quincy Jones, Ray Charles, Herbie Hancock, George Benson, and many others.
In 1990 the New York Times dubbed Whitfield "The Best Young Guitarist in the Business". Later that year, Warner Bros. released his debut album The Marksman.
I reached out to Mark after working on a transcription from one of the tracks from this album: The Blues From Way Back, a jazz guitar blues I've been featuring lately on this website.
(Check out the full transcription I did of Mark's solo from the Blues From Way Back here and a breakdown of essential licks from the solo here.)
In the interview, you'll learn about…
Album's and Resources Mentioned By Mark:
Thanks for Checking This Out!
To share your thoughts:
Special thanks to Mark Whitfield for joining me this week. Find out more about Mark Whitfield via these links:
Until next time!