The Blues, from Way Back by Mark Whitfield (Part 1): Transcription and Analysis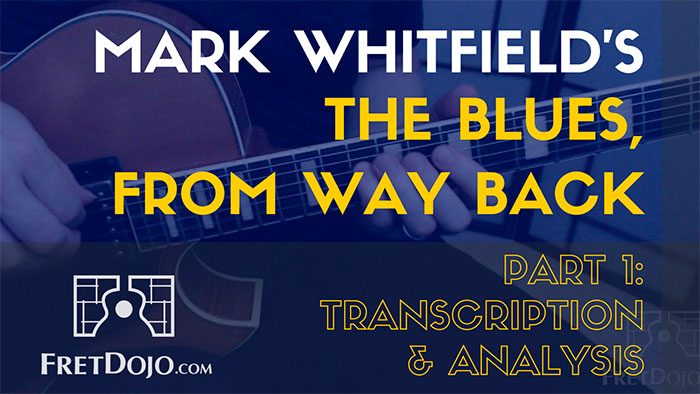 I've got something special to share with you today.
To kick off this month's series on jazz guitar blues, you're going to learn a complete transcription of highly acclaimed jazz guitarist Mark Whitfield's solo from The Blues, from Way Back: a track from his classic debut album, The Marksman (1990).
In today's post, you're going to learn:
The reasons why studying transcriptions is so important for any jazz guitarist
How to play the complete transcription of Mark Whitfield's first solo from the recording of The Blues, from Way Back
A general overview of the types of approaches and concepts Whitfield uses in this solo.
Cool Bonus: 
Get access
to a FREE print friendly PDF version of 
The Blues, from Way Back
transcription by Mark Whitfield, complete with notation, TAB and analysis.
First, let's have a brief discussion on why to learn a transcription in the first place…
Why Learn a Jazz Guitar Blues Transcription?
Learning transcriptions of master players is one of the most important things you can do as a jazz guitarist.
The reason?
It gives you a complete all-around jazz guitar workout.
Here's how it works:
Usually transcriptions are tough technically, so learning a transcription is a great way to build up your technique.
You'll learn a wealth of jazz vocabulary that fits well together, giving you plenty of new ideas to bring into your own playing.
Learning a transcription is the best way by far to train your ears – especially if you transcribe a recording from scratch.
By playing a transcription along with the original recording it was transcribed from, you'll get a sense of how to add shape to your own solos – i.e., how to structure the rise and fall of a solo in order to tell a captivating musical story.
The last point is particularly important.
If you just learn jazz guitar licks in isolation, without listening to the lick in the context of the full solo it came from, you won't get a well-rounded picture on how to the lick effectively as you improvise.
Here's the thing:
Even if you end up only delving into a few licks from a transcription after you learn the full solo, these licks act as a kind of 'trigger' in your mind for the general vocabulary and approaches contained in the complete transcription.
So, learning a transcription is a very effective way to learn a huge amount of jazz vocabulary in a short space of time.
Convinced? Good. So let's now dig into the transcription itself…
The Blues, From Way Back
The Blues, from Way Back is a track from Mark Whitfield's debut album The Marksman, which catapulted him to international recognition in the 90s after he graduated from Berklee College of Music.
Why did I want to transcribe this recording?
This solo is probably the best example of jazz guitar blues I've come across, so I was keen to study this one intensely in order to get a more authentic jazz blues sound into my improvised lines.
Here's the original recording of The Blues, from Way Back on YouTube:
What I particularly like about this solo is how seamlessly Mark Whitfield weaves traditional blues ideas between sophisticated bebop vocabulary.
Learning this solo has also been a great technique builder for my own playing.
Both the bluesy licks and the bebop lines are classic pieces of vocabulary that are really worthwhile to work into your own playing.
Presenting The Complete Jazz Guitar Blues Transcription!
So here it is:
The complete transcription of Mark Whitfield's first solo from The Blues, from Way Back.
Watch the video to get a demonstration of the fingerings I used to play the solo, then read through the notation and TAB of the transcription below.
(Hint: If you want a print-friendly PDF of the transcription,

click here to access it now).
Note: Fast-forward the video to 5:00 in for a close-up slow-motion view of my hands as I play the solo (if you need a closer look at the fingerings in action).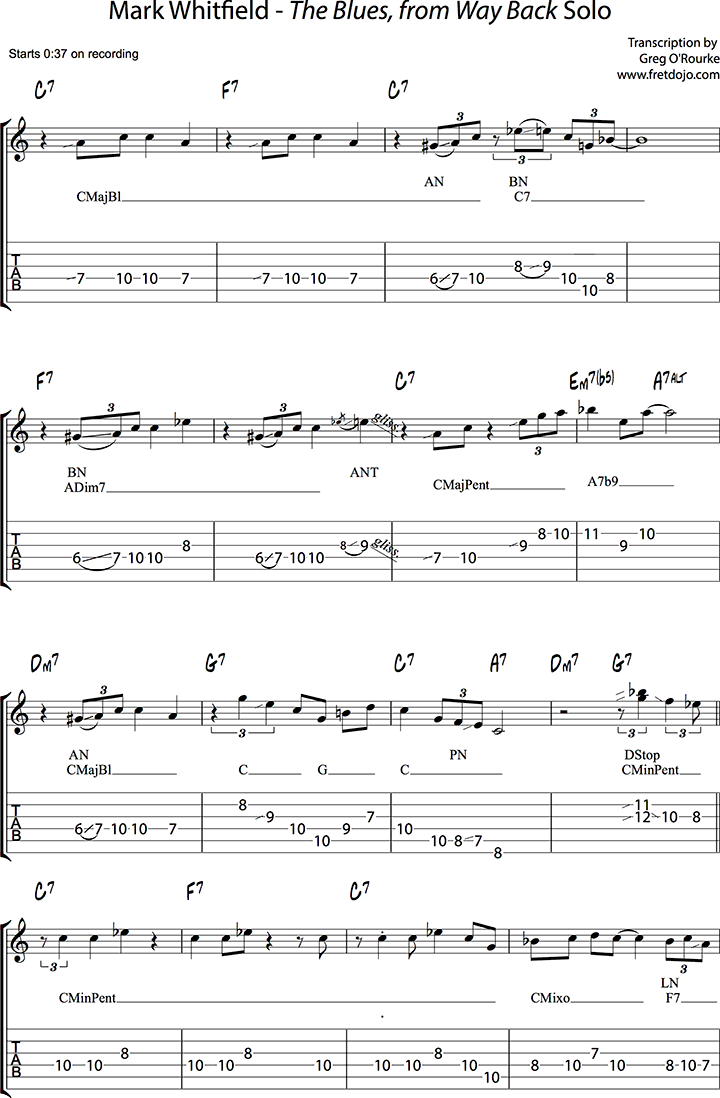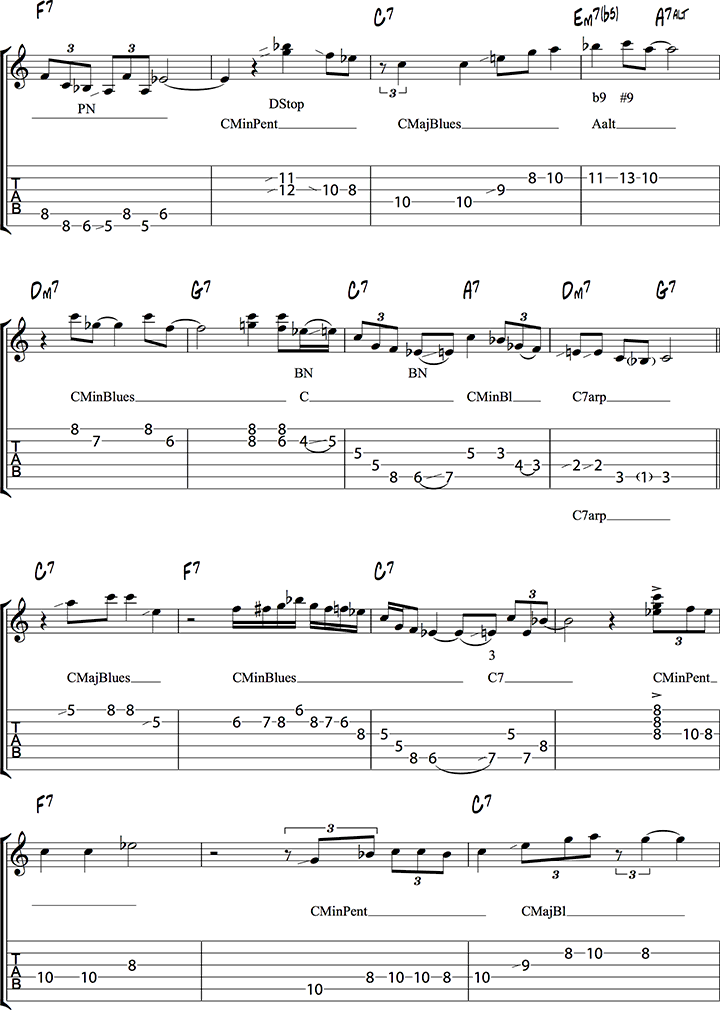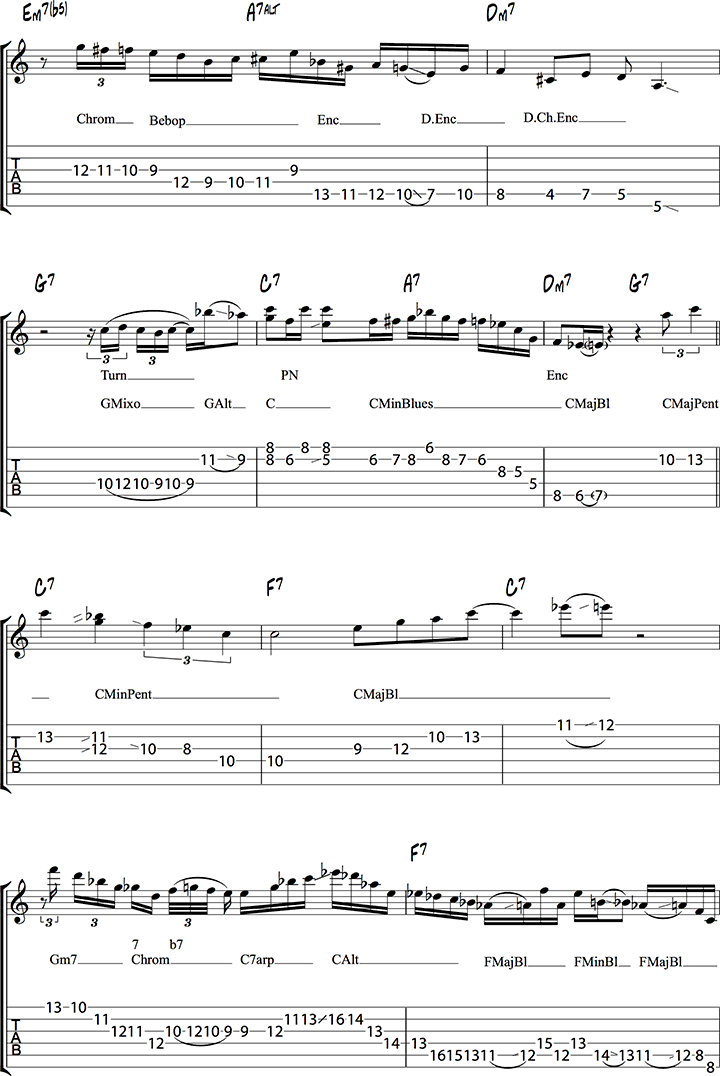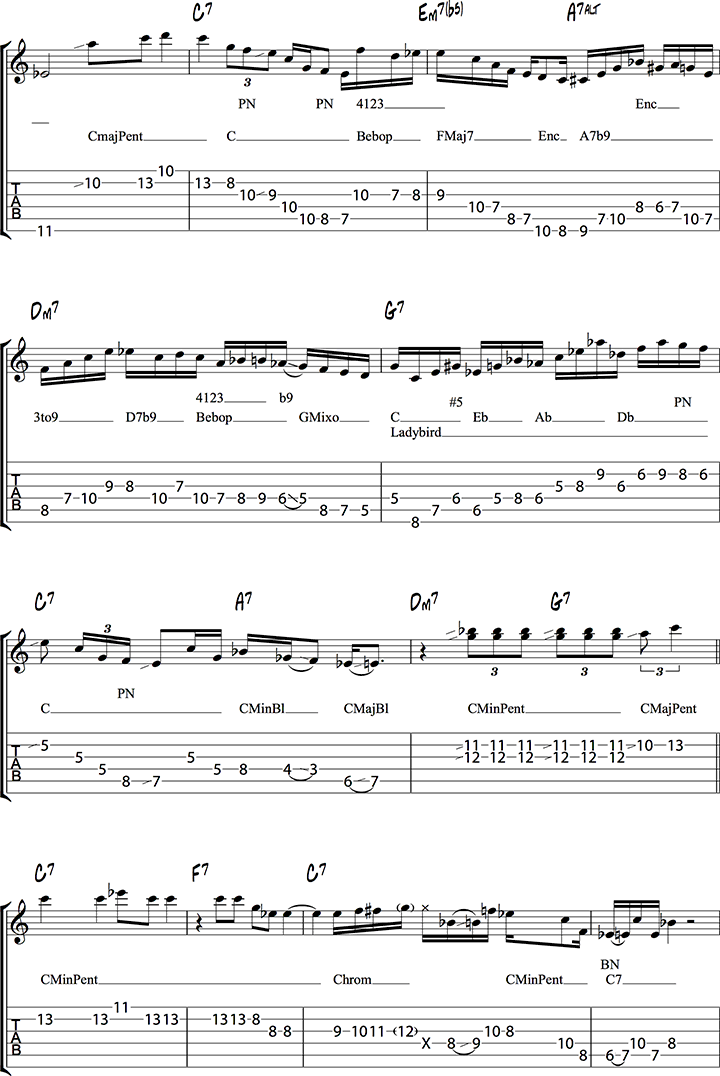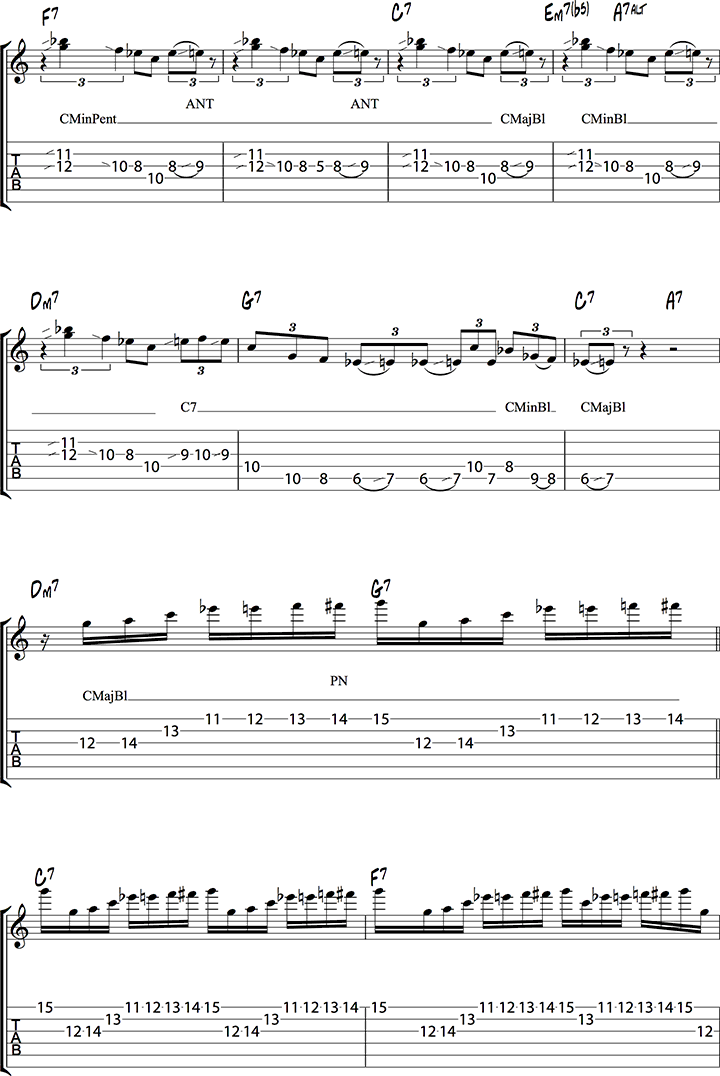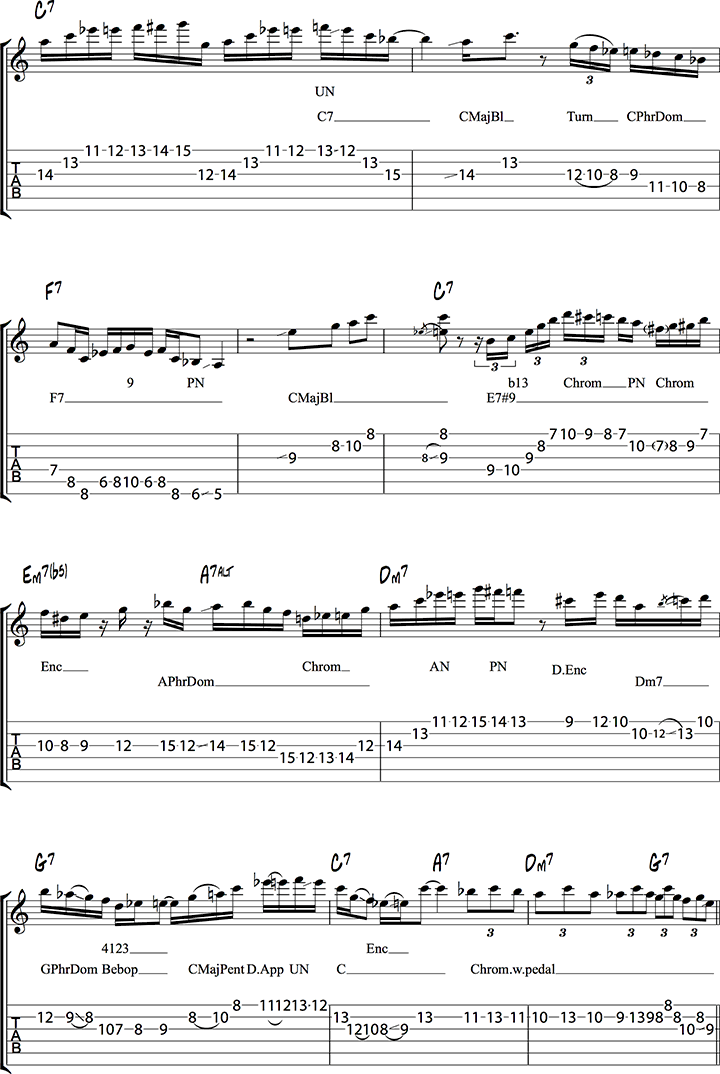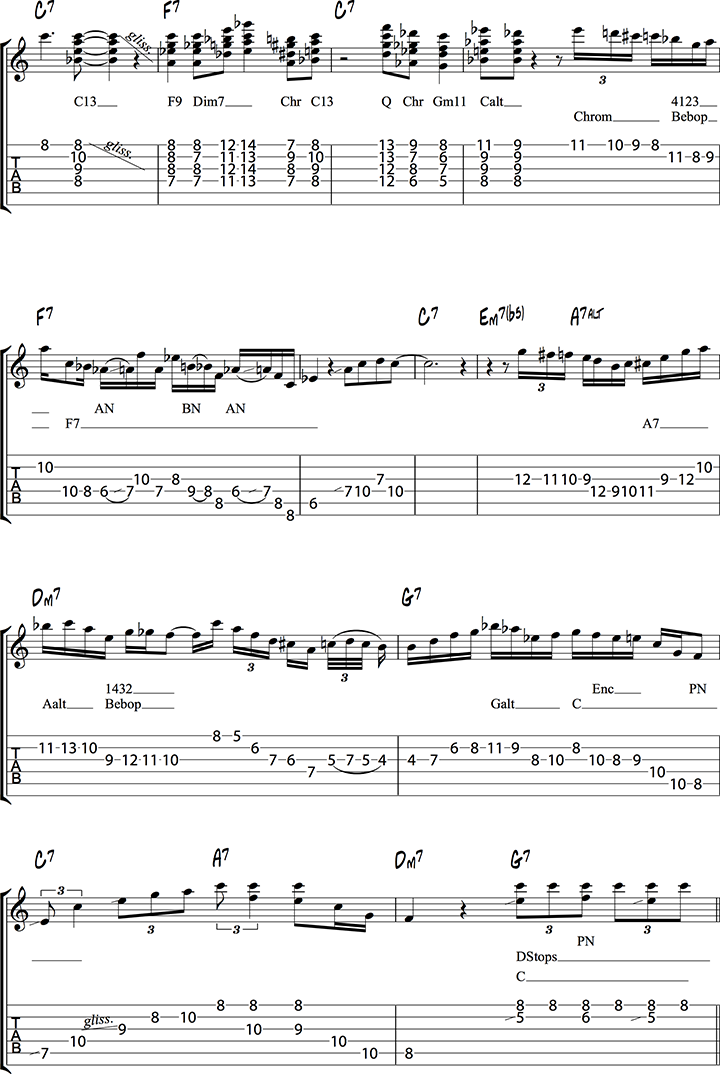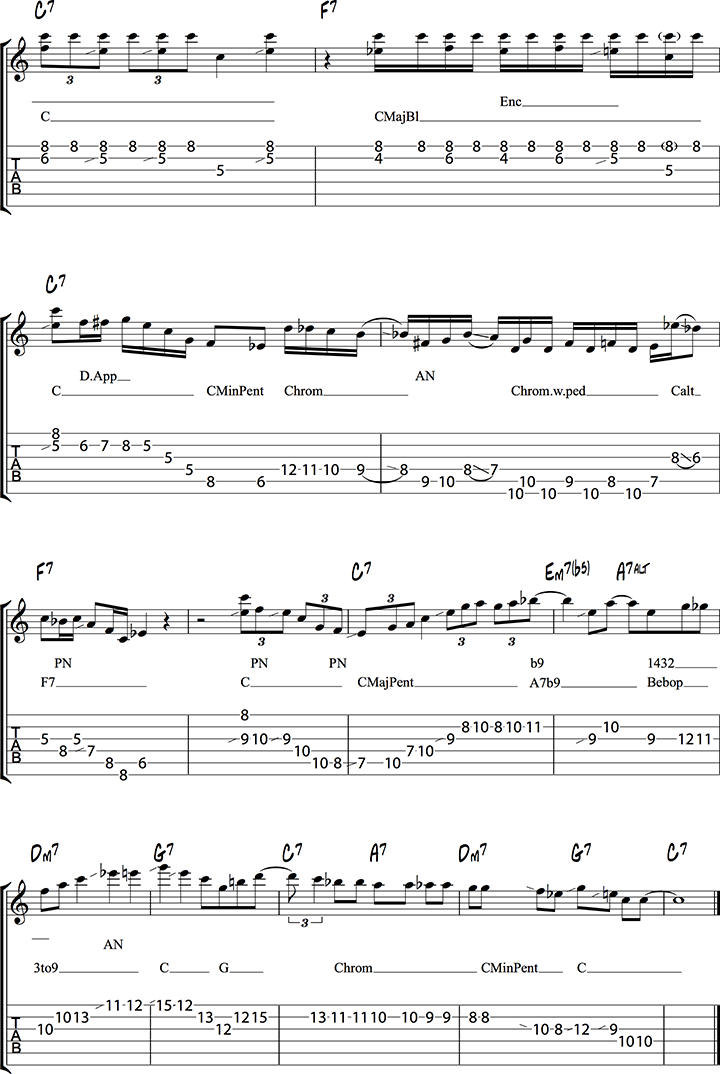 Backing Track:
Having trouble printing out the above transcription? Get a print-friendly PDF version by clicking here…
You may be scratching your head as to what some of the annotations are in the analysis below the notation, so here's what they all mean:
Key:
4123 = Bebop finger pattern using 4123 fingers in that sequence
Aalt = A Altered Scale
AN = Approach Note
ANT = Harmonic Anticipation
APhrDom = A Phrygian Dominant Scale
BN = Blues Note
C7arp = C7 arpeggio
Chr = Chromatic Approach Chord
Chrom = Chromatic notes
CMajBl = C Major Blues Scale
CMinPent = C Minor Pentatonic
CMixo = C Mixolydian
App = Double Approach Notes
Ch.Enc = Diatonic Chromatic Enclosure
Enc = Diatonic Enclosure
DStop = Double Stops
Enc = Chromatic Enclosure
LN = Lower Neighbour Note
PN = Passing Note
Q = Quartal Voicing
UN = Upper Neighbour Note
Now the exciting bit:
If you're keen to have a structured, step-by-step approach to learning jazz guitar, it might be worth checking out my online learning system, the FretDojo Jazz Guitar Academy.
Here's what you get when you join up:
Detailed step-by-step video lessons on new classic jazz tunes and essential jazz guitar skills added to the club website each month. Includes listening recommendations, demonstrations of the melody, analysis of the harmony, and detailed explanations on how to solo over the tune.
Key improvisation concepts and techniques for soloing, and classic licks and example solos that relate to each tune, so you can continue to expand your jazz vocabulary and have more options when it comes to soloing.
Detailed comping ideas to suit the style of each jazz standard covered
Lessons on how to make chord melody and solo jazz guitar versions of tunes featured - play a complete jazz standard completely on your own like Joe Pass!
Members only forum - A worldwide community of jazz guitarists from all around the globe.
Regular workshops, masterclasses, and Q & A Sessions - get direct answers from me on anything holding you back in the practice room. Replays of all sessions are available to access for all members even if you can't make it live.
Massive searchable database of jazz licks and soloing concepts - the ultimate idea "grab bag" for your solos.
Optional monthly challenges where members participate to get feedback on their playing, reach new milestones and be eligible for cool prizes.
The best part:
You can access this all of this and more for just $1 by signing up to a 14 day trial. Go here for more info: https://www.fretdojo.com/signup-offer
Also, you may have noticed that I play entirely fingerstyle on the video, but Mark Whitfield uses a pick on the original recording.
A confession…
My plectrum style simply wasn't up for the job of playing a solo as difficult as this, so I resorted to using my more secure fingerstyle technique for this one.
Feel free to use either a pick or fingerstyle to play this solo depending on what you're most comfortable with.
Tips for Learning a Transcription to Get Great Results
There's no doubt about it:
When you study a transcription like this, it's crucially important to practice it in an effective way.
Here are some tips to ensure you end up getting the sounds of the transcription into your own playing when you improvise:
Memorize the transcription – don't just read it off the page! Learn the transcription just one small phrase or even one bar at a time, and memorize it as you go. You'll learn it faster, and assimilate the sounds into your ears much more than if you read a whole page at a time and then try to memorize a whole chunk at once. You'll find that if you memorize as you go, you'll memorize it much faster and more securely that way.
Listen to the video (especially Mark Whitfield's original recording of The Blues, from Way Back). Don't just try to emulate the notes and rhythms, but also the sound, feel and phrasing that he uses in his playing. This is all the stuff you can't notate on a page but is one of the most important benefits of learning a transcription: learning how to shape and 'speak' your phrases in an authentic way.
Once you can play the transcription through, circle licks and patterns that appeal to you in the solo, and practice incorporating them into your own improvisations.
Practice improvising on a blues backing track in the style of the transcription you've just learned – this is a great way to bring your own original voice to the material.
One more thing:
Pay close attention is to the fingerings that I've given in the TAB – it matches the fingerings that I play on my video. Getting a workable fingering is one of the most crucial aspects of being able to sound fluent on your instrument.
Vocabulary Ideas Used in The Blues, from Way Back
Let's look at some general points on the ideas Whitfield uses in his solo to create interest. Start experimenting with these in the woodshed, as they are classic jazz blues vocabulary ideas:
Sliding from b3 to 3 – this is a well-known blues cliche but Whitfield does it so much throughout the solo it helps give that classic blues sound throughout.
Harmonic Anticipation: Whitfield often anticipates a chord in his solo before it appears in the rhythm section. This is a simple way to create interest and forward motion in your playing and is a technique that's been used since Charlie Christian. In particular, Whitfield often anticipates the I7 (C7) chord when the harmony is still on V7 (G7).
Harmonic Generalization – This means using the same lick or idea without transposing it over various key centers. This is an easy way to create tension and interest.
Alternating C Major Pentatonic/Blues and C Minor Pentatonic/Blues – using these two distinct harmonic colors is another classic blues idea that helps to keep the interest going in this solo.
Motive Repetition – Whitfield reuses a lot of phrases over and over throughout the solo in various ways – can you spot them?
Alternating between fast tension and slow relaxation – Most of the double time lines you can see in this solo are classic bebop vocabulary. The solo creates tension by using these elaborate double time lines. This tension is then released by following the double time lines with more simple pentatonic and blues lines. This helps to maintain interest, excitement, and variety.
Conclusion
As you can see, there's a wealth of jazz vocabulary to be unearthed in The Blues, from Way Back solo by Mark Whitfield.
But we've only just scratched the surface…
Once you've learnt the whole transcription, it's time to take some key lines and concepts out of the solo and incorporate them into your own playing in a deeper way.
That's what part 2 of this series will be all about.
In my next upcoming post, I'm going to dig deeper into a few of the licks out of The Blues, from Way Back solo, look at how they function and give you tips on how you can incorporate them into your own playing.
I look forward to working on these with you then – stay tuned… :-)
Cheers,
Greg O'Rourke
BMus (Hons), ANU
Special thanks to Mark Whitfield for giving me the permission to publish this transcription on FretDojo.com. Find out more about Mark at his website, www.markwhitfield.com.
Podcast: Play in new window | Download (2.8MB)
Get Notified Of Future Episodes Apple Podcasts | Google Podcasts | Email | TuneIn | RSS | More