Unlock The Secrets To Mastering Jazz Guitar.
~ Greg O'Rourke, Founder, FretDojo.com
Unlock The Secrets To Mastering Jazz Guitar Right Now.
FretDojo is the premiere online learning platform to take your jazz guitar playing to the next level. Trusted by thousands of students worldwide, our innovative approach to online jazz guitar education has been met with international acclaim.
As featured in…

The Best Jazz Guitar Lessons Online: Jazz Guitar Lessons
Get your complete Starter Guide to becoming confident as a jazz guitarist. With FretDojo's simple
5 Step Blueprint, any guitarist can begin developing impressive improvisation skills today. Chord Melody Guitar
Playing chord melody guitar isn't out of reach for any guitarist. FretDojo's Quick Start Guide for learning chord melody brings together the 3 'Ingredients' you need to get the fretboard cooking immediately. Guitar Exercises
End your technique struggle with the power of the Technique Triangle. Learn how to get the maximum benefit out of any guitar exercise and see dramatic improvement with your speed and accuracy on guitar now.
See What FretDojo's Students Have To Say:
"About 2 and half years ago I got interested in jazz guitar, a totally new experience. For those 2 years I downloaded a mountain of stuff from the internet (free and purchased)… and I struggled away without any clear direction, until I discovered Greg and Fret Dojo. The difference has been amazing!"
"The main thing I have gotten out of the Fret Dojo, is that it has given me the confidence to go out and find a piano player, and a bass player who plays jazz. And now, we've worked up a set list of 11 songs, including bebop and standards, and are about to start gigging… which I don't think I would have done that without the help of this."
"I had a lot of questions and issues with my jazz guitar improvisation. I was losing my place where I shouldn't have been, and I was looking for something to close that gap. Greg does a wonderful job of teaching, he is very patient and very clear minded and clear with his lessons, they are very easy to follow. I think you'll enjoy it!"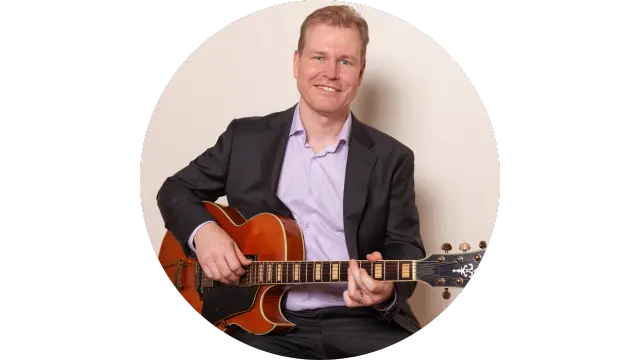 Greg O'Rourke - BMus (Hons), ANU
Professional Jazz Guitarist, and Founder of FretDojo.com
Award winning Australian guitarist Greg O'Rourke received his Bachelor Of Music Honours degree in 2006, and was a scholarship holder at the Australian National University School Of Music.
Originally a trained classical guitarist, Greg always had a keen interest in jazz guitar and improvisation. However, despite studying with several highly regarded teachers on the topic and many hours of diligent practice, it wasn't enough to 'join the dots'.
After much searching and experimentation with various methods, Greg turned to developing his own unique system to jazz guitar improvisation – that quickly gave satisfying results in his own playing, and finally unlocked the mystery as to how to improve. Greg shared his journey and his step-by-step instructions through his Youtube channel and the FretDojo blog, amassing many thousands of followers on the Internet, keen to follow in Greg's footsteps.
Jazz improvisation on guitar is often touted as something supremely difficult or reserved only for the exceptionally gifted. But, through his many years of decoding improvisation on guitar, and working with thousands of students worldwide, Greg demonstrates that improvisation and jazz on guitar can be learned by anyone who has a keen heart, a good attitude, and a willingness to learn.
Greg O'Rourke plays the guitar with a beautiful touch and tone. He effortlessly brings out and enhances harmonic movement and counter-lines in his playing, while keeping clear melodic lines in the forefront. Using his considerable fingerstyle technique he creates personal renditions of classic jazz standards. Definitely someone to watch and listen to closely!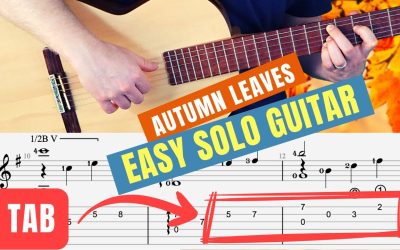 Recently I've been on a mission - to make the easiest Autumn Leaves guitar arrangement ever created. Hey, presto:After weeks of experimentation and hours upon hours of blood, sweat, and tears, here is the easiest Autumn Leaves chord melody in the known universe....
read more