Jazz Guitar Lessons Hub on FretDojo
Welcome to the FretDojo! If you've arrived on this page, you're likely desperate to untangle the mystery of learning how to play jazz guitar.
Help is at hand…
Scroll down to find everything on the site related to jazz guitar, along with links to our best online jazz guitar lessons:
How To Learn To Play Jazz Guitar In A Nutshell (Quick Start Guide):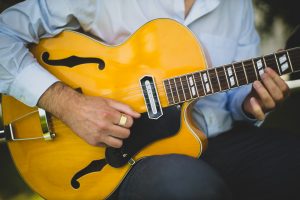 Question:
Are you banging your head against a brick wall trying to figure out how to learn jazz guitar?
Maybe you've tried some jazz guitar lessons in the past but were put off by all the complex theory.
Perhaps you've got a few jazz guitar books that felt as exciting as reading a dictionary, and are now gathering dust on your bookshelf…(Hint: those jazz guitar books make great doorstops!)
But:
Although jazz guitar takes time to learn…
Any guitarist with the basics down can develop the skill to be a confident improviser and rhythm player to participate in jams and gigs (or even just to enjoy by yourself at home).
Here's your blueprint in 5 simple steps:

 

Listen

To Jazz:

Listening to jazz is the first step is the MOST overlooked by aspiring jazzers.
But it's crucial.
If you have no reference point for your ears, you won't be able to make any of your guitar improvisation (or anything else) sound remotely like jazz.
Start by grabbing a few classic jazz guitar albums. Here's some I like to recommend for jazz guitar newbies:
Take a moment to listen and watch this cool performance of Impressions by Wes Montgomery:
Learn Melodies and Chords to Some Jazz Standards on Guitar:
Next, put all the jazz theory aside for a while.
Instead:
Get your hands dirty simply by learning the melody and chords to 3 to 5 jazz standards.
This will give you some songs right out of the gate you can use for the following steps, and is another way to get the sound of jazz into your ears without getting caught up trying to sound like a pro improviser right out of the gate.

Map The Guitar Fretboard:
Jazz is a bit different on guitar compared to playing other styles of music like rock or blues.
The trickiest challenge with jazz guitar improvisation or comping is negotiating the constant key changes. Some jazz tunes have 6 or more key changes per tune!
So your navigation on the guitar fretboard needs to be rock solid.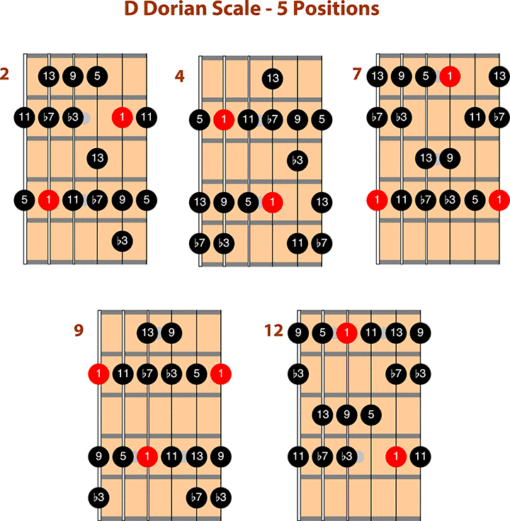 You need to have an intuitive sense of how to find the notes in any given key – for both jazz guitar comping and jazz guitar improvisation.
Arpeggios, scales, and jazz guitar chord shapes are important building blocks of this knowledge.
Knowing the common jazz chord shapes over the fretboard, and being able to recall them at will, is a must for any improviser…and it's usually the first stumbling block for an aspiring jazz guitarist.
But be aware:
Jazz Guitar scales and arpeggios aren't enough for being able to improvise in a jazz style. Here's what you need to do next… 
Learn Jazz Guitar Licks To Build Your Vocabulary:
 Have you ever noticed someone improvise and although they play all the correct notes, something doesn't sound quite right?
The reason:
Although they might be using good scale and arpeggio choices, they probably aren't using enough jazz vocabulary in their solos.
Here's the thing:
Scales and arpeggios are a bit like the 'alphabet', but jazz lines are more like the vocabulary, i.e. the 'words' of jazz.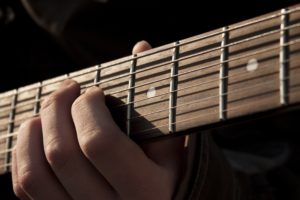 Don't get me wrong:
The alphabet is important to know for any language. But we don't talk using the letters of the alphabet – we use words.
Jazz licks, jazz lines, jazz phrases – these are all different names for the same thing:
Short, compact melodies and ideas that can be drawn upon to thread together longer, musical-sounding melodies in your improvisation.
You can learn jazz lines on guitar by:
Noticing what other players do
Transcriptions of solos (either those you do yourself OR ones already published)
A jazz guitarist learns several of these phrases from memory and also learns to play them across the fretboard in any position and any key.
By drawing on cool-sounding melodies like this when you solo, can you guess how your playing will sound?
The answer:
Very melodic!
A combination of using jazz guitar licks and scale/arpeggio tones can result in a convincing sounding solo just like that.
But:
Our journey isn't finished yet…
Our adventure is about to get very interesting, my Jazz Guitar Jedi. Onwards to the next step!
Extract Jazz Concepts From What You Learn:
This is the point where your own musical personality starts to blossom in the jazz guitar journey.
You start to notice things you really enjoy about the jazz vocabulary you learn.
Perhaps it's an interesting cross-rhythm used in a line.
Maybe it's a certain way to voice jazz guitar chords without roots like Ed Bikert.
Or it's a cool harmonic substitution you notice in a Joe Pass lick you picked up.
Spending time looking carefully at material YOU like the sound of empowers you.
It gives you the ability to develop your own distinct musical ideas.
This is where you start truly walking the path of a jazz player. You transition from being a jazz guitar student to a jazz guitar artist.
By learning the vocabulary of others, extracting your own concepts, then using those concepts as a springboard for your own ideas, you can start to express your own unique musical personality.
The best part:
The audience loves it when a musician expresses his unique voice. And that's the wonderful thing about jazz – the ability to bring out the unique self-expression of everyone who walks on its path.
Speaking of which…
Jazz Guitar Online Courses: Your Path To Learn Jazz Guitar
 "A journey of a thousand miles begins with a single step" ~ Lao Tzu
To help you walk this journey, we have the best online jazz guitar courses you can find on the internet: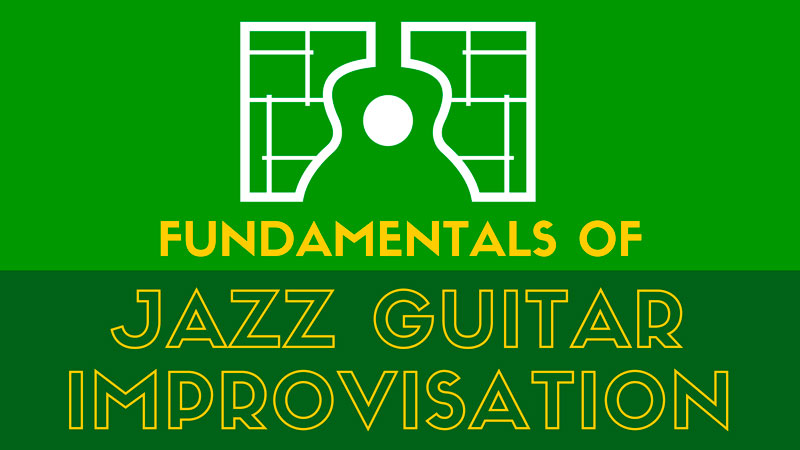 Fundamentals of Jazz Guitar Improvisation Online Course:
My internationally acclaimed jazz guitar improvisation course, completed by hundreds of jazz guitarists worldwide. This virtual jazz guitar course will show you a step-by-step how to develop what we have talked about on this page.
Click Here To Learn More & Book Now >>
What The Course Covers:

Building rock-solid fretboard knowledge so you know how to find your way around the fast key changes in jazz without getting lost, using a sneaky trick by Joe Pass.
Learn "5 jazz standards to rule them all" – the course walks you through 5 classic jazz standards on guitar that teach you how to improvise over the most important chord progressions. Through learning how to solo over these five tunes, you can solo over literally hundreds of other jazz standards.
A selection of the most important jazz vocabulary for a jazz guitarist to learn, and a comprehensive overview of using guide tones and substitutions to spice up your improvisations.
For more information, or if you would like to enroll in the course click here >>
I have to say that at first I was a little skeptical of Greg's claims about the effectiveness of the course, but after having completed the course I would say that it is a remarkable undertaking he has accomplished. I would say that this course is a GAME CHANGER for an introduction to jazz guitar.
If you all have loads of books that make no sense that you never use, Greg breaks it down and makes it useable. This is unlike any course you've ever been involved with, mainly because Greg is so good at explaining things that I now understand that I didn't understand before. It's a fabulous course and I highly recommend it.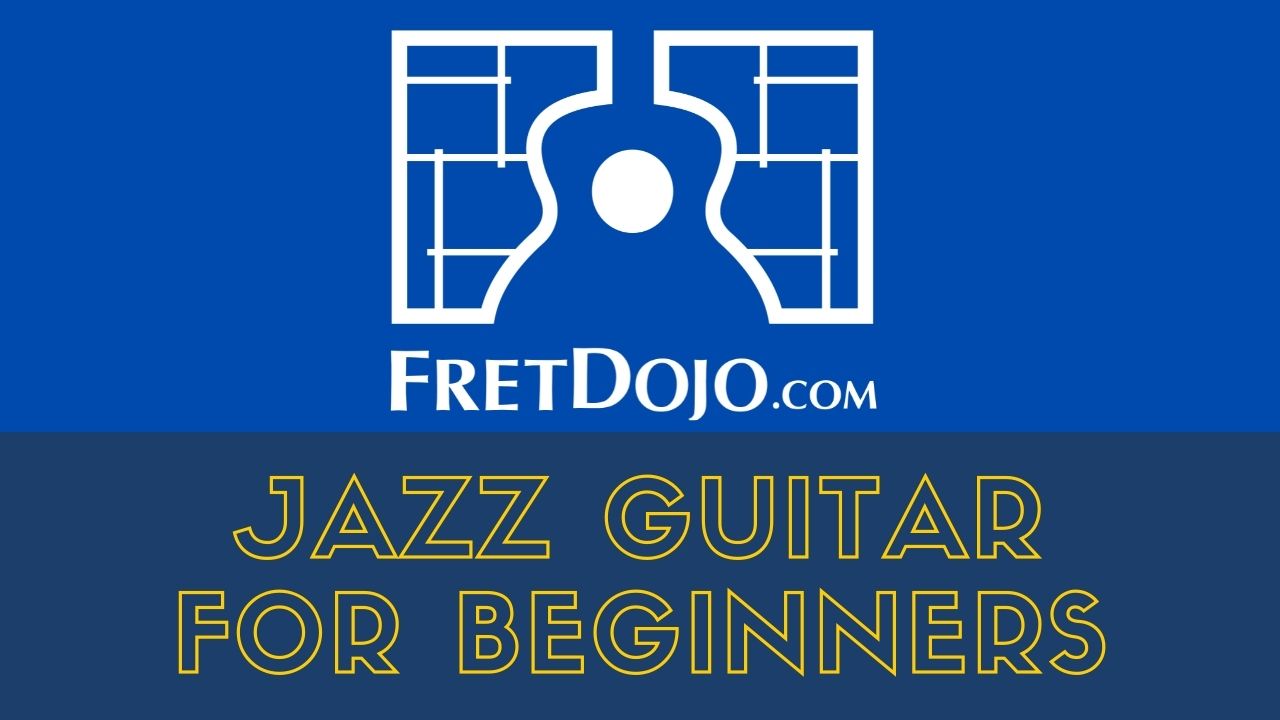 Jazz Guitar For Beginners Course
For those that are completely new and wondering how to play jazz guitar, my popular and fun Jazz Guitar For Beginners is a popular (and affordable!) starting point for dipping your toes in jazz.
This course is perfect for those looking for an online program on jazz guitar for beginners.
This course includes introductory jazz guitar lessons for all the elements needed for getting started with jazz guitar and is based around mastering the fundamentals of playing a jazz blues progression.
Click Here To Learn More & Book Now >>
Topics Include:
Chord tone soloing basics
Comping chord shapes and tips for effective comping
How to understand jazz harmony
Tasty jazz blues lines in the style of Joe Pass to get you started improvising on guitar
A step-by-step 40 lesson course of jazz guitar instruction at an unbeatable low price
It's not overwhelming, you take each little nugget, one bit at a time and build on it. Also you can post and you get feedback from other members. It's a very nice community spirit.
I recommend anyone who wants to improve their jazz playing they do this course – there are quite a few courses on the internet and this is by far the best one.
The course was fun and the materials were easy to understand. There were weeks that were tougher than others but all in all – I feel like I learned a lot and thoroughly enjoyed it.
I would say to anybody that's considering the course: jump in with both feet! It's an inexpensive way to enter into the realm of jazz and get a good basis for continuing education in jazz and developing jazz chops. Go for it!
FretDojo VIP Club Membership: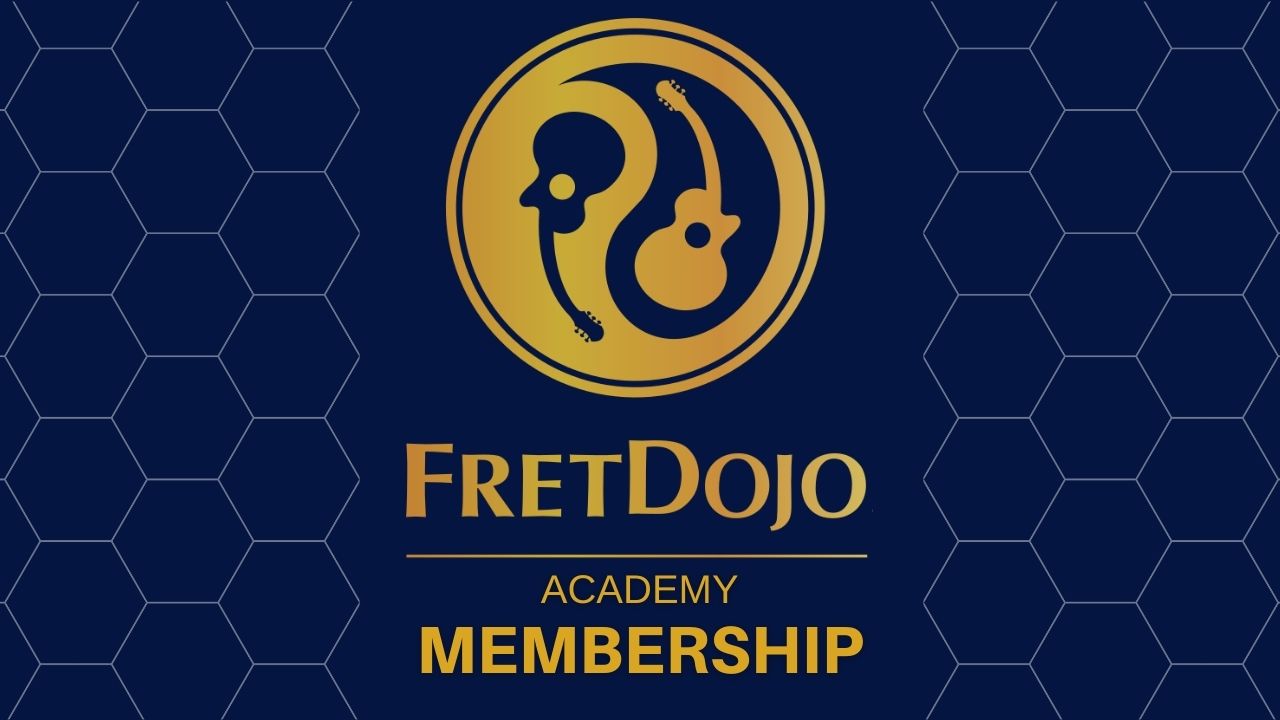 With FretDojo VIP Club membership, my online jazz guitar school, you get access on a subscription basis to 40+ courses where you'll learn some of the most loved jazz standards – and develop your jazz guitar skills along the way.
It's my most popular jazz guitar curriculum and it's been going for several years with hundreds of members. Each month I release new jazz guitar lessons in the membership so you'll always have new tunes material to add to your arsenal.
I've participated in TWO 12 week courses with an internationally famous music university…
I can safely say the investment in lessons with Greg has been worth more than 95% of all the other formal and informal education I've managed to derive for myself.
Greg O'Rourke has a wonderful teaching style – it's straightforward, sold, it makes sense.
I've been playing for so long by sound and feel, and I really needed a good, strong solid foundation for how to understand the fretboard and know where to navigate on the fretboard. FretDojo has been super-helpful to me in getting that done.