Watermelon Man (Jazz Standard): Complete How-To For Jazz Guitar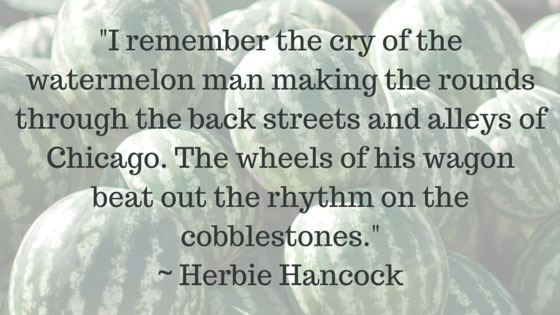 In the video lesson below, you're going to get a step-by-step breakdown of how to play the classic Herbie Hancock jazz standard, Watermelon Man, on guitar.
We're going to use this as an opportunity to work out some arpeggio shapes up and down the fretboard, and some other cool tricks you can use to spice up your soloing.
Let's do it!
Video: Watermelon Man Guitar Lesson
Don't have time to read this post now?
Get your Handy PDF Download + Backing Tracks: Get access to a print friendly version of all the exercises in this post as well as FREE backing tracks for your practice.
About This Tune
Watermelon Man was first released on pianist and bandleader Herbie Hancock's debut album, Takin' Off.
It was so popular it even reached the top 100 of the pop charts at the time.
Over the years this jazz standard has been recorded over 100 times, but my favorite version is still the groovy original recording featuring Hancock along with solos from Freddie Hubbard and Dexter Gordon. Check it out!
(Note that Hancock recorded a couple of versions Watermelon Man. For this lesson, I'll be referring to the version from Takin' Off (i.e. the video above), rather than the funky version from Headhunters Hancock recorded some years later).
This tune has an iconic piano riff that combines elements of bebop, jazz and R&B – with a pop twist to boot.
We're going to use this piano riff for some soloing ideas in this Watermelon Man guitar version.
But more on that later…let's learn the tune first!
(Hint: Fast forward the above video to the time code (in green) to get to the spot in the lesson that demonstrates some of the steps below.)
Step One: Learn The Melody
(0:54)
Check out the video above that includes a guitar TAB and notation of the melody to Watermelon Man as I show you how to play it.
You can find a lead sheet for this tune by clicking here.
Step Two: Comp Over The Changes – A Jazz Guitarist's Core Skill
In the key of F, the chord progression is a bit unusual as it's a 16 bar blues, rather than a 12 bar blues (there are some extra chord changes added from bar 8 to bar 12):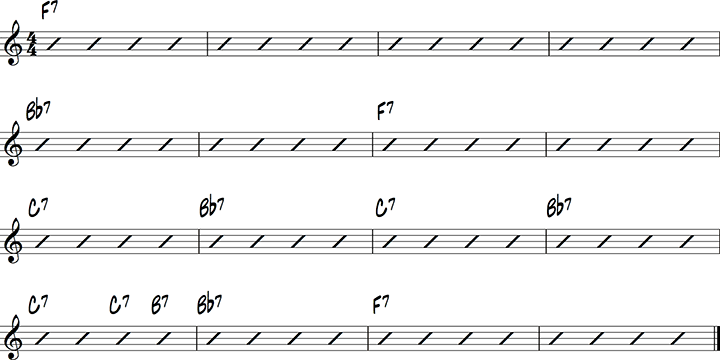 Backing Track:
Exercise: Comp with any basic chord shapes you already know along with the original recording.
Step Three: Solo With The (Ol' Faithful)
F Pentatonic Minor/F Blues
(1:43)
There's one thing that my good friend Matt Warnock taught me once I'll never forget:
Jazz doesn't need to be hard to sound good.
Some players that are first getting into jazz think that they're not allowed to use pentatonic or blue scales anymore.
Nothing can be further from the truth!
After all, jazz is a development of blues – but blues is still strongly at the core of jazz.
Exercise: Have a go at soloing over the backing track with the pentatonic and/or blues scales below.
Listen & Play: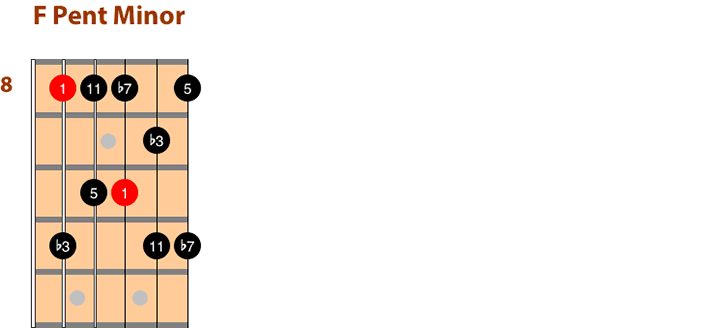 F Blues is exactly the same scale as F Pentatonic Minor, but with one note added – the b5:
Listen & Play: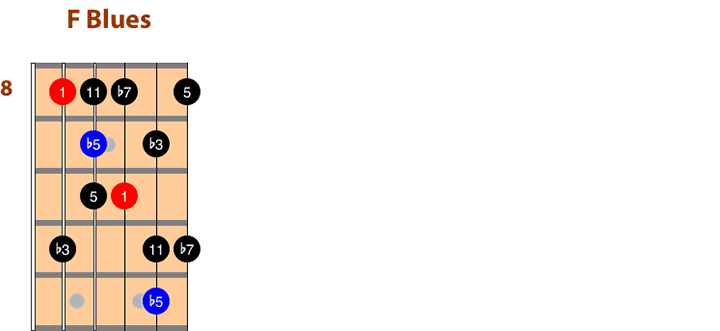 Step Four: Learn Some Blues Licks To Sound More Hip
Here's the deal:
If you solo only with pentatonic or blues scales, it's going to get boring pretty darn quickly.
So, have a go at these two easy blues licks that you can whack into your Watermelon Man guitar solos.
Listen & Play:


Exercise: Memorize the licks and then play them over the backing track in whatever places that make sense to your ears. Then, mix them up with the scales from the previous step.
Sounding groovy? Good!
Let's keep going…
Step Five: Learn the Piano Riff (Impress Your Friends and Thwart Your Enemies)
(3:26)
Check out the lesson video for a breakdown of how to play the piano riff from the recording (the notation and TAB are on the video).
As detailed in the video, you can take the hip double stop ideas (i.e. two notes played simultaneously) from the piano riff, and include them as yet another ingredient for your Watermelon Man guitar soloing.
Here are those double stops in all their glory:

Exercise: Put the backing track on again and solo only using double stops to get the feel for this technique. Then, mix it up with the blues licks and the scales above.
As you can see, you now have quite a few cool ideas to draw on for your solos.
Let's look at another…
Step Six: Outline The Changes Using Major 6 Arpeggios
(8:11)
I can't emphasize this enough:
A key feature of a good jazz solo is how it outlines the chord changes.
If you solo only with the scales and blues licks, it will sound a bit plain and won't move along with the changes enough.
So, to help with this let's incorporate some arpeggios.
Major 6 arpeggios sound great over these chords:
Listen & Play: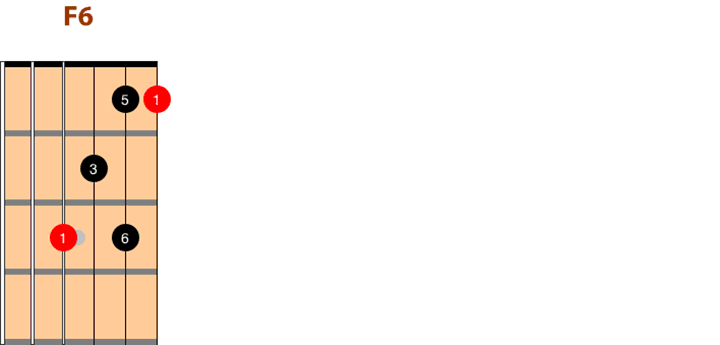 Once you get familiar with this shape, practice moving it up and down the fretboard to match the corresponding chord change in the progression.
You can move the arpeggio shape up to fret position 6 for the Bb7 chord, and to position 8 for C7.
Got the idea?
Let me help you out – play the following study that uses Major 6 arpeggio shapes over the changes to get them under your fingers:
Listen & Play: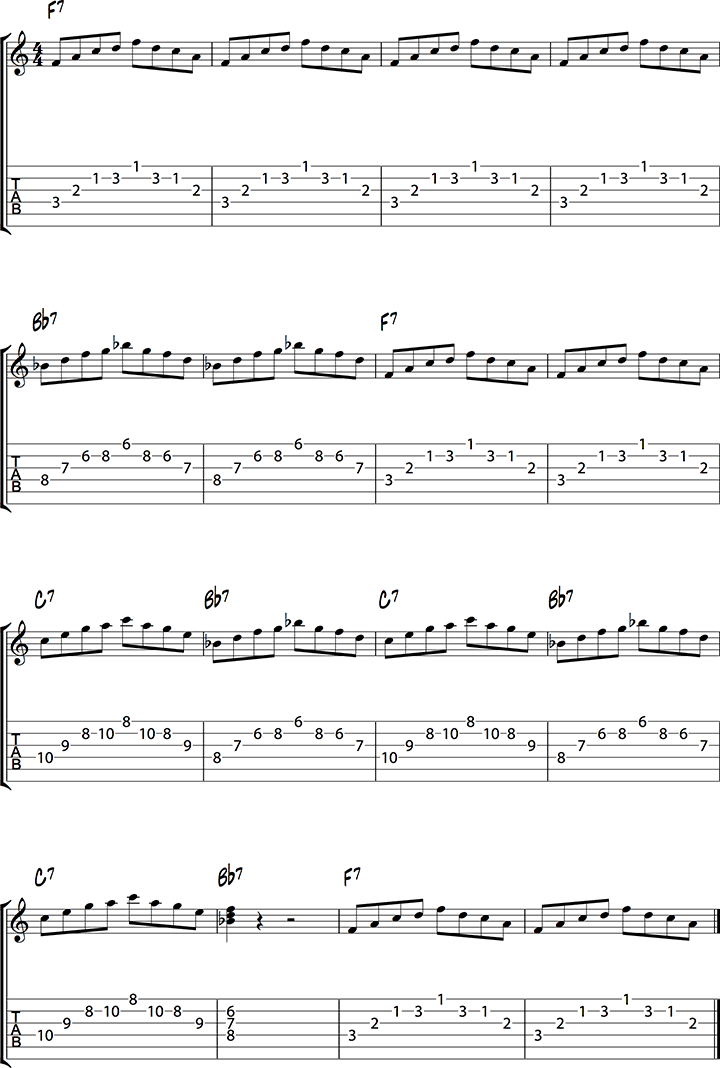 Step Seven: Add Enclosures to the 6 Arpeggios – Now We're Getting Tricky
(10:44)
A good way to jazz up the Major 6 arpeggios is by using enclosures.
For those of you that have read this blog before, you'll know I'm a fan of these!
You might ask, "What's an enclosure?"
Let me explain.
An enclosure is when you play one fret above and then one fret below a target note, e.g:

These sound great especially on the 3rd of the arpeggios, which gives a nice bluesy sound.
Have a go at the following exercise, adding enclosures to every single note in the F6 arpeggio:
Listen & Play:

Exercise: Solo over the backing track, incorporating enclosures over the Major 6 arpeggio shapes.
Then, mix everything together you covered in today's lesson and solo your heart out!
Get The PDF and Backing Tracks
Fantastic! You now have this bluesy tune under your fingers.
Watermelon Man is a popular standard that's often called at jam sessions, so it's worthwhile getting to know it inside and out.
Now the exciting bit:
If you're keen to have a structured, step-by-step approach to learning jazz guitar, it might be worth checking out my online learning system, the FretDojo Jazz Guitar Academy.
Here's what you get when you join up:
Detailed step-by-step video lessons on new classic jazz tunes and essential jazz guitar skills added to the club website each month. Includes listening recommendations, demonstrations of the melody, analysis of the harmony, and detailed explanations on how to solo over the tune.
Key improvisation concepts and techniques for soloing, and classic licks and example solos that relate to each tune, so you can continue to expand your jazz vocabulary and have more options when it comes to soloing.
Detailed comping ideas to suit the style of each jazz standard covered
Lessons on how to make chord melody and solo jazz guitar versions of tunes featured - play a complete jazz standard completely on your own like Joe Pass!
Members only forum - A worldwide community of jazz guitarists from all around the globe.
Regular workshops, masterclasses, and Q & A Sessions - get direct answers from me on anything holding you back in the practice room. Replays of all sessions are available to access for all members even if you can't make it live.
Massive searchable database of jazz licks and soloing concepts - the ultimate idea "grab bag" for your solos.
Optional monthly challenges where members participate to get feedback on their playing, reach new milestones and be eligible for cool prizes.
The best part:
You can access this all of this and more for just $1 by signing up to a 14 day trial. Go here for more info: https://www.fretdojo.com/signup-offer
Before you go…
If you want a nice print-friendly version of this article for your music stand at home, along with backing tracks you can use for the exercises outlined above, click the link in the yellow box below:
Get your Handy PDF Download + Backing Tracks: Get access to a print friendly version of all the exercises in this post as well as FREE backing tracks for your practice.
Share The Love!
If you enjoyed this Watermelon Man guitar lesson, please share it with your friends; it would mean the world to me.
Special thanks to my mentor Matt Warnock, who once showed me this innovative step-by-step approach to building up improvisation ideas over this tune. Check out his site at www.mattwarnockguitar.com.
I'd also like to thank Garry Petrisic who built the amazing archtop guitar featured in the video.
And finally, a huge thanks to you, the reader – I appreciate you taking the time to read this lesson. Now – go practice!
Greg O'Rourke
BMus (Hons), ANU