Podcast: The Magic Of Solo Guitar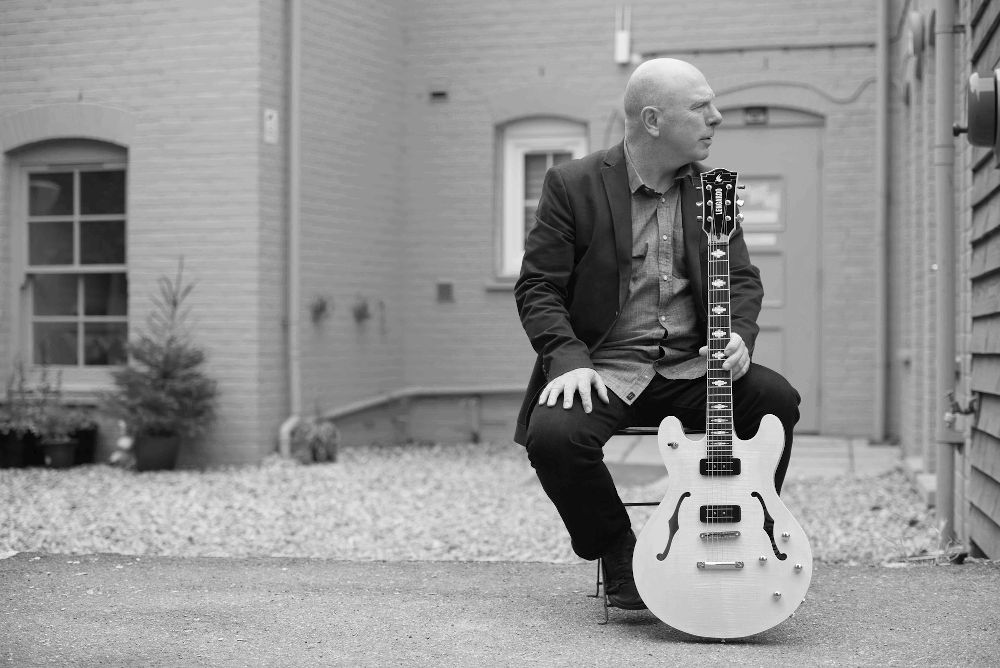 On today's Podcast, Carl Orr,  FretDojo's current Artist In Residence, shares his insights into the magic of chord melody and the power that comes from tapping into the strength of guitar as a solo instrument.
Check out the podcast here and listen to Carl's story, as well as some very moving chord melodies he plays throughout the show:
Podcast: Play in new window | Download (Duration: 22:43 — 15.8MB)
Get Notified Of Future Episodes Apple Podcasts | Google Podcasts | Email | TuneIn | RSS | More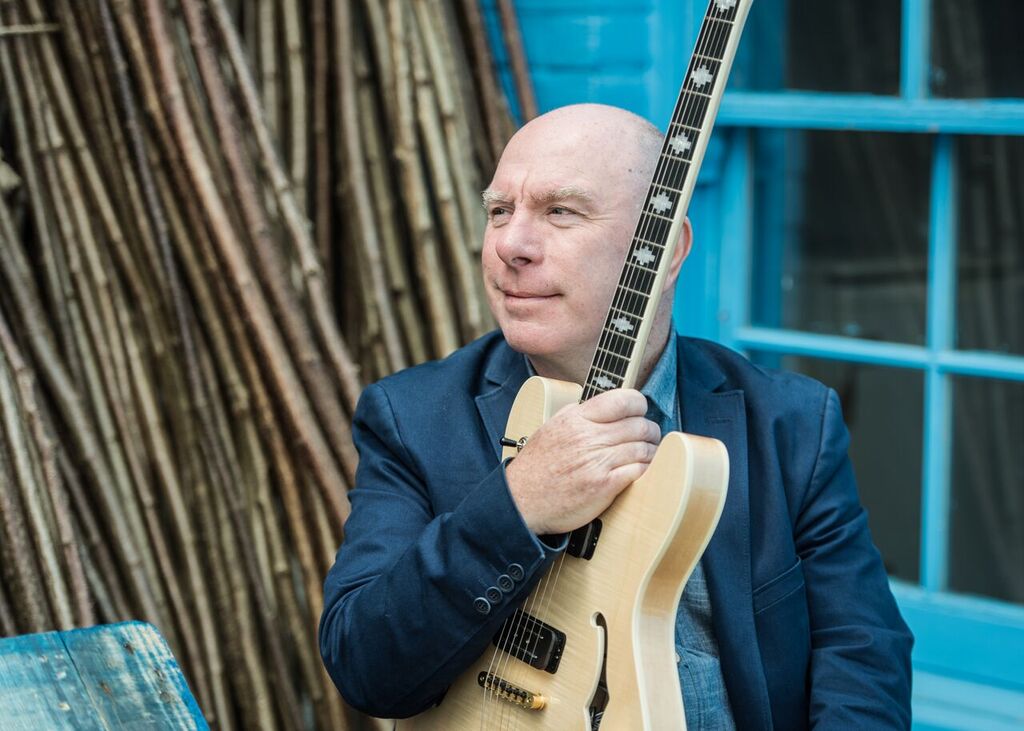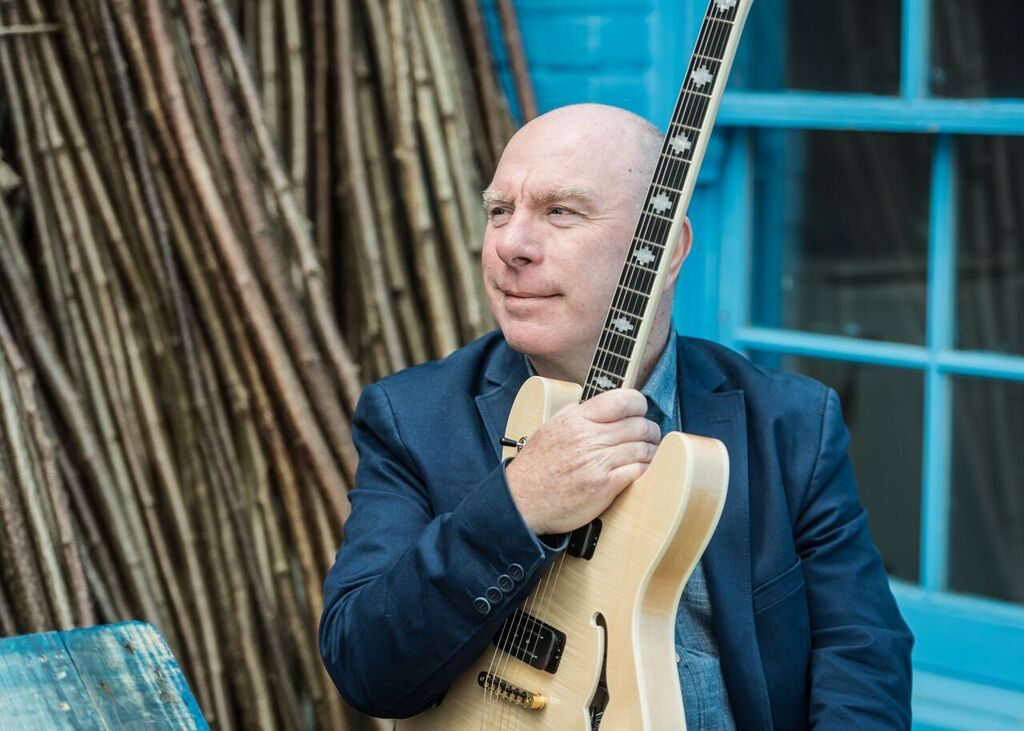 Carl Orr
Carl has performed and recorded with some of the finest musicians on the planet including Billy Cobham, George Duke, Ernie Watts, Randy Brecker, Gary Husband and Bennie Maupin.
He is a regular at London's legendary Ronnie Scott's Jazz Club in his own band and as a member of drummer Mark Fletcher's supergroup "Fletch's Brew".
Carl has taught guitar at The Australian Institute of Music, Brunel University, Middlesex University, London Centre Of Contemporary Music and The Academy of Contemporary Music.
A prolific composer, Carl has recorded eight albums as a leader and is featured on albums by Billy Cobham, Fletch's Brew, Geoff Eales and Nathan Haines.
His latest album, Forbearance is a dramatic departure from his jazz and fusion recordings of the past and with the aid of producer Tim van der Kuil and arranger Grant Windsor, Carl has crafted a truly unique acoustic guitar-based album exploring pop, rock, folk, Americana, and classical styles.
He regards his music as his public contribution to creating a peaceful, harmonious world.
"It is not enough for me for my music to merely be a manifestation of the chaos and disharmony of the world, but instead it must be a potent influence on creating peaceful relationships between people. My aim is to make the listener feel calm, optimistic and invigorated." ~ Carl Orr
Transcript:
Greg O'Rourke:
Hi, and welcome to the podcast. Greg O'Rourke here. We're very lucky at the moment to have Carl Orr as the Artist In Residence here at FretDojo. He's been busy recording shows lately with a whole host of guest artists that he's planning to bring on the show in the near future. Today though, I'd like to share with you a very intimate solo session from Carl, all about his journey with solo chord melody, and how it's impacted his relationship with the guitar as he's gone through his musical journey. I really hope you enjoy today's show. I really enjoyed listening to this one, myself. You're in for a real treat, and quite a moving look at what chord melody can do for your playing.
Speaking of chord melody, a quick heads up that at this time of this recording, we're actually releasing a brand new FretDojo course all about chord melody essentials. This is called the 30-day Chord Melody Challenge. There should be a link to get the course on the FretDojo homepage at www.fretdojo.com. If you're interested in checking that out, go to that page to enrol. It will be open for this week, at the time of this recording. So, hope you catch that. But anyway, this is a very special show from Carl Orr, and I really hope you enjoy this session.
Carl Orr:
Hi, this is Carl Orr, Artist In Residence at fretdojo.com. I just want to talk about the magic of chord melody guitar, solo guitar. This has always been a big part of my life. The first live guitarist I ever saw was the esteemed classical guitarist, John Aaron. This was in a church in Newcastle in the north of England in 1971 or '72. I don't know what he played. He just played this hour lunchtime recital of mesmerising music, and I was really taken in by the unique quality of a solo guitar.
In this case, it was in the classical context, but there's something about solo guitar, the struggle of the person doing it. There's a kind of noble struggle to get from one end of each piece to the other without making a mistake, without falling off, and there's a kind of intensity about that, which is very compelling. I always was very drawn to that kind of thing.
Indeed, my first guitar lesson, which was just a few months before, was actually a lesson in very rudimentary chord melody playing. I remember the first thing we did at our first test, and I still remember how to play it. It was an arrangement of the American folk song, My Bonnie Lies Over The Ocean. It went like this. Pretty cute.
Right from my very first guitar lesson, I was aware that the guitar was a self-contained instrument that could create interesting music by itself. I remember my mom listening to me practising . She said to me, "You're very lucky playing the guitar because you can make a complete sound." She said, "Some other instruments, like the bass for example or the clarinet, you can't make a complete sound. Whereas the guitar, you can be completely self-contained." And she said, "I understand why you're so keen on playing for long stretches of time, because you're making this self-contained sound." Anyway, I was always very fond of that.
I went on to study classical guitar with my teacher at school, a man named Mr. Paul Kay. He went through classical repertoire with me. I knew right from the beginning that it wasn't really what I wanted to do, but I always loved classical guitar music. We did pieces by Fernando Soares in particular, I remember quite a lot, and Bach. I was always greatly attracted to Bach. I remember my absolute amazement when I could play this famous Bouree by Bach, the one probably most people know. You know that one. I remember being amazed that I could do this kind of complex thing with these independent lines going. It really got me interested in playing in an unaccompanied way.
By the time I was 14 or 15, I was showing some interest in jazz. I think I was 15 when my dad bought me a book of solo jazz guitar arrangements by the Australian guitarist, Don Andrews. I remember opening up this book and just opening up the first page and just starting to play this song. I was just amazed that something that sounded like jazz was coming out of my guitar. It was his arrangement of How About You, which I don't remember completely, but it was something like this. Something like that. I was just shocked to hear myself playing something that sounded so much like real jazz and I was hooked from then on.
Then I became aware of Joe Pass. He would play solo electric guitar. He made these famous albums, virtuoso albums. Played solo electric guitar. Great, beautiful arrangements with great solos in them. Sometimes he would play on the classical instrument, which I was playing. It was quite revealing for me to see the classical instrument used in a way that had nothing to do with formal classical repertoire, but was in a very informal, individualistic way, in a very jazzy sort of way.
He didn't sound like he was using conventional classical technique; he sounded like he was maybe using bare flesh rather than fingernails. But it was a great sound and I loved the intimacy and the quietness of it. It was so quiet you could hear his foot tapping. He sounded like he maybe had bare feet or socks. You could just hear this foot in a sock just gently tapping time. He was so quiet you could hear this gentle tapping of a sock underneath it. Really great stuff. I just loved that kind of quietness and intense kind of intimacy of that.
I grew up in Australia and when I was in my early twenties, the great Ike Isaacs moved to Australia. He's a great solo jazz guitarist and a mentor to many people including most famously, Martin Taylor, who's gone on to become one of the leading solo jazz guitarists in the world. Ike was a delightful man. He was so gregarious and just wanted to be friends with everyone. He was very likeable, quiet-spoken, highly intelligent man with a fantastic sense of humour. I just remember this combination of Ike's warmth, and his fascinating stories, and his sense of humour, and his wonderful guitar playing.
He had been a successful studio guitarist in the '60s and '70s in London, played on lots of pop records. He enjoyed his work, but it's quite a hard job, quite a stressful job. He said that thanks to having an understanding wife, a lovely lady named [Moira 00:10:26], he was able to come home from a long day in the studio and do what he loved to do best, which was to play his solo guitar arrangements of standards and his original songs. He became a real master of that and a world authority on that. He went on to finish off his performing career as a member of the great Stephane Grappelli's band, but he always had this solo guitar passion underlying everything.
If you're keen to have a structured, step-by-step approach to learning jazz guitar, it might be worth checking out my online learning system, the FretDojo Jazz Guitar Academy.
Here's what you get when you join up:
Detailed step-by-step video lessons on new classic jazz tunes and essential jazz guitar skills added to the club website each month. Includes listening recommendations, demonstrations of the melody, analysis of the harmony, and detailed explanations on how to solo over the tune.
Key improvisation concepts and techniques for soloing, and classic licks and example solos that relate to each tune, so you can continue to expand your jazz vocabulary and have more options when it comes to soloing.
Detailed comping ideas to suit the style of each jazz standard covered
Lessons on how to make chord melody and solo jazz guitar versions of tunes featured – play a complete jazz standard completely on your own like Joe Pass!
Members only forum – A worldwide community of jazz guitarists from all around the globe.
Regular workshops, masterclasses, and Q & A Sessions – get direct answers from me on anything holding you back in the practice room. Replays of all sessions are available to access for all members even if you can't make it live.
Massive searchable database of jazz licks and soloing concepts – the ultimate idea "grab bag" for your solos.
Optional monthly challenges where members participate to get feedback on their playing, reach new milestones and be eligible for cool prizes.
Go here for more info: https://www.fretdojo.com/signup-offer
Carl Orr:
I met him when I was 23. We were talking and I said, "I can't really do solo guitar very well." He said, "Well, you just need a few guidelines." And he said, "Just think of a song that you know. I said, "Well, I'm learning how to play Duke Ellington's Prelude To A Kiss." He said, "Well, do that then." And I said, "Well, I don't know what to do." And he said, "Well, first of all, play the melody and just play the bass note under the melody." So, I did that. Let me try and remember this.
And I just did that. I probably didn't do it very fluently, but he said, "Yeah, that's it. That's where you start. Play the melody and play the bass note of each chord under it." Then he said, "Okay, now flesh it out a bit." So I tried it.
He said to me, "Play the melody clearly, play the bass note clearly, and just grab whatever notes you can in between the melody note and the bass note. That's basically all you need to know about playing solo guitar." At least it's all you need to know to get started. So, that was a great introduction for me. Every time I do a solo guitar arrangement, I'd just say to myself, "Get the melody nice and strong, play the bass note, and grab what you can in between." It's a great way to approach it.
Anyway, as time went on, I neglected my solo guitar chord melody playing very much and really pursued my passion for being a virtuoso improviser, which I doggedly worked very hard at for a long time. They say life begins at 40. When I was approaching 40 … When I was 39, I felt myself changing quite a bit. One of the things that changed was my desire to play chord melody guitar, to play solo guitar was reawoken. I suddenly found myself playing little classical pieces that I'd learned as a kid and figuring out little chord melody arrangements. The whole intimate side of playing the guitar just would not be ignored anymore.
I was making an album at the time and I recorded a couple of solo original pieces. Since then, it's been growing and growing. And then in the last few years, it's been something that I do every day. I start my guitar practise every day with about 45 minutes to an hour of solo guitar, which can be anything from that little Bach piece that I played earlier on, to arrangements of jazz songs and pop songs in a jazz chord melody style. For example, I do an arrangement of Carol King's So Far Away. I'll play a little bit of it for you, like this kind of thing.
I love doing things like that. Just adapting songs and do them in this jazz chord melody style. This is something I do every day. Actually, unless I do play some chord melody guitar every day, I do feel a bit weird. It kind of grounds me. There's something about the sensation of making all the sound yourself, which is very satisfying. So yeah, I do that every day. As I said, I feel a bit lost if I don't do it. Every time I practise, I play solo guitar for, as I said, 45 minutes to an hour, and then I pick up my electric guitar and work on some technical stuff and improvisation. But it's always the chord melody and various solo guitar things that get me started every day. Anyway, I think it's a unique area of musical satisfaction.
I'm not somebody who's, like what you would call a real guitar head. I'm somebody who's interested in music in general, whether it's Beethoven symphonies or Bill Evans playing the piano, or Ry Cooder playing slide guitar, or Bonnie Raitt singing a beautiful song. I don't really care about musical styles and I'm not really that bothered about whether the guitar is part of what I listen to or not. I would love to listen to Glenn Gould playing the piano or Yo-Yo Ma playing the cello. That's great. But increasingly, the guitar is very important to me. I've always practised a lot, but it's something about playing solo guitar that just brings the guitar so close to you because it's right next to your body, and it's kind of vibrating.
Probably the most important thing the great Ike Isaacs said to me. He looked at me really seriously in the eye and he said, "Carl, the guitar is your friend." It took me a long time to really figure out what he meant by that. But I think what he really meant was, if you play chord melody guitar, concentrate on, at least some of the time, playing solo guitar. The guitar really becomes your friend in a way that's utterly unique.
Last year, I played with a wonderful pianist called Jesse Milliner, who is well known for playing with Larry Carlton and Lee Ritenour and many other people. He looked at me and he said, "You're so lucky playing the guitar." And this guy's a master pianist. I said, "Why am I lucky playing the guitar?" He said, "Well, you get to hold this instrument and you embrace it." He said, "No piano player gets that sensation from their instrument." And I thought, "Wow, that's something I'd never thought of before." So, enjoy your chord melody playing. Remember, the guitar is your friend. Have a great time with your friend.
Greg O'Rourke:
Wasn't that an amazing look at solo guitar? I really enjoyed listening to Carl's story then, especially when he was talking about that book he found of Don Andrews, because Don Andrews was actually one of my earliest and most important guitar teachers, myself. And so, it's cool that Carl and I have that connection there. I really hope you enjoyed this session. Make sure that you check out my website fretdojo.com. As I mentioned at the start, there is that chord melody challenge course that's being released this week. If you're keen to learn a few techniques to get some chord melody approaches into your guitar playing, then it might be worth a look. Okay guys. Well, until next time, thanks very much. My name's Greg O'Rourke. I look forward to sharing another episode of the FretDojo podcast with you soon. Bye for now.