Hammer-ons and Pull-offs: a complete guide (Fret Dojo TV Ep.1)
Welcome to Episode one of Fret Dojo TV! I'm very excited to put these videos out where I share my knowledge of guitar techniques and styles. This episode covers how to do the hammer-on and pull-off techniques on guitar effortlessly, and includes some exercises to give you a way forward in improving this technique. They might seem a bit tricky but it these are pretty straightforward techniques to learn if you have a good understanding of the principles.
So what are Hammer-ons and Pull-offs?
These techniques are common to pretty much every style of guitar playing, and they are really important to learn as they help lines sound much smoother (known as legato in music speak). What they essentially are is playing the guitar with your fretting hand instead of your picking hand, and collectively are known as 'slur' techniques. Slurs are essential to improve your speed on the instrument when you are doing things like fast scale runs and so on, as they make it much easier to play lines quicker. Doing slurring exercises can also help to drastically improve coordination of the left hand.
What this episode covers:
What slurs are and why use them
Demonstration of the techniques, with advice on some of the pitfalls to watch out for
The essential exercises you need to develop this technique
I hope you enjoy this video and that it helps to remove the roadblocks to getting better at these techniques. Hammer-ons and pull-offs are really important to learn for whatever style of guitar playing you are doing and in the end as long as you know the basic principles and practice them properly they are quite an easy technique to develop.
Now the exciting bit:
If you're keen to have a structured, step-by-step approach to learning jazz guitar, it might be worth checking out my online learning system, the FretDojo Jazz Guitar Academy.
Here's what you get when you join up:
Detailed step-by-step video lessons on new classic jazz tunes and essential jazz guitar skills added to the club website each month. Includes listening recommendations, demonstrations of the melody, analysis of the harmony, and detailed explanations on how to solo over the tune.
Key improvisation concepts and techniques for soloing, and classic licks and example solos that relate to each tune, so you can continue to expand your jazz vocabulary and have more options when it comes to soloing.
Detailed comping ideas to suit the style of each jazz standard covered
Lessons on how to make chord melody and solo jazz guitar versions of tunes featured - play a complete jazz standard completely on your own like Joe Pass!
Members only forum - A worldwide community of jazz guitarists from all around the globe.
Regular workshops, masterclasses, and Q & A Sessions - get direct answers from me on anything holding you back in the practice room. Replays of all sessions are available to access for all members even if you can't make it live.
Massive searchable database of jazz licks and soloing concepts - the ultimate idea "grab bag" for your solos.
Optional monthly challenges where members participate to get feedback on their playing, reach new milestones and be eligible for cool prizes.
The best part:
You can access this all of this and more for just $1 by signing up to a 14 day trial. Go here for more info: https://www.fretdojo.com/signup-offer
Get your free copy of 'Essential Hammer-on and Pull-off Exercises for Guitar'!
To help you quickly master these techniques I've put a pdf of what I consider to be the most important slurring exercises on guitar. There's often books with pages and pages of these sorts of exercises included, however you only need to boil it down to a few of these these to develop your hands. Enjoy!
Download link – Essential Hammer-on and Pull-off Exercises for Guitar 
(To save the file you may need to right click and select 'Save As…' or similar) 
How Hammer-ons and Pull-offs are notated
Hammer-on and Pull-offs are notated in music like this: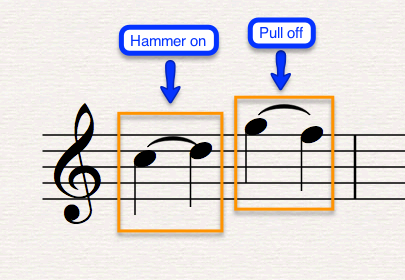 Note that the curved line joining the two notes is identical to the one used to tie two note values together. You can tell though if it is a slur as the two notes are different instead of the same in the case of a tie. If the note goes from lower to higher then it is a hammer on, vice versa it's a pull off. In notated tab, they look like this: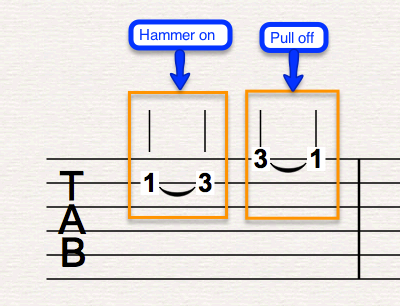 And in what I call 'internet tab' (like what you would download from a site like ultimateguitar.com), they look like this: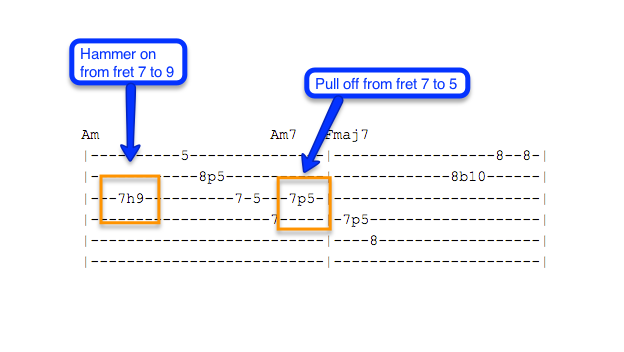 Thanks very much for reading and I hope you found this article useful. I would really appreciate your feedback, so do let me know what you think about this video by leaving a comment below. Also, if you would like to see something in particular explained in a future episode, I would love to hear from you! You can get in touch touch with me via this contact form. Peace!