The Meditating Musician: Techniques for Overcoming Performance Anxiety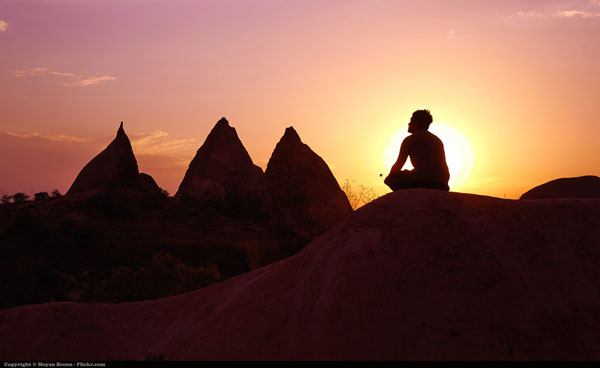 I've been asked a lot lately if I have any tips for  dealing with performance anxiety when playing music in a live concert setting. I consider myself to be rather  qualified to provide some thoughts on this subject :)
Over the years I have struggled a lot with nerves during performances, which led me on a journey of contemplating the issue and testing a variety of strategies to see if they would work.
This article outlines some mindset shifts and techniques that have worked very well for me personally to reduce anxiety on stage.
"The only thing we have to fear is fear itself."
~ Franklin D. Roosevelt
It is very important if you do suffer from performance anxiety to address the issue, as it impacts your own enjoyment of playing music live, and (more importantly) detracts from the audience's enjoyment of the show.
I have seen musicians whose careers have been  terminated by performance anxiety, so it is essential to develop strategies that you know are reliable in combating this problem.
So what is performance anxiety exactly?
Performance anxiety is basically a form of fear. Fear of the unknown. Fear of being judged. Fear of failure. Fear that the audience won't like it.
And where does this fear arise?
From a distorted perception of the situation. An idea that a performance needs to be perfect to be acceptable to an audience.
Perfectionism is rampant among musicians. The problem is if you expect something to be perfect then you will never be satisfied with how you play, as nothing can be perfect in this world and theoretically could always be better. It's kind of like trying to find the end of a rainbow.
Making mistakes…correctly
And anyway, what makes a performance truly great?
I have attended some really technically near perfect performances over the years, however I found  the majority of these concerts to be  very boring.
A true musical communication with your audience is not on whether you play the notes perfectly; it is whether you play your music authentically, generously and from your heart space, remaining in the present moment.
People coming to a concert really want to see someone totally in the moment and enjoying themselves, not someone stressed out that a note in the third bar was slightly buzzy or out of tune.
Let's think about making mistakes for a moment.
This is usually what happens when an anxious performer makes a mistake in the performance:
Musician (thinking whilst still playing):
"Oh man, I can't believe I did that. I got that note perfectly right in every single rehearsal. I can't believe you have played this 300 times and yet and the critical moment you blew it. What the heck is wrong with you??" etc etc.
Do you see what is likely to happen in this scenario?
The performer is so obsessed with this tiny mistake (that the audience probably didn't even notice) that his concentration and focus has totally moved away from what he is supposed to be doing – focussing on playing the music, enjoying himself and communicating to the audience. Ironically, this will probably result in more mistakes!
A vicious cycle, indeed.
Meditation practice is the key
So the above scenario is a result of the inability of a performer being able to keep his mind in the present moment, regardless of any unexpected occurrences, such as mistakes. This is the primary cause of performance anxiety.
It is the mind straying away from the present into the past (i.e. obsessing about mistakes that one has already done) or into the future (worrying about a difficult passage or imagining terrible things that might happen in the performance).
These can both occur on the concert stage itself or in the leadup to a performance – thinking about a past negative experience one has had on stage and/or worrying about how the upcoming concert is going to go.
How does one train oneself to keep the mind in the present moment, and avoid falling into unhelpful mental states?
By learning the practice of meditation.
Meditation is a very simple technique to train the mind to not stray into the past or future and the associated negative states that can occur when one does this. It is very straightforward to learn and one does not need to be a religious person to practice it.
Meditation brings the most benefit when one gets into a routine of practicing daily. I myself have considered it a crucial element to overcome performance anxiety.
How to meditate
Sit in a comfortable position, either on a chair or cross legged on the floor. Close your eyes or better still leave them slightly open, just gently staring into the space in front of you.
For a little while, say 5 minutes, move your focus around the body, from the feet, to the legs, up through the back, to the head and down again. The most important part of the posture is that your back is straight but relaxed.
Then, for another 5 minutes, focus one's awareness on your breathing, with the breath moving through the nostrils. Watch your breath naturally flowing in and out.
The only rule is: whenever you notice your mind wandering away to any distractions, whether external noises or internal distractions like any thoughts, don't push them away but merely bring your awareness back to the breath.
Simple!
This will train the mind to better manage distractions during a performance on stage.
The important thing is to realize that you will probably continue to have distracting, negative thoughts in performance, but you will now have a reliable method to simply leave them be, put those thoughts aside and move your focus back to where it is supposed to be, on focussing on the music.
Further Resources
There is a very good article by Leo Barbatua from the highly acclaimed blog Zen Habits that gives another good explanation of how to meditate that you can find by clicking here: http://zenhabits.net/meditation-for-beginners/
Dr. Jon Kabat-Zinn developed the Mindfulness Based Stress Reduction (MBSR) program at the University of Massachusetts Medical Center. He has recorded an excellent CD of guided meditations that you can find here.
If you are struggling with performance anxiety right now, I hope that this article has helped you out and given you some ideas for managing this very prevalent issue among musicians and performers.
Check out my Twitter feed at @gregoguitar to get more thoughts and tips on how to get your playing to the next level, or subscribe to this blog so you know when the next articles and videos are coming out. Happy performing!