Why I Love Playing Chord Melody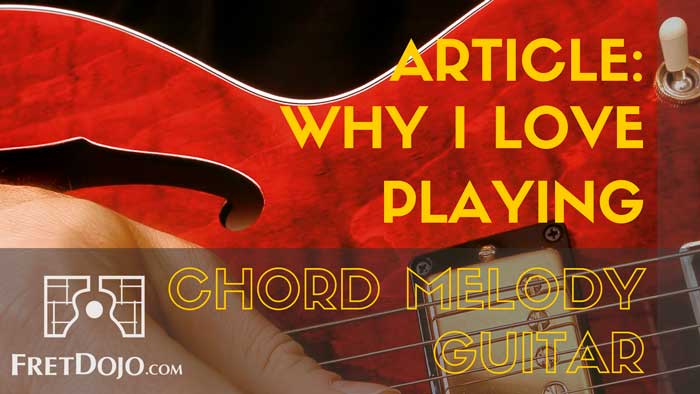 Let's face it:
It gets boring playing guitar with only single lines all of the time.
Especially if the only other option is to comp in the rhythm section.
But:
What if you could combine single lines and chords together at the same time?
If you learn how to play chord melody, you can!
All of a sudden, your jazz guitar playing can become more rich, more creative, and more fun.
In fact, I think chord melody is the most creative way to play jazz guitar, as you'll see below.
In this article, I want to share with you the reasons I personally love playing chord melody – as it's my favourite way of playing jazz guitar.
You're also going to listen to recordings by some of the finest jazz guitar chord melody players, to give you ideas of the approaches you can take.
Without further ado, let's get into it!
Interested in arranging your own chord melodies?

Get my free eBook:
Get a free copy of my how-to guide on creating cool chord melody arrangements on guitar by
clicking this link now >>

*Cough* Excuse Me, What Exactly Is Chord Melody?
Let me explain.
The term chord melody simply refers to incorporating chords along with a melody line, on one guitar.
To be specific, it usually refers to arranging a pre-existing melody of a tune with chords.
Chord soloing, on the other hand, refers to incorporating chords in the context of an improvised solo.
But, for the sake of this article, I'll just refer to both of these things generally as 'chord melody', as they are usually combined together in a performance.
You can play chord melody in a jazz trio, a duo with bass and guitar and also as a solo jazz guitarist.
For example, this video of myself playing Green Dolphin Street is an example of a jazz trio chord melody:
And here's an example of a solo guitar chord melody performance by the great Joe Pass:
I'm glad we cleared that up.
Now, let's talk about what chord melody can do to supercharge your jazz guitar playing…
Reason #1: Another Dimension of Creative Possibilities
There's only so much you can do with single lines.
Guitarists often strive for harmonic complexity and go to extreme technical heights in their single line solos in order to create enough variety in their performance.
But I think there's an easier way to express yourself creatively on the guitar.
You guessed it:
By combining chords and single lines seamlessly into one.
Single lines can be imagined like two dimensional space, i.e. single pitches and rhythm, intersecting in time.
However, incorporating chords is like bringing in a third dimension to your playing, and hence vastly multiplies the available creative possibilities when you play.
The result:
Your playing will become a lot more interesting – not only for your own sake, but your audience's too.
There's lots of options available to create variety when you know some chord melody techniques.
Depending on the approaches you take with your chords, you can get a wide range of harmonic colour.
Chord melody guru Ted Greene once spoke of the 'rainbow' of harmony, a spectrum of colours from dark to bright (see video below):
Chord melody techniques also help to create textural variety. One way to achieve this is by alternating between single lines and chord phrases.
A strong example of this is many of Wes Montgomery's solos.
Wes would often begin a solo by playing single lines, then move into his famous octaves technique, before finally finishing with a chord solo climax.
Comparing a few examples of great players makes it easy to see how creative you can get with chord melody.
For example, first check out this video of Ed Bickert playing Easy To Love:
Now, watch this one of a (young) Lenny Breau playing Georgia on My Mind:
Finally, here's one of the great Joe Pass playing All The Things You Are, with a solo chord melody introduction before the band kicks in:
As you can hear, each of the above players developed strikingly different chord melody approaches – a testament to how creative you can get with this way of playing jazz guitar.
Reason #2: You Can Play Jazz Guitar without Needing a Band (Either Real Or 'in-a-Box')
Let's get one thing straight:
Chord melody works great in a jazz trio or bass and guitar duo, as it can provide more texture and punch to your lines when you need it.
But:
I think where chord melody really shines is in playing solo jazz guitar.
Why?
Put away those Aebersolds, and uninstall Band in a Box…
You can now play the melody, comping and bass all on your own, on a single guitar. How cool is that!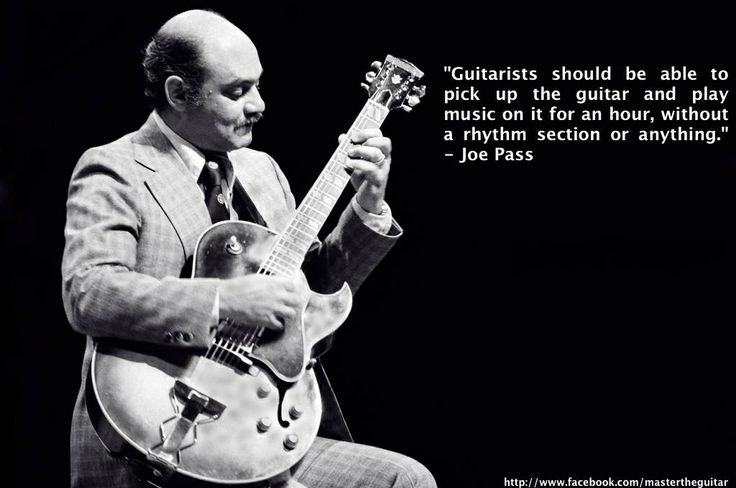 Solo guitar is an essential skill for any jazz guitarist as it can be very useful for gigs where you need to play on your own – a situation any gigging guitarist would often find himself in.
Speaking as a teacher, I find a lot of my jazz guitar students start to gravitate towards solo jazz guitar as their mainstay.
There's a reason for this:
If you have a busy job, family or other commitments, it can be hard to find time to attend jam sessions or organise gigs.
Playing solo jazz guitar is a great alternative – you have the whole band on one instrument!
Speaking of which, here's a great solo guitar video I found from guitarist Chris Whiteman:
Reason #3: Chord Melody Integrates And Improves All The Jazz Guitar Skills You Already Know
Some people don't attempt to learn chord melody because they think it's too hard.
It's easy to see why.
Listening to a track from one of Joe Pass's Virtuoso albums, like the one in this video, would make anyone lock their guitar up in their basement in terror.
But chord melody is easier than it looks.
In fact, you probably have the majority of the skills you need to play chord melody already.
Chord knowledge, comping styles, and single line soloing: that's all the ingredients you need, right there.
The challenge lies in being able to integrate all of these at once.
Yes, it can be a challenge.
But here's the thing:
Through learning chord melody, you'll (ironically) become a much better single line improviser too.
The reason?
Through learning chord melody techniques, you'll begin to more clearly see the relationships between licks, scales, arpeggios and chords.
When I solo with single lines, most of the time I'm thinking more about chord shapes on the fretboard rather than scale shapes. Chord shapes are excellent compact packages for outlining the essential chord tones of the harmony.
When you solo with chord shapes in mind and weave single lines 'through' these shapes, visualizing them on the fretboard, you can't help but hit the notes that sound good over the changes.
This is an often overlooked aspect of learning chord melody. By improving your chord knowledge over the fretboard, you'll become a better improviser overall.
That's not all:
Due to the variety of chord voicings you need to learn to be an effective chord melody player, you'll be a more solid member of the rhythm section, too.
Further Resources
I know what you're thinking:
"I'm not convinced – this chord melody stuff looks too darn hard!"
Don't sweat it:
With the right resources and tools, chord melody can be a piece of cake.
Here's some resources to get you up and running with a minimum of fuss:
To help you on your chord melody journey, check out this chord melody post I recently put together for Jazz Guitar Online, in which I go through four simple tricks you can use to start arranging great sounding chord melodies, even if you've never tried chord melody before.
Something you might want to consider is brushing up on your fingerstyle techniques. I find fingerstyle a superior technique for chord melody (as opposed to using a pick) due to the wider variety of textures and moving voices that you can get with fingerstyle. Check out this post for a quick start guide.
Finally, in case you haven't downloaded it already, check out my FREE in-depth beginner's guide to chord melody arranging, the Chord Melody Guitar Basics eBook, which you can get right now by clicking this link. It's over 40 pages of step by step instructions on how to start creating your own chord melodies that sound great and are easy to play.
My New eBook, The Easy Guide To Chord Melody Guitar – Out Now!
I'm pleased to announce that Matt Warnock of Jazz Guitar Online and myself have spent this year co-writing a comprehensive guide on arranging chord melodies and how to master the art of chord soloing, entitled The Easy Guide To Chord Melody Guitar.
This brand new eBook is a complete A-Z guide on creating your own great sounding chord melody arrangements for trio and solo guitar situations, and you'll also learn how to chord solo (i.e., improvise with chords) like a pro.
To find out more about the book and to get your copy, click here>>
Conclusion
I hope this article has inspired you to get into chord melody guitar if you haven't already done so.
When I started focusing on chord melody techniques, not only did my own playing get a whole lot more interesting, but overall it made me a much better jazz guitarist too.
Over to you – what are the best tips that YOU have for learning chord melody? Or, if you're just starting out – what do you struggle with the most when it comes to learning chord melody techniques?
Let me know your thoughts by leaving a comment below; I would love to hear from you!
Greg O'Rourke, BMus (Hons), ANU
Founder, FretDojo.com