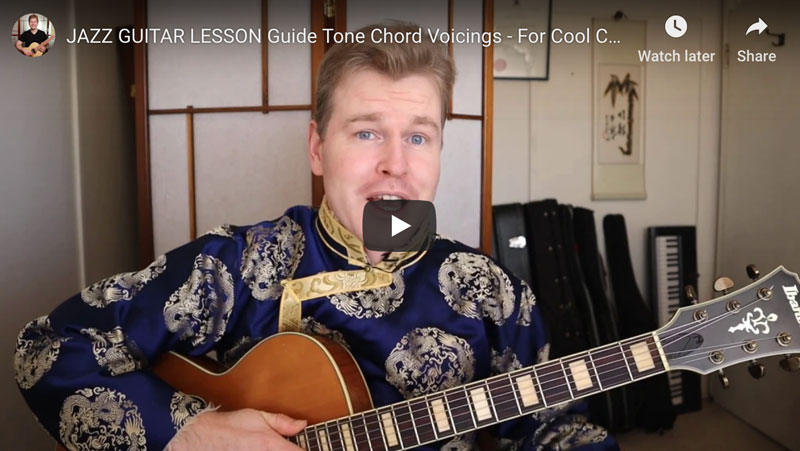 Guide tone chord voicings (also known as '3-7 voicings') are the essential building blocks of chordal playing on jazz guitar.
In this video you'll find out how guide tone chord voicings can made comping astonishingly easy in any comping situation you might find yourself in.
That's not all:
You'll also learn how you can 'dress' up guide tone voicings to make instantly cool sounding chord solos so you can wow the crowd at your next gig.
Now the exciting bit:
​​This video is a free sample lesson from our new course I've been talking about lately, "Comping & Chord Soloing Deep Dive", presented by special guest Greg Stott, Associate Lecturer of Jazz Guitar at the ANU School of Music.
This brand new course includes a complete walkthrough of the essential chordal techniques required by any jazz guitarist, including drop 2 voicings, drop 3 techniques, chord soloing shortcuts and more.
This course is an excellent opportunity for you to fill in any gaps of your comping knowledge so you can conquer your comping – so you can get more gigs!)
The best part:
You can access this course FREE by signing up to a 14 day, obligation FREE trial to the FretDojo Jazz Guitar Academy, my online learning platform for jazz guitar. Sign up here for instant access to the new course as well as my entire collection of video courses (no credit card required): https://www.fretdojo.com/free-trial
Wrap Up
I hope you enjoyed this video.
What are your exciting ideas and thoughts on this topic?
Let me know in the comments.
Greg O'Rourke
Founder, FretDojo
World Leader in Online Jazz Guitar Education