It's Christmas – Solo Jazz Guitar Style! (First Noel Chord Melody)
This video is an arrangement of The First Noel – my favourite Christmas carol. Playing this tune takes me back to my childhood and listening to the church congregation singing this beautiful melody.
I've incorporated a few jazz guitar arranging techniques but tried not to overdo it – sometimes the simplest techniques work best.
Here are some notes about the arrangement:
To get some low bass notes, I tuned the 6th string down to D, and the TAB reflects this.
The arrangement has an intro section with cascading harmonics, an idea I've been playing with lately. Lenny Breau often added these to his chord melody arrangements and it's a really neat effect.
Now the exciting bit:
If you're keen to have a structured, step-by-step approach to learning jazz guitar, it might be worth checking out my online learning system, the FretDojo Jazz Guitar Academy.
Here's what you get when you join up:
Detailed step-by-step video lessons on new classic jazz tunes and essential jazz guitar skills added to the club website each month. Includes listening recommendations, demonstrations of the melody, analysis of the harmony, and detailed explanations on how to solo over the tune.
Key improvisation concepts and techniques for soloing, and classic licks and example solos that relate to each tune, so you can continue to expand your jazz vocabulary and have more options when it comes to soloing.
Detailed comping ideas to suit the style of each jazz standard covered
Lessons on how to make chord melody and solo jazz guitar versions of tunes featured - play a complete jazz standard completely on your own like Joe Pass!
Members only forum - A worldwide community of jazz guitarists from all around the globe.
Regular workshops, masterclasses, and Q & A Sessions - get direct answers from me on anything holding you back in the practice room. Replays of all sessions are available to access for all members even if you can't make it live.
Massive searchable database of jazz licks and soloing concepts - the ultimate idea "grab bag" for your solos.
Optional monthly challenges where members participate to get feedback on their playing, reach new milestones and be eligible for cool prizes.
The best part:
You can access this all of this and more for just $1 by signing up to a 14 day trial. Go here for more info: https://www.fretdojo.com/signup-offer
Anyway, I hope you enjoy listening to this one – let me know what you think! It reminds me a little bit of Ted Greene's solo guitar arrangements.
Thank You!
Finally, a huge thank you for being part of the FretDojo journey this year.
I'd never conceived that my website would become so popular in such a short space of time. It's only been up and running for little over a year and there are now thousands of FretDojo readers just like you, learning jazz guitar and chord melody from all over the world.
To all of you who bought my new chord melody book last week, contributed to the Facebook group, got Skype lessons with me or simply just read my articles and got value from them – thank you. It means so much to me that you find this material useful and a valuable addition to your jazz guitar practice.
I have some big plans for FretDojo in 2017 – I'll tell you all about them in the coming months…
Wishing you and your family a very Merry Christmas and a fantastic New Year!
Happy playing,
Greg O'Rourke
*STOP PRESS* The Easy Guide To Chord Melody Guitar Released!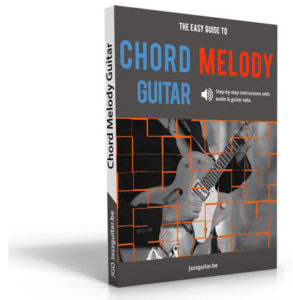 The wait is over…
My new eBook, The Easy Guide To Chord Melody Guitar, is now officially released!
The Easy Guide To Chord Melody Guitar is a complete A-Z guide on creating your own great sounding chord melody arrangements for trio and solo guitar situations, and you'll also learn how to chord solo (i.e., improvise with chords) like a pro.
Click here to get your copy of The Easy Guide To Chord Melody Guitar at the low price of only $24.99!
This is what you get with The Easy Guide to Chord Melody Guitar eBook:
7 Chapters (356 pages) that break down essential chord melody and chord soloing concepts.
Over 300 musical examples in TAB, diagrams, photos, and notation.
280 audio examples to make learning chord melody and chord soloing easy.
14 Backing tracks, so you can apply each concept to a musical situation.
Chord melody arrangements from beginner to advanced levels.
Chord soloing studies for beginner, intermediate, and advanced players.
Comping studies for duo, trio, and solo jazz guitar.
All for one low price of only $24.99!
I've co-authored this brand new eBook with Matt Warnock and it's been published by his website, Jazz Guitar Online.
Matt and I have been collaborating on this eBook together for over a year, and we're thrilled to finally have this ready for you guys!
So who is The Easy Guide To Chord Melody Guitar eBook for?
Are you feeling bored and stuck playing only single line melodies and solos?
Do you play jazz guitar as a hobby at home and either don't have the time to attend jam sessions, or have no jazz musicians to play with in your local area? In this case, solo jazz guitar is a logical choice – but you've got no clear ideas on how to get confident with this style?
Have you ever wanted to learn how to play chord melodies or chord solos, but didn't know where to start, or thought it was too difficult to even try?
Do you listen to players such as Joe Pass, George Benson, and Barney Kessel and wonder how they get that smooth, sophisticated sound with their chord melodies and chord solos?
If you want to learn chord melody and chord soloing, but never had a pathway to get started, then The Easy Guide to Chord Melody Guitar is for you.
Click here to get your copy of The Easy Guide To Chord Melody Guitar now!
What will you learn in this new eBook?
Essential fingerstyle and hybrid picking techniques to set you up for chord melody success.
Fingerstyle and hybrid picking licks in the style of Joe Pass, Lenny Breau, Kurt Rosenwinkel, and many more.
Chord melody arranging concepts and full chord melody arrangements.
Chord soloing phrases in the style of Wes Montgomery, George Benson, and more.
Learn full chord melody and chord soloing arrangements in the style of Joe Pass, Ted Greene, and more.
Everything you need to go from day 1 to chord melody mastery in your playing.
Here's the thing:
Investing in your own development as a jazz guitarist is one of the greatest gifts you can give to yourself.
And I'm sure your friends and family will enjoy the great music you'll make as a result of this book too!
Click here to get your copy of the new Chord Melody eBook.
P.S. Have a question about the new eBook? Email me at greg@fretdojo.com and I'll get back to you as soon as I can.