Video: I Fall in Love Too Easily
In this post I will give you a behind-the-scenes look at how I put together the jazz guitar solo arrangement you can see in the video above.
I've been listening to a lot of Chet Baker recently, in particular his classic album, 'Chet Baker Sings'. This well-known album has been cherished by lovers and lonely hearts for decades. Chet Baker is more known as a trumpeter, but he surprised fans and critics alike with his vocal prowess on this release.
I thought that the standards on this album make for some great solo jazz guitar chord melody arrangements, and the video above is my first attempt of this. I was particularly drawn to the ballad I Fall in Love Too Easily due to its evocative chord changes and hauntingly beautiful melody.
I found another version of this standard on guitarist Lenny Breau's fabulous live album, Live at Bourbon Street. I think this is probably Lenny's best recorded album. Every track showcases not only Lenny's innovative approach to jazz guitar, but it is also some of the most heartfelt jazz I've come across anywhere. If you call yourself a jazz guitarist and you haven't listened to this album yet, drop everything and check it out now!
I guess this video is kind of like a homage to Lenny Breau. Unfortunately Lenny passed away before his time, but I reckon he was the most innovative and creative jazz guitarist of his generation.
Arranging techniques for Jazz Guitar Solo
While you're here, I thought I could share with you some of the ideas I had for this arrangement, as well as the challenges I faced turning I Fall In Love Too Easily into a jazz guitar solo version.
Solutions to Comping
Comping yourself on solo jazz guitar poses some interesting challenges.
You'll notice when I play the head I stick to pretty basic chord voicings in the comping (see below). I find that these work well for a slow ballad arrangement on solo guitar, as they have root notes in the bass and have enough depth to stop the arrangement sounding too empty.
I've noticed Joe Pass often uses these kinds of shapes in his jazz guitar solo  arrangements as well:
Useful Chord Voicings For Jazz Guitar Solo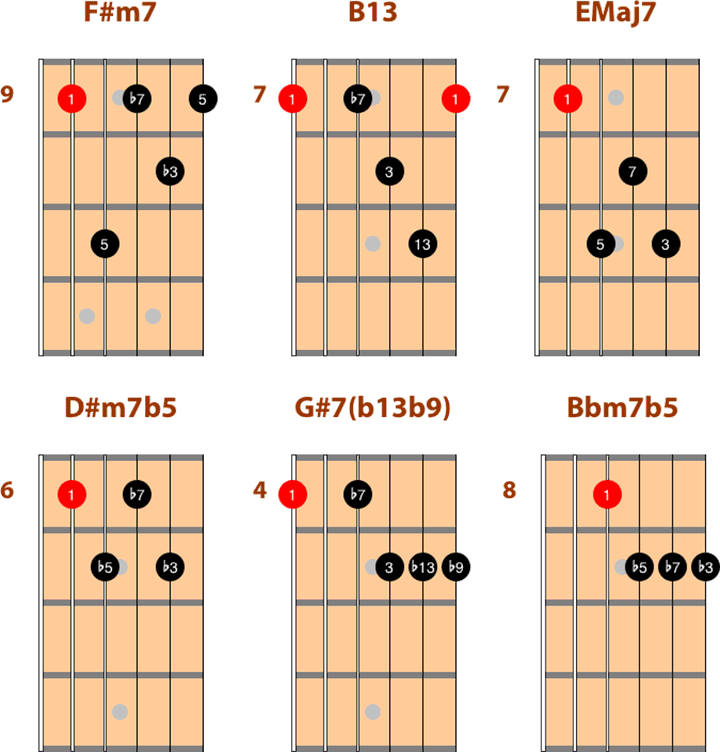 Due to the slow tempo it's important to emphasize the root notes in the bass and these voicings are good for this.
However, as I wanted to play more double time style in the solo (see the video at 2:00), trying to play those sort of voicings became too clunky.
When you want to play faster chord melodies or solos, it's not necessary to play such thick voicings and they actually start to get in the way of the melodic line, as your fingers get too tied up playing the chords.
A good single line solo should convey most of the harmonic movement anyway, although you do need something in the comping part for a solo guitar version, otherwise it will sound too empty.
Here's three ways I negotiated this issue:
#1: 3rds and 7ths Voicings – this was a technique favored by Lenny Breau. Simply play 2 note voicings made up of the 3rd and 7th note of each chord.
The reason this can still work as the 3rd and 7ths are the strongest chord tones to define the tonality of a chord. Combined with a harmonically secure solo, they can convey the harmony even without the root note of the chord present.
Listen & Play:

3rd and 7ths voicings are very easy to play and free the fretting hand up to do more interesting things melodically in a jazz guitar solo setting.
#2: Single Bass Notes – I got this idea from the Bach lute suites I use to play on classical guitar. Interspersing the odd bass note of the root of each chord here and there can do wonders to fatten out the sound when playing extended melodic lines. This is even easier than 3rds and 7ths and serves to free up your fretting hand for more elaborate lines.
Listen & Play:

#3: Three Note Voicings – combining single root notes with 3rds and 7ths will give you 3 note voicings. Easy to get the fingers around, these are good for a thicker sound in the arrangement where you need it. They are also useful for the odd chord stab here and there and are essential if you want to break into walking bass comping. I use these all the time when playing jazz guitar solo: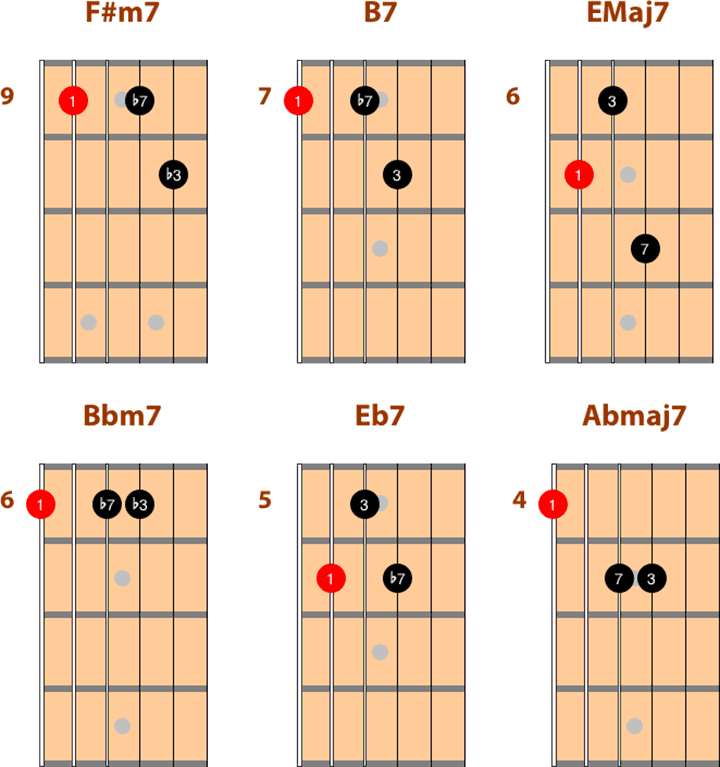 Fast forward the video to around 2:00 to see the above techniques in action.
Tremolo technique
I've noticed that Lenny Breau often used classical and flamenco guitar techniques in his fingerstyle jazz guitar solos. As I come from a classical guitar background it occurred to me that I could follow suit and a few interesting fingerstyle techniques could be useful for this arrangement of I Fall in Love Too Easily.
Listening to the Chet Baker version, I was struck at how lyrical the melody is in this standard. It reminded me a little of Recuerdos de Alhambra, a well known classical guitar piece.
Recuerdos de la Alhambra features tremolo technique. This has been used by classical guitarists as a way to imitate a sustained vocal line or an instrument like the violin.
A shortcoming of the guitar is how quickly each note quickly fades away after it's plucked, so tremolo gives the illusion of a sustained melodic line. Quite clever!
Here's an example of tremolo technique exercise you can practice (see the video from 2:58 for more):
Listen & Play: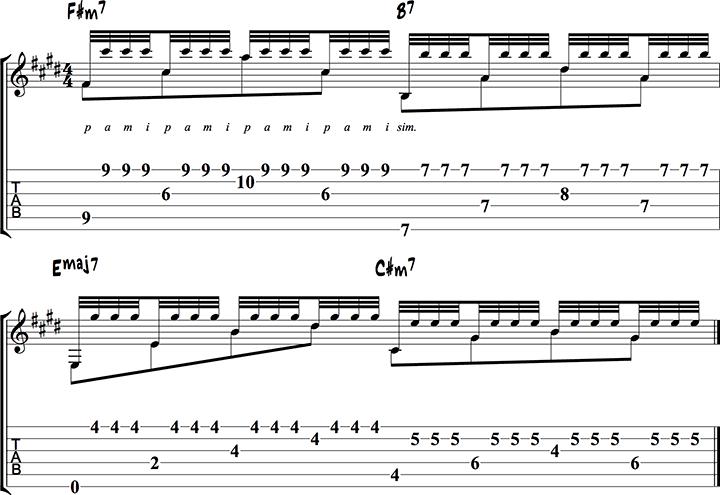 Lenny Breau also used tremolo from time to time in his own arrangements and solos, so this could be something interesting for you to explore in your own jazz guitar solo arrangements.
Thanks for watching! Also, a special thanks to Garry Petrisic, my luthier friend who made the beautiful Bob Benedetto copy that I'm playing in the video that he has kindly loaned to me. This guitar is a jazz guitarist's dream – thanks again Garry!
Further Resources
Let me know what you think of this jazz guitar solo version of I Fall In Love Too Easily. If you have any suggestions or feedback please leave a comment below, it would be great to hear from you…