How To Play Jazz Barre Chords For Newbies (Guitar Lesson)
Today's lesson is about playing jazz barre chords in all their groovy goodness.
Students often complain about what seems to be a tricky technique for these bar chord shapes…
But it's easy once you know a few principles for the angle and position of your hand and thumb.
Let's get into it!
FREE PDF Download:
Click here
to get a download of the PDF and backing tracks of all the jazz bar chord exercises covered in this lesson sent straight to your inbox.
Video Sections:
00:00 Introduction
00:26 Am7 Jazz Chord Shape
01:39 Where To Place The Thumb for Jazz Barre Chords
04:03 D9 Jazz Bar Chord Shape
05:29 Exercise 1: Am7 D9 Gmaj7 251 Progression
06:31 Dm9 Jazz Chord
07:14 G7alt Jazz Barre Chord
08:29 C6/9 Chord
09:28 Exercise 2: Dm9 G7alt C6/9 251 Progression
10:25 Wrap Up
Jazz Bar Chord Shapes Used In This Video: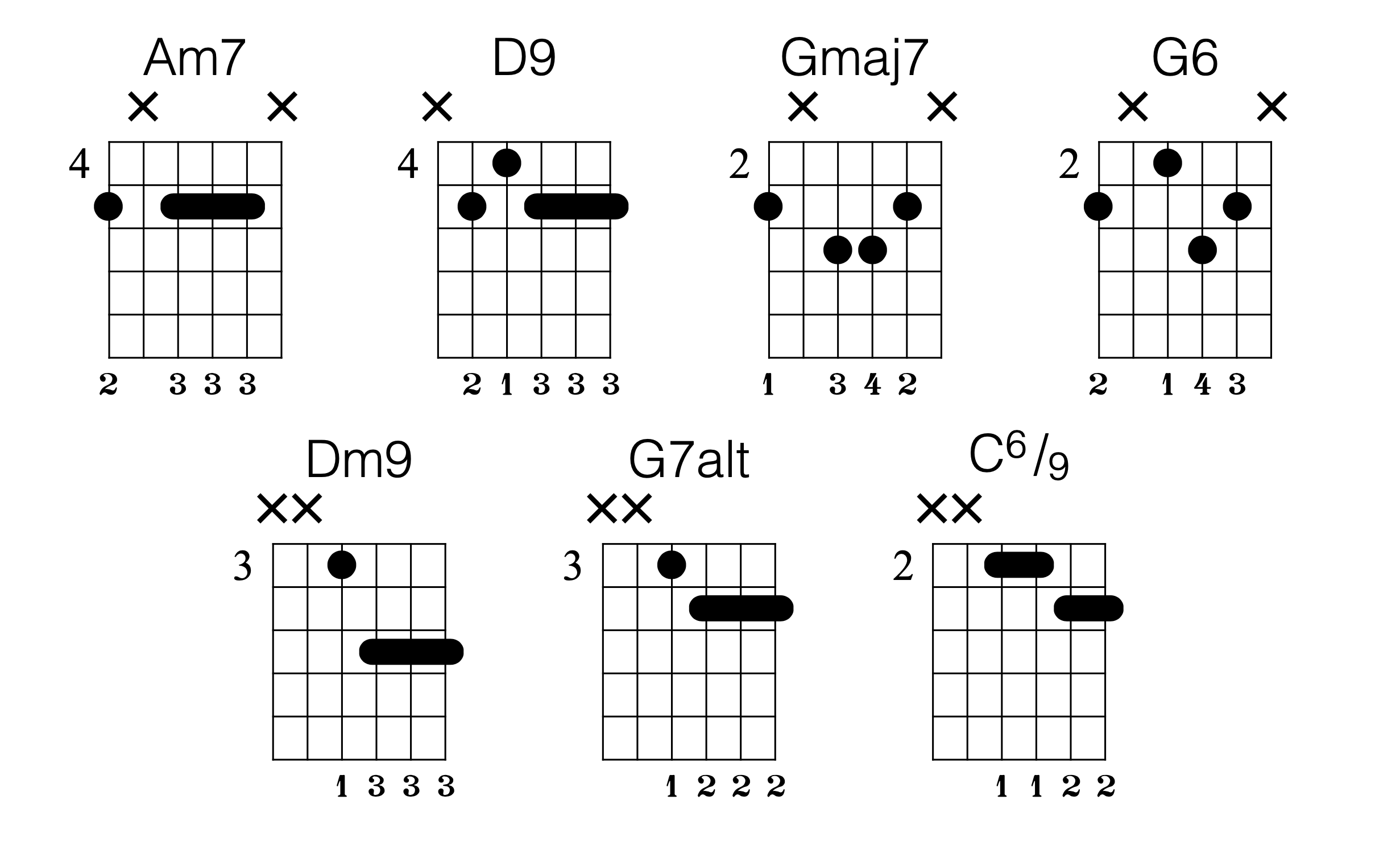 Jazz Barre Chords Exercise 1 (See Video at 05:29)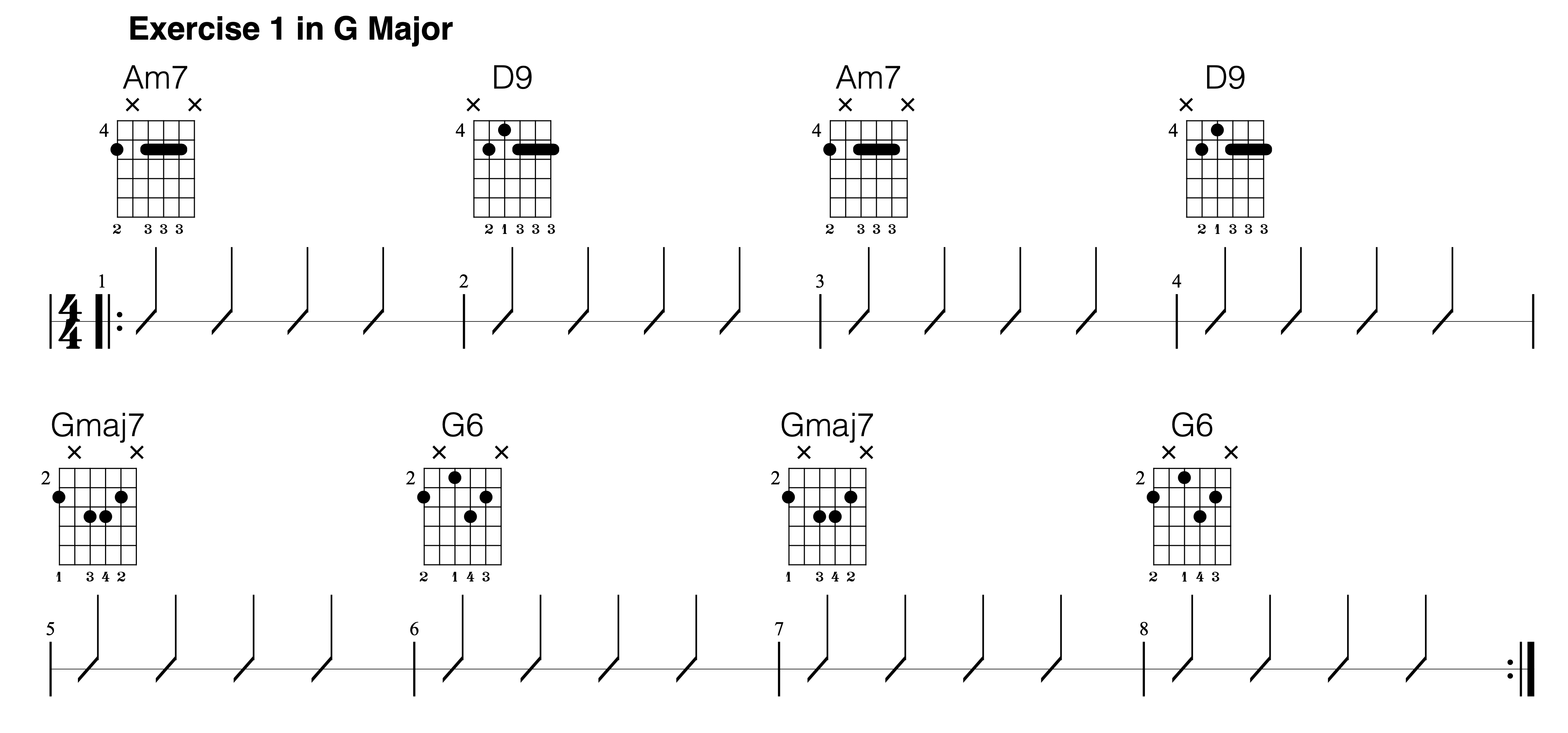 This exercise features 2 of the most commonly used jazz barre chord shapes on the Am7 and D9 chord voicings.
Although there are multiple ways to play these chords, the shapes I have demonstrated in the video are more common for jazz.
Minor chords in jazz often have the 7th added, making it a minor 7th. The shape for Am7 indicated in this video is much better for jazz than the voicings commonly used in rock and pop. Notice how the fifth string is muted by the 2nd finger – eliminating unnecessary notes.
The D9 shape is commonly used for dominant chords in 2 5 1 progressions on guitar. Make sure you avoid strumming the sixth string with this shape.
Be particularly mindful to watch in the video how I place the thumb position above the neck for these two chords, which 'clamps down' the 3rd finger barre.
Jazz Barre Chords Exercise 2 (See Video at 09:28)


These chords work out a 2nd finger barre on the G7 alt and the C6/9 jazz chords.
Why use the 2nd finger barre?
The answer:
It frees up your 3rd and fourth finger for adding melodies or other chord extensions on top of the basic chord. You'll often notice these types of chord shapes used in Joe Pass chord solos.
Next Step: Leave a Comment About This Jazz Bar Chords Guitar Lesson
I hope you enjoyed today's guitar lesson! Make sure you watch the video on this page all the way through for more tips on getting these bar chords under your fingers.
What did YOU think about this lesson on jazz barre chords? Leave a comment below now…
About The Author: Greg O'Rourke
BMus (Hons), ANU
Professional Guitarist & Founder of FretDojo.com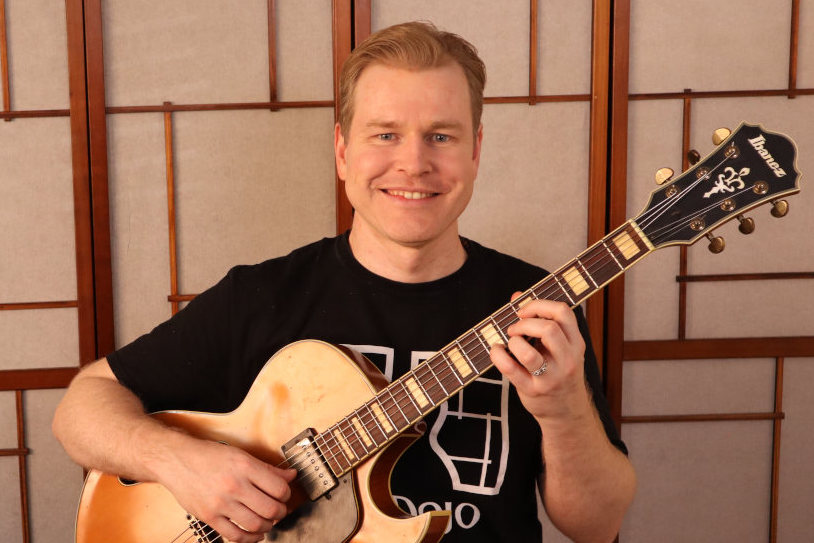 Award-winning Australian guitarist Greg O'Rourke received his Bachelor Of Music Honours degree in 2006 and was a scholarship holder at the Australian National University School Of Music.
Originally a trained classical guitarist, Greg has developed a high level of expertise in jazz guitar and other styles. Greg's versatile guitar ability is a credit to several teachers he has studied with over the years, including Mike Price and Don Andrews, well-known performers and teachers in the Australian jazz guitar scene. Greg also studied extensively with Tim Kain, one of Australia's leading classical guitar performers and teachers.
Greg has given prizewinning performances at the Australian National University Chamber Music Competition and was awarded 1st prize in the Chamber Music division of the 2004 Australian International Guitar Competition.
Greg has many thousands of subscribers to his website and Youtube channel from all across the world. He is also an established author, with his book on jazz chord melody, The Easy Guide To Chord Melody Guitar becoming an international bestseller.
Greg has been featured on several high-profile jazz guitar websites, including Jazz Guitar Online, Fundamental Changes, and Takelessons.