*NEW* Jazz Guitar Mini-Course
Lullaby of Birdland: The Bebop Soloing Secrets of Barney Kessel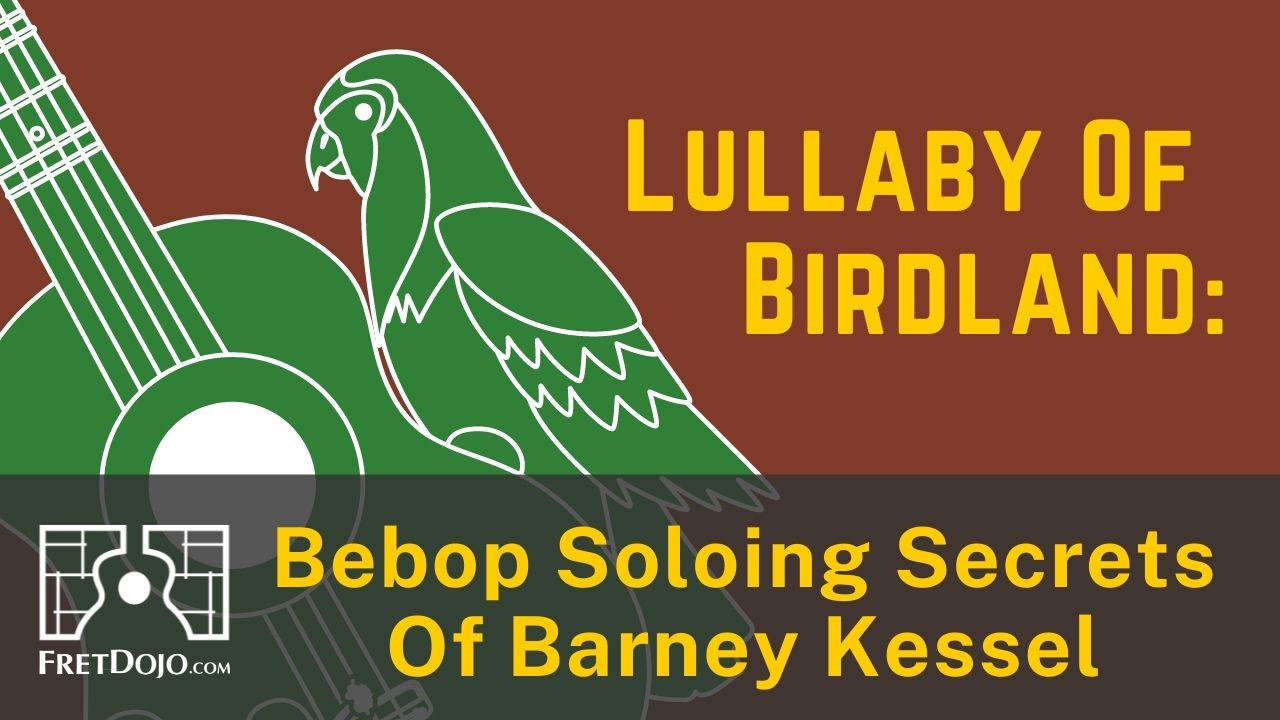 Discover the easy way to play & improvise over one of the most popular jazz standards of all time using techniques from the great Barney Kessel – WITHOUT confusing theory or boring exercises…

Secure Payment|30-Day Money Back Guarantee
Course Details:
This course will take you on a fun learning adventure, where you'll go through the basics of learning the classic jazz standard Lullaby of Birdland. You'll start with the melody and chords, then get some cool jazz guitar licks and improvisation approaches under your belt in the style of the great Barney Kessel, one of the most highly regarded jazz and session guitarists of the 20th century.
This step by step video course is suitable for all levels and if you have any interest in jazz guitar, then there's something in this course for you.
Check out Barney Kessel's classic recording of Lullaby of Birdland –
this recording has inspired the material in this course.
This online course is available to you online via our FretDojo Academy eLearning platform, on any device (desktop, tablet or mobile) and includes step-by-step HD video lessons, PDF reference sheets, backing tracks and more so you always have exactly what you need to improve your guitar playing skills, even on the go.
A Complete Learning Pathway In 3 Concise Modules:
*All modules come with HD Videos, Backing Tracks and PDF Sheet Music + TAB*
Get the essentials of this song under your fingers – the critical foundations for the lessons that follow.
Learn the melody of Lullaby of Birdland with full notation and TAB on screen to make practicing easy.
Classic recommended recordings to listen to, so you can enjoy getting familiar with the intent and feel of the song.
Cool chord study directly inspired by Barney Kessel's comping style.
Lesson 1: Introduction
Lesson 2: Listening Exercise
Lesson 3: Backing Track Download
Lesson 4: Melody
Lesson 5: Comping
Module 2:
Improvisation & Chord Melody
This is where I'll break down improvising over Lullaby of Birdland for you step-by-step to make soloing a breeze.
Useful arpeggio studies and classic Barney Kessel licks to get more contour and interest in your jazz lines
Detailed analysis of the harmony so you can understand how the chord progression works for soloing
Impress your friends with a tasty chord melody arrangement of the tune.
Lesson 6: Arpeggios
Lesson 7: Analysis
Lesson 8: 4 Barney Kessel Licks
Lesson 9: Chord Melody Arrangement
Module 3:
Barney Kessel
Bebop Patterns
Dive deep into one of Barney Kessel's simple yet powerful soloing secrets – giving you the ability to quickly transform any boring scale or arpeggio into incredibly hip jazz lines.
Step by step through the process of applying several of Kessel's cool bebop patterns to your solos
Easy to remember finger pattern "hacks" for bebop patterns
Example solo with playalong notation: have fun learning this cool improvisation example, while consolidating the approaches that have been covered throughout the entire course.
Lesson 10: 4123 Bebop Pattern
Lesson 11: 4312 Bebop Pattern
Lesson 12: Honeysuckle Bebop Pattern
Lesson 13: Putting It All Together – Example Solo
Lesson 14: Wrap Up
The result:
Not only will be able to play Lullaby of Birdland, which is one of the most popular and well-loved jazz standards, you'll also come away with some really useful and important Barney Kessel-inspired improvisation concepts that you can then use on any other jazz standard that you want to play.
"Feed a man a fish, you feed him for a day, but teach a man how to fish, you feed him for a lifetime."
Desktop, Tablet & Mobile Access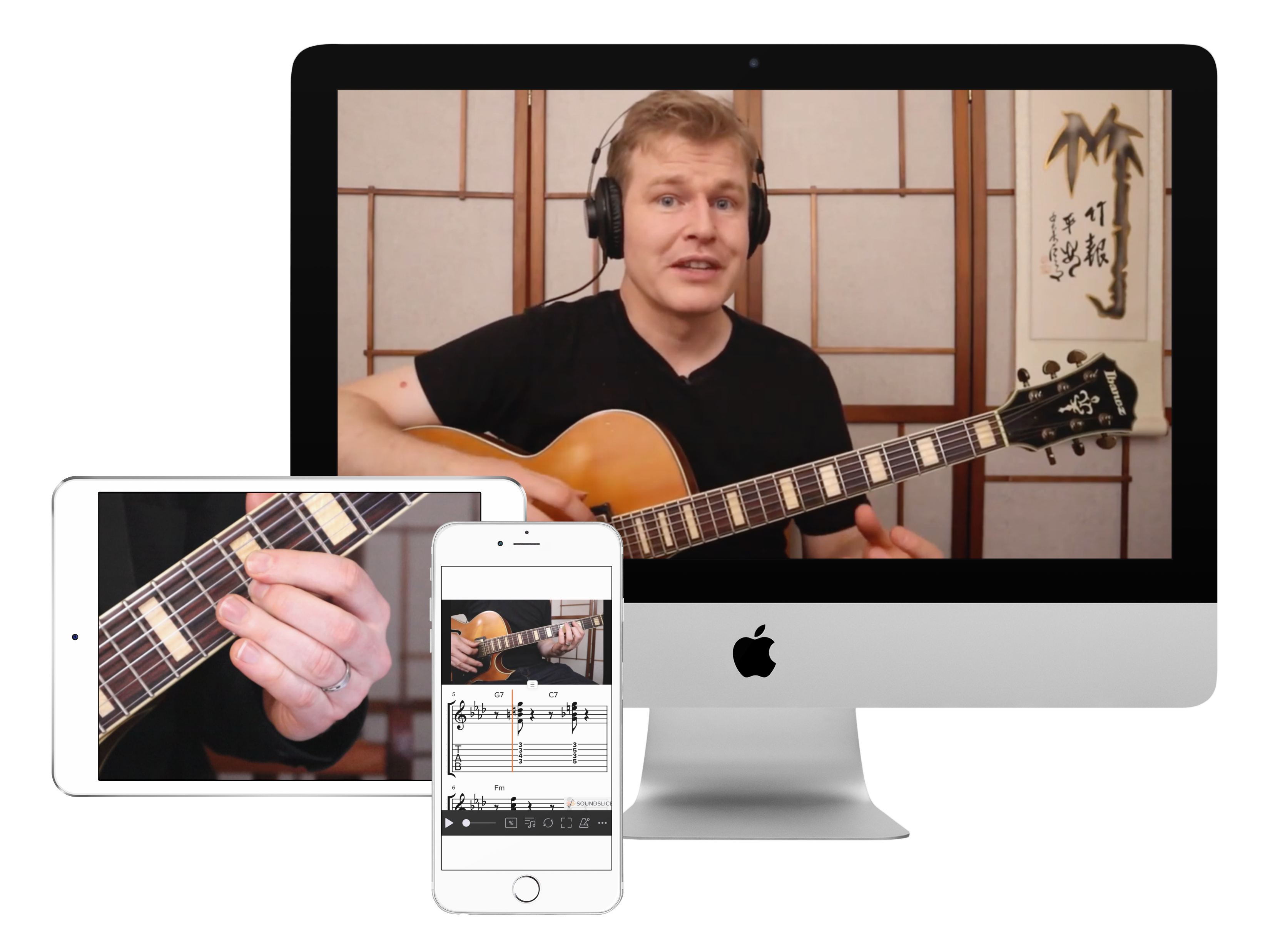 Step-By-Step Lessons
Concise, easy to follow examples and exercises resulting in rapid learning of the material.
Learn At Your Own Pace
Lessons are available on-demand 24/7 to go through at your own pace, in the safety and comfort of your own home.
Backing Tracks, Notation & TAB
Audio at multiple speeds, PDF downloads, and an interactive notation player – everything you need.

Secure Payment|30-Day Money Back Guarantee
"Greg has the ability to keep everyone motivated, he's caring, clear thinking, very talented and most importantly – he's completely dedicated to getting the best out of all the members – whether newbies like myself or guys that have been in jazz bands for years.
I can highly recommend Greg and the Fret Dojo. It's outstanding – go for it!"
"I've participated in TWO 12 week courses with an internationally famous music university…I can safely say the investment in lessons with Greg has been worth more than 95% of all the other formal and informal education I've managed to derive for myself."
"Greg gives excellent advice on how to practice. Guitarists, if they're like me, tend to noodle. Greg presents an organized system to learning jazz. With Greg's direction, you won't waste time and you will improve."
Meet Your Instructor:
Greg O'Rourke – BMus (Hons), ANU
Professional Guitarist and Founder of FretDojo.com
Greg O'Rourke is the FretDojo Academy's main instructor and the founder of FretDojo.com – one of the most popular jazz guitar websites online today. Greg's mission is to empower guitarists worldwide with the tools to make great music by providing high quality step-by-step courses and materials.
Greg has many thousands of subscribers to his website and Youtube channel from all across the world, and is also an established author, with his book on jazz chord melody, The Easy Guide To Chord Melody Guitar becoming an international bestseller.
Greg's website has helped thousands of people improve their jazz guitar playing, and he's been featured on several high profile jazz guitar websites including Jazz Guitar Online, Fundamental Changes, and Takelessons.
"Greg O'Rourke plays the guitar with a beautiful touch and tone. He effortlessly brings out and enhances harmonic movement and counter-lines in his playing, while keeping clear melodic lines in the forefront. Using his considerable fingerstyle technique he creates personal renditions of classic jazz standards. Definitely someone to watch and listen to closely!"
Howard Alden
Internationally Acclaimed Jazz Guitarist, howardalden.com
Enrol In Lullaby of Birdland: The Bebop Soloing Secrets of Barney Kessel
Get instant access to the course and all supplementary materials.
Complete step-by-step learning pathway to mastering Lullaby Of Birdland

.

3 deep dive modules comprising 14 step-by-step HD video lessons
Learn key improvisation approaches used by the great Barney Kessel to supercharge your solos
Downloadable Backing tracks at multiple speeds
All examples have PDF notation + TAB included
Full 30 Day money-back guarantee, no questions asked.
30-Day 100% Money Back Guarantee
Your investment in this course is protected by my 30-Day money back guarantee. Enroll in the program, put it into action and see the results for a full 30 days. If you're not happy, just send me an email in the first 30 days and I'll give every penny back right away.
Frequently Asked Questions:
Here are some common questions. If you have any questions that aren't answered here,
get in touch with me by emailing support@fretdojo.com.
How long will it take to get access?
Immediately. As soon as you have completed the order form you will receive an email with your login information.
Is there a guarantee?
Yes – all our training have a 30-day no questions asked 100% guarantee. You either get the results you want or you get your money back. It's as simple as that!
How do I get help if I need it?
You can get in touch with us directly from the course dashboard area. We're here to help! So reach out if you ever need help with anything.
How long do I have access to the course?
The course has lifetime access. The course is completely self-paced so you can work through the material on your own schedule.
Have A Question?
I will be happy to answer any questions you might have, get in touch with me at the email address below andI will reply to you ASAP… support@fretdojo.com
Listen – I know how frustrating learning jazz guitar can seem. Other teachers might have led you to believe that you need to know a whole textbook of boring scales and mind numbing theory before you can play anything half – decent.
But this is just plain wrong.
Once you strip everything down to the core essentials, the essence of jazz is simple. Once you know the basic ingredients, they can unlock incredible creativity and spontaneity in your playing and take your enjoyment of music making on guitar to a whole new level.
Once I freed myself of the complexity of the jargon, went back to first principles, and went to the real heart of jazz, I encountered one of the most satisfying and uplifting ways of creating music on the guitar.
I want that for you too, and I'd love the opportunity to be your guide through this process.
Let's get started on the journey together, shall we?