FretDojo Elite Coaching Program Information
Exciting news and a special invitation to those of you serious about going to the next step with your jazz guitar skills.
FretDojo is releasing a brand new jazz guitar initiative called the FretDojo Elite Coaching Program – a 3 month intensive group online jazz guitar program starting December 1st.
Read on to find out about what this exciting new program is all about and how to apply.
What Is The FretDojo Elite Coaching Program?
The FretDojo Elite Coaching Program is a 3-month 'hands-on' interactive online program with live instructors that will start on the 1st of December this year.
The program will be a deep dive investigation of the saxophonist Charlie Parker's classic transcriptions adapted to guitar, where you'll learn how to extract core concepts and vocabulary and use them to transform your improvisation skills, creativity and technique.
Charlie Parker is considered the 'Father of Bebop' and is a key influence of all major jazz musicians of modern times.
Parker's vocabulary, phrasing and articulation is considered the bedrock of all serious student's study of jazz.
This new program will guide you through a full, step-by-step understanding of Charlie Parker's vocabulary – and a clear process of how to adapt his ideas and concepts to the guitar specifically.
FretDojo Founder Greg O'Rourke will present the material to study in weekly group videoconference calls for all students to set the direction for each week of the program and to answer any questions that come up. The group calls will demonstrate full analysis and application of Charlie Parker's vocabulary, as well as ways to use it as a springboard for your own completely original ideas.
Alongside this, you'll also have the option to work directly one-on-one with FretDojo Instructor Stuart King via video call at a time of day workable for you. This personalized instruction will tailor the program to your individual needs, clarify any aspect of what you're studying, and provide 'hands-on' support to assist you moving forward in the program.
You'll receive a fully notated and fingered copy of the Charlie Parker transcription at the start of the course so that you can get to learning the material straight away without needing to spend months trying to work things out off a recording only. We'll also give you an effective method of translating horn lines to guitar in an easy to understand an intuitive way.
A deep investigation of a transcription full of useful vocabulary (such as the solos of Charlie Parker) is the time-honored pathway used by all major jazz musicians to develop their playing. It's strongly recommended that all serious jazz students take this approach at some point. This is a once in a lifetime opportunity to take your jazz guitar playing to the next level.
Who is this new program for?
The FretDojo Elite is geared towards those of you that are interested in any of the following:
Are interested in playing professionally and to have the skills required to be able to get paid gigs
Interested in teaching jazz guitar at some point
Those of you that feel you have reached a 'plateau' in your playing and want a way to drastically move your jazz guitar forward
Anyone enthusiastic to dedicate themselves to a rewarding study of the inner workings of the bebop language, which will profoundly impact your understanding of melody and music in general.
If you want a more immersive, deep dive learning experience with real live instructors literally 'on tap' to provide you with direct support, feedback and guidance – then this is an excellent opportunity.
What You Will Gain From Being In The Program:
A deep understanding of the bebop language, and a wealth of vocabulary to draw on and apply in your improvisations
An authentic sound in your improvisations – we'll cover not just vocabulary but how to phrase and express your solos in the style of the great horn players like Parker, with techniques adapted specifically to guitar
A clear understanding of how to work with jazz vocabulary and a process for applying key principles to any jazz standard or song form
How to use vocabulary from the transcription as a springboard to create your own completely unique and original vocabulary.
The confidence to join in on jam sessions and play jazz gigs.
An appreciation of how bebop language is constructed and the insight on how to develop your own authentic sounding jazz phrases and ideas.
Your Instructors: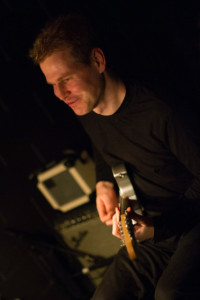 Greg O'Rourke – BMus (Hons), ANU – Greg O'Rourke is the founder of FretDojo.com – one of the most popular jazz guitar websites online today.
Greg will be running the weekly group calls in the program. With over 12,000 subscribers to my website from all across the world, Greg's also an established author, with his book The Easy Guide To Chord Melody Guitar becoming an international bestseller.
The FretDojo website and online courses have helped thousands of people improve their jazz guitar playing. Greg's been featured on several high profile jazz guitar websites including Jazz Guitar Online, Fundamental Changes and Takelessons.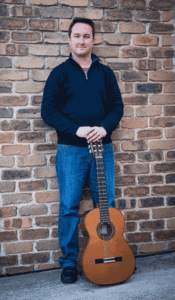 Stuart King, BMus (ANU) – Stuart is a guitarist and composer with over 25 years experience as a performer in an array of settings ranging from classical and contemporary through to jazz. Stuart will be taking the one-on-one lessons in the Standard package.
Stuart graduated from the Australian National University with a Bachelor of Music in 2005. Since then, Stuart has worked as a freelance musician and performs regularly as a bandleader, sideman, session guitarist and featured soloist.
Stuart has performed in jazz groups, musical theatre productions, symphony orchestras and rock bands, playing with leading musicians at gigs and festivals around Australia.
In 2016, Stuart released his debut album 'Qualia' (which Greg co-produced and also played on) comprising of original compositions which have been featured and broadcast nationally on ABC Jazz.
Packages and Pricing
This 3-month program starting 1st December 2020 and finishing on 28th February 2021. There are now TWO different packages available:
Package 1: Standard Package – $899 USD
1 x group video coaching call weekly* with FretDojo Founder Greg O'Rourke where he will give you a step-by-step guidance on how to work with the Parker transcription over the 3-month program, detailing a clear method on how to use the material contained within the transcription and use it as a springboard for your own creativity. There will also be time for question and answer segments in each of the live calls with Greg. (Replays of all live sessions will be made available to all participants).
10 x one on one private video coaching calls over the 3 months with a qualified FretDojo Approved Instructor, where you can get detailed insights on the material studied, and additional help on any aspect of your playing that needs attention.
A private community exclusive to FretDojo Elite participants and tutors where you can ask questions and post videos or audio for feedback.
Sheet music, backing tracks and replays of all group coaching sessions are included.
Package 2: "Lite" Package – $297 USD
Includes everything that's in the Standard package minus the one-on-one lessons.
(*Note: As this program runs over Christmas there will be a break in that week from the coaching calls – this has been factored into the program cost).
Important Note:
Numbers are strictly limited for this special program and your responses will be used to assess your suitability to be selected to participate. We will be accepting a maximum of 20 students total to this program due to availability of myself and the other instructors, so we can best serve all students that enroll. At time of writing there are only 4 Standard package spots left available.
How To Apply:
If you're keen to enrol in the FretDojo Elite Coaching Program, here's what you need to do:
Step 1: First – Go to this link now to submit the application – click here.

Step 2: Once you have completed the application form, secure your place by making a $50 USD deposit on the program fee via this link: https://fretdojo.thrivecart.com/fretdojo-elite-program-deposit/. Only students who have paid the deposit will have their application considered.
Don't worry – if you don't make it into the program, we'll refund you the $50 in full, otherwise if your application is accepted the $50 deposit will be deducted from the remaining program fee payable.
We look forward to working with you in this exciting new program! Let me know if you have any questions by emailing Greg at greg@fretdojo.com.
Kind regards,
Greg O'Rourke
Founder, FretDojo
World Leader in Online Jazz Guitar Education