Success – The E-Book Is On The Way!
Hey,
Thanks for registering for my FREE E-Book, Jazz Guitar Improvisation for Beginners: 7 Simple Steps!
Check your email in a few minutes to download your PDF copy of the ebook.
(Don't see any email after this time? Email support@fretdojo.com to let us know and we'll help you out.)
In the meantime, I would be really excited to have you share this FREE ebook with your other jazz guitar playing friends. You're the best!
Want to take your jazz guitar studies to another level and need step-by-step video courses and supportive community of guitarists just like yourself to help you do that?
Then I suggest looking into how my Fret Dojo Jazz Guitar Academy can help you with that: YES – I want to learn more about the program!
Talk soon,
Greg O'Rourke
www.fretdojo.com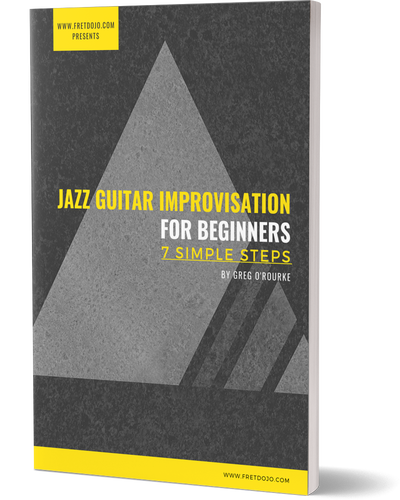 Finally Become The Jazz Guitarist You Have Dreamed Of Becoming – And Bust Out An Incredible Jazz Solo On The Bandstand!
"I've participated in TWO 12 week courses with an internationally famous music university…I can safely say the investment in lessons with Greg has been worth more than 95% of all the other formal and informal education I've managed to derive for myself."
"The main thing I have gotten out of the Fret Dojo, is that it has given me the confidence to go out and find a piano player, and a bass player who plays jazz. And now, we've worked up a set list of 11 songs, including bebop and standards, and are about to start gigging… which I don't think I would have done that without the help of this."
"I had a lot of questions and issues with my jazz guitar improvisation. I was losing my place where I shouldn't have been, and I was looking for something to close that gap. Greg does a wonderful job of teaching, he is very patient and very clear minded and clear with his lessons, they are very easy to follow. I think you'll enjoy it!"
"This is a really good thing to be a part of. It's a fantastic community of people – and all really supportive of one another."
"We're all really enjoying it….so much enthusiasm is there from all the people from different parts of the world. You can just tell that we're all delighted to be a part of it. We're learning so much, every single month. It's making me a better player, so a big thumbs up from me!
Greg himself is a fantastic teacher, by far the best music teacher I've ever had. And I have gone to music college for 2 years as well by the way – so I'm a good person to judge that!
What you learn more than anything is – 'if it sounds good – Play it!'. Theory does have its place, but sounding good is the most important thing, and Greg gets you sounding good from day one."
– Paul Flynn, UK
Copyright 2020 FretDojo.com. All rights reserved