*Coming Soon: Chord Melody Foundations Course*
Thanks for your interest in the exciting upcoming re-release of my course, Chord Melody Foundations Challenge. Get ready – the course will be re-launching within the next couple of months.
To be the first to get notified when the course dates are finalized so you can secure your place in the course, 

click the

orange button

below and enter your details in the box that appears…
– Greg O'Rourke, Founder, FretDojo.com
Imagine being able to play impressive chord melody arrangements on guitar that YOU have created.
This Chord Melody Foundations Challenge will give you the

essentials

of chord melody arranging, whilst cutting out all the fluff that's in other methods.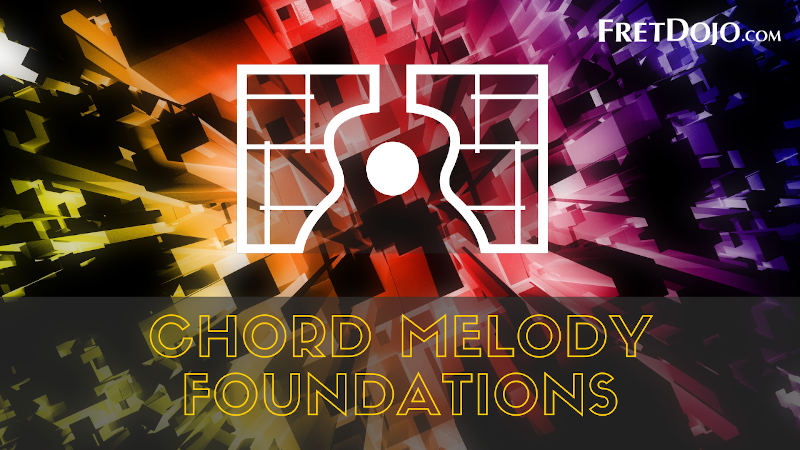 My online course, Chord Melody Foundations, is a step-by-step 6 week course in which you'll discover the secrets to creating great sounding, playable chord melody arrangements for jazz guitar.
I've spent months distilling the key points of the arranging process into a fun, easy and concise program.
Chord melody is one of the most satisfying ways to play jazz guitar and has limitless creative possibilities. By learning these techniques, you can essentially be a "one-man band" on a single guitar: melody, bass and harmony all at once.
You'll be amazed at the progress you can make with a structured, step-by-step program with the support of a teacher (i.e. me), on hand to answer all your questions.
It's time for your creativity to run wild and create chord melodies of your very own!
It's Everything You Need To Get Started With
Chord Melody Arranging (No Prior Experience Needed!)
✅ Discover a clear blueprint for locating all the main chord voicing and qualities everywhere on the fretboard – making chord melody arranging as easy as painting by numbers.
✅ I'll reveal the same simple 7-step arranging process I use to create your first chord melody arrangement of your favourite song.
✅ How to remove non-essential notes and chords from your arrangements, to make them 50% easier to play.
✅ Easy to use chord reference guides to quickly find the most useful and playable voicings for your arrangements.
✅ How to add cool substitutions, unique textures, and more to jazz up your arrangements to sound like a pro.
✅ You'll learn how to arrange chord melodies for both jazz trio as well as intimate versions for solo jazz guitar to enjoy playing on your own.
✅ 4 modules (released throughout the course) comprising an A-Z roadmap to developing the foundations of chord melody arranging.
✅ Opportunity to build connections and friends with your fellow jazz guitar students all over the world
"
I got about five times what I paid for it out of the first hour looking at it!

"

"This course gives you a great way to set yourself up for arranging chord melody for any song that you like.

It's obvious how much Greg loves teaching and the students get a lot out of it.

Even though it's not required, It's great that it is set up as a challenge. It keeps you motivated and moving on to the next thing!"

~ Don Sinclair, USA
"
I've finally found a teacher who clearly instructs the foundation of chord melody, with a methodical and easy step-by-step style
!"
"A bonus in taking Greg's course is that, if you have any questions he is always available and gets back to you in a timely manner. If it shows that many students are struggling with the same type of technique, Greg will take the time to make a video about the question and post it on the course.
If you are apprehensive to invest in the FretDojo Academy lessons, don't be! It will definitely make you a better guitar player no matter what level you are at now and it will be worth it!"
~ Mark Calore, USA
"Seeing first-hand how a seasoned arranger like Greg makes creative decisions, based on these approaches was invaluable and brought them to life."
The Chord Melody Foundations Challenge is a wonderful series of informative and inspiring lessons for intermediate to advanced guitarists interested in learning how to arrange tunes for jazz guitar. At the end of this course, you will have the tools necessary to effectively arrange jazz standards for solo jazz guitar (or trio), including creative chord substitution techniques.
Greg begins the course by presenting the required foundation materials, which include a practical and useful chord library that will serve as the starting point for your arrangements. With so many possible chord voicings available for the jazz guitarist, it is helpful to have a focused set to reference. An overview of harmonic analysis is presented and applied to a real-world example tune that is used throughout the course.
What I loved most was observing the evolution of the tune as new concepts and techniques are applied. Seeing first-hand how a seasoned arranger like Greg makes creative decisions, based on these approaches was invaluable and brought them to life. You will obtain an incredible amount of knowledge and practical tools that you can explore for a lifetime. Once of the best resources of its kind!"
– Ric Hollander, USA
"There's nothing quite as satisfying as the feeling you get from playing your first very own chord melody arrangement on guitar…"