*Coming Soon: 30-Day Jazz Guitar Challenge*
Thanks for your interest in the exciting upcoming re-release of my course, 30 Day Jazz Guitar Challenge. Get ready – the course will be re-launching soon within the next couple of months.
To be the first to get notified when the course dates are finalized so you can secure your place in the course, 

click the

orange button

below and enter your details in the box that appears…
– Greg O'Rourke, Founder, FretDojo.com
Calling any guitarist who wants to learn the essential
jazz guitar skills, without all the 'fluff'!
Whether you've only been playing guitar for a few months OR you've been playing for a while but have never 'cracked the jazz nut', this challenge will the exact skills you need to quickly move on the path to mastering jazz guitar.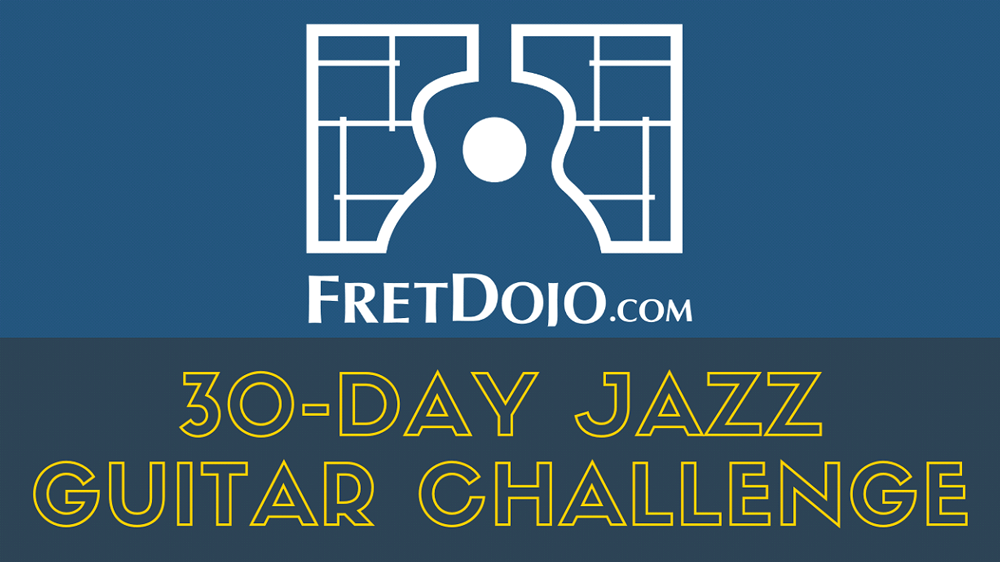 This Challenge is what you've been looking for.
My 30 Day Jazz Guitar Challenge is the solution you've been searching for. I've spent months distilling the key points of the process of learning jazz guitar into a fun, easy and concise 30-day program.
You'll be amazed at the progress you can make with a structured, step-by-step program with the support of a teacher (i.e. me), on hand to answer all your questions.
Now's the time to finally break into jazz guitar playing so you can connect the music in your mind to your hands on the fretboard!
Here's What You'll Learn…
Why jazz improvisation doesn't need many 'tricks' or ideas to sound convincing (Hint: too many ideas is the downfall of many a jazz soloist)
How one key rhythm pattern, above all others, can instantly make you sound like a pro in your comping
Why only learning scales and arpeggios is the 'long boring scenic route' to learning jazz improvisation – and what you NEED to be doing instead
How to play great sounding jazz chords with only 3 notes – and how to easily adapt these small voicings into lush sounding jazz chords
The counterintuitive rule that is central in all modern bebop soloing, that can get you sounding jazzy when you solo instantly
How the main way you develop lyrical, melodic solos on jazz guitar is by doing something not on the guitar at all
How an essential (and often overlooked) study technique can rapidly increase your soloing and vocabulary – without needing a guitar!
Why the jazz blues is the most important song form for a newbie jazz player to master (Important: You'll be able to play over hundreds of other jazz standards by learning this one form)
Joe Pass' clever secret for navigating the fretboard so you never get lost when you solo, or wonder whether or not you'll play the right note
The FretDojo 30 Day Challenge seemed like something I could commit to, but it turned out to be so much more!
Given my extra spare time afforded by the pandemic and lockdown, I decided to try teach myself jazz guitar through various methods. Whilst I know many little pieces of theory I was struggling to put it all together and felt like I was going in circles, especially when it came to improvisation and the tendency to get lost in charts. The FretDojo 30 Day Challenge seemed like something I could commit to, but it turned out to be so much more! It was a gem to find as it gave me the direction and has helped me "hear and play the changes" for the first time in my long journey tinkering with music. Greg is a great teacher and the course content is fun and well-paced whilst being great value for money.
I especially like the online community, words of encouragement and support at hand if needed!
I highly recommend this course, and will no doubt do more at FretDojo due to the inspiration and foundations it has given me to continue the jazz journey.
– Tim Manson, AUS
"The course has been excellent value and very comprehensive, giving me lots to work on, moving me forward with my playing."
Before starting Greg's 30-Day Jazz Guitar Challenge, I had recently returned to guitar playing, in Covid 19 lockdown, after 40 years of no playing at all, for want of something to do! I "noodled" around for a few weeks playing snippets of songs and a few chord progressions, before noticing Greg's FretDojo Academy through a YouTube video on chord guide tones, that he had produced.
I was impressed by his step-by-step teaching style and decided to look up the FretDojo web page, where I saw the advert for the 30-Day Jazz Guitar Challenge. Before signing up I looked at more of the FretDojo YouTube content and continued to be impressed with Greg's teaching approach. For the price, the course has been excellent value and very comprehensive, giving me lots to work on, moving me forward with my playing. Greg has also responded, personally, to an e-mail I sent, asking for special assistance with my fingering technique, so you are not just a number.
If the remit of the course appeals to you at all, I have no hesitation in saying: GO FOR IT!!
– Tim Knight, UK
"
Greg's month-long course in the jazz basics refined my understanding of improvisation when playing with others and gave me confidence on what to do in that setting.

"

I have played solo chord-melody style melodic jazz semi-professionally (at winery tastings, parties etc. but not in big venues) for several years. Greg's month-long course in the jazz basics refined my understanding of improvisation when playing with others and gave me confidence on what to do in that setting. I gained a great deal from this course which I am still working on—got caught up in work matters and am a few days behind. Greg's teaching style works very well. He's engaging and demanding at the same time, encouraging and thoughtful in his comments. I may very well take another of his courses. He's is one of  best online guitar teachers I have found comparable to Frank Vignola and Martin Taylor and in some ways, even better. Bravo. 

– Don Siegel, US
"
For my 50th midlife crisis, I chose FretDojo instead of that motorbike

.

"

After 20 years of learning and fiddling with the alphabets of scales and modes, Greg's courses are finally teaching me how to speak, form words, sentences and even stories! 

I can't thank Greg enough for the time and effort he's put into his courses, bringing together a community of jazz guitarist enthusiasts and nurturing an environment to teach us to fly! 

For my 50th midlife crisis, I chose FretDojo instead of that motorbike … 

– Stephen White, Sweden