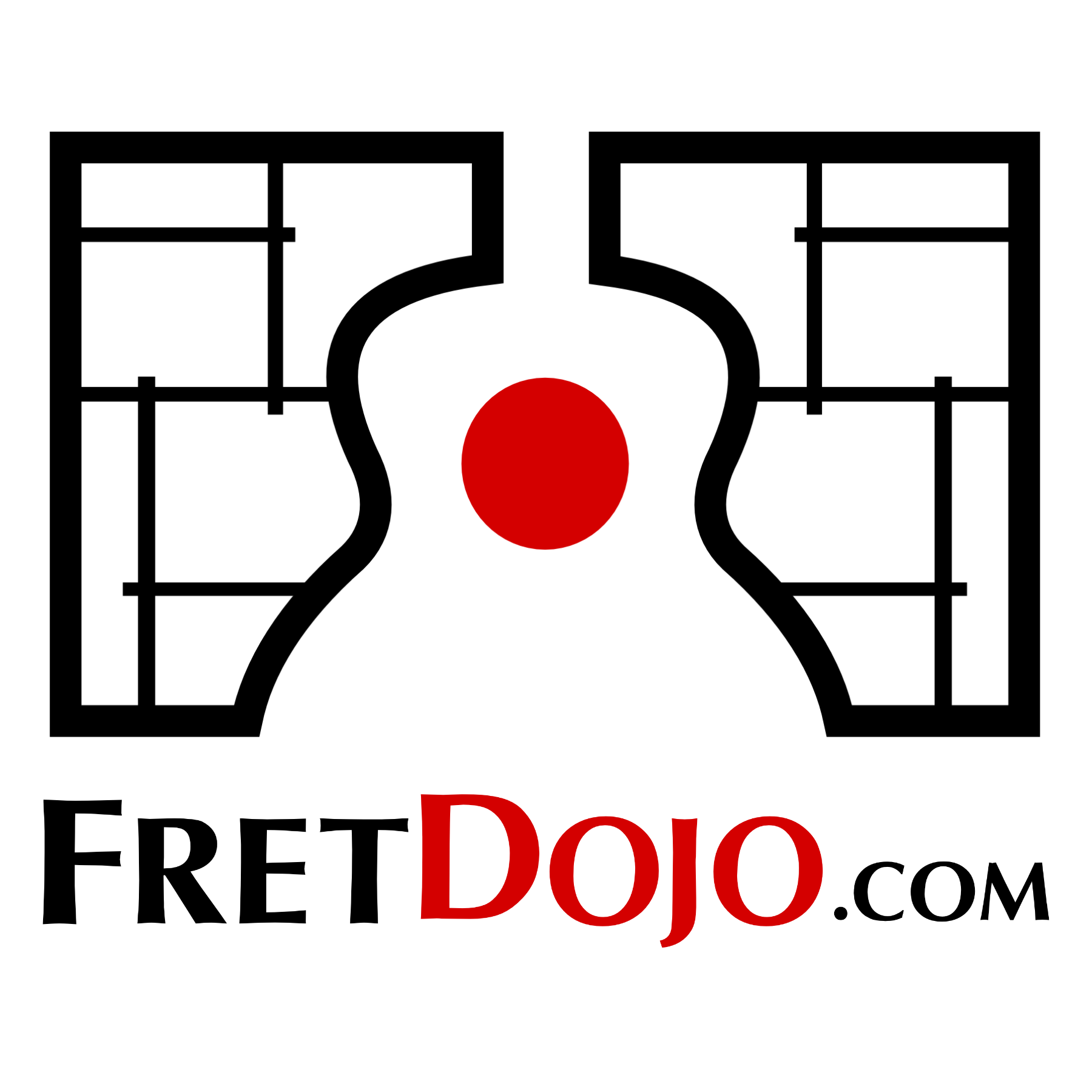 THE BIG SECRETS OF JAZZ GUITAR IMPROVISATION
with Greg O'Rourke, Pro Jazz Guitarist and Founder of FretDojo.com
Discover The Simple Step-By-Step Method To Mastering The Art Of
Jazz Guitar Improvisation
This FREE video series will reveal to you a powerful, commonsense method for quickly building your jazz guitar improvisation skills, so you can be a MASTER of the bandstand.
 You'll discover…
✔  The BIG mistakes most guitarists make when attempting to learn jazz improvisation – and what YOU can do to avoid them
✔  Why learning to improvise is similar to learning a spoken language – and how this way of thinking can quickly get you results
✔  Why improvising with scales and arpeggios only will never sound like jazz, and what you NEED to instead to sound convincing
✔  How the Yogis of Ancient India hold the step-by-step secret for improving your improvisation skills quickly and easily
✔  The magic of the Four Elements Framework – your roadmap to being a confident jazz soloist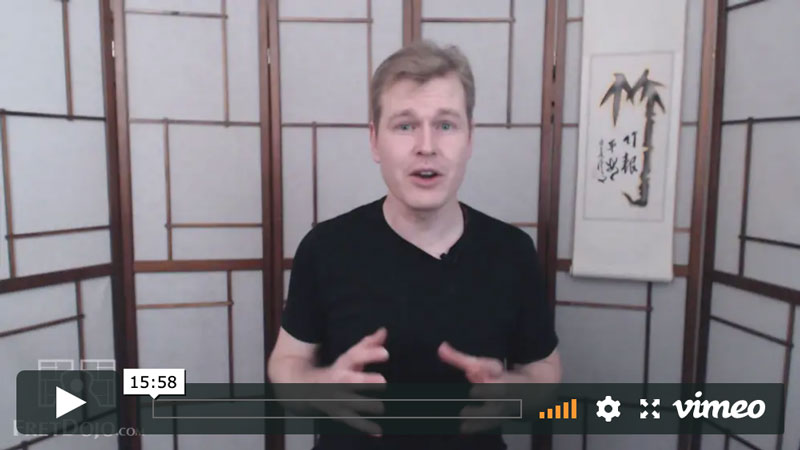 VIDEO #1: How Your Brain Learns To Improvise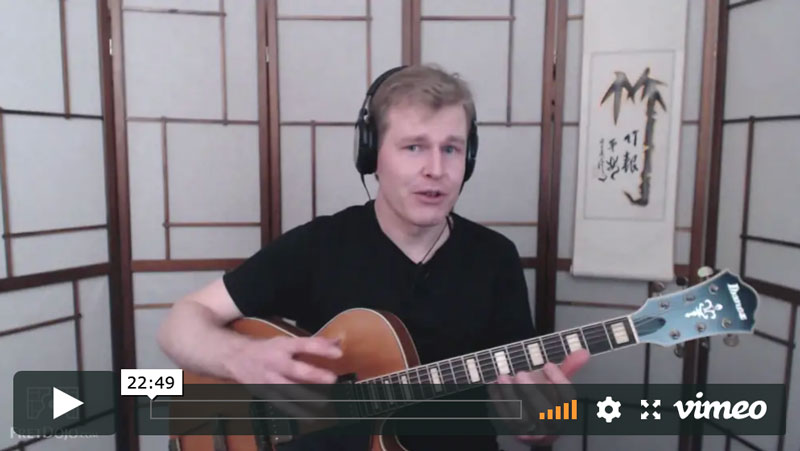 VIDEO #2: Mastering Improvisation With The "Four Elements Framework"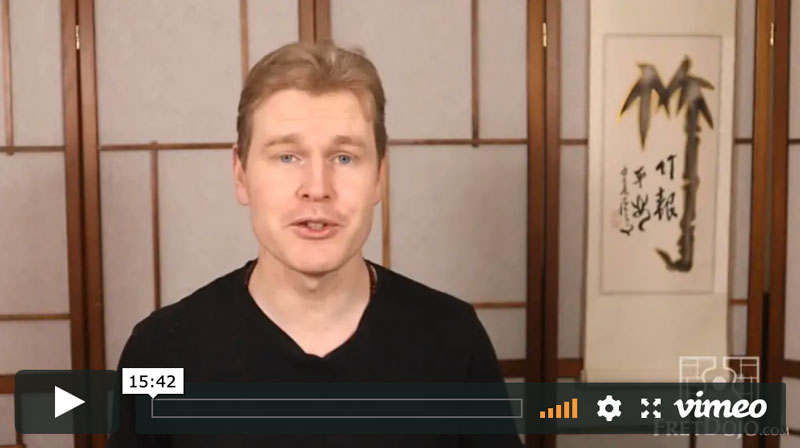 VIDEO #3: The Only Resource You Need To Build Your Jazz Guitar Improvisation Skills
See What Others Have Been Saying
Don't Take My Word For It… Read Their Stories Below…
"About 2 and half years ago I got interested in jazz guitar, a totally new experience. For those 2 years I downloaded a mountain of stuff from the internet (free and purchased)… and I struggled away without any clear direction, until I discovered Greg and Fret Dojo. The difference has been amazing!"
"The main thing I have gotten out of the Fret Dojo, is that it has given me the confidence to go out and find a piano player, and a bass player who plays jazz. And now, we've worked up a set list of 11 songs, including bebop and standards, and are about to start gigging… which I don't think I would have done that without the help of this."
"I had a lot of questions and issues with my jazz guitar improvisation. I was losing my place where I shouldn't have been, and I was looking for something to close that gap. Greg does a wonderful job of teaching, he is very patient and very clear minded and clear with his lessons, they are very easy to follow. I think you'll enjoy it!"
Greg O'Rourke plays the guitar with a beautiful touch and tone. He effortlessly brings out and enhances harmonic movement and counter-lines in his playing, while keeping clear melodic lines in the forefront. Using his considerable fingerstyle technique he creates personal renditions of classic jazz standards. Definitely someone to watch and listen to closely!

"For years I struggled with learning to improvise. But then everything changed…
I know where you are now a the moment with your jazz guitar improvisation – frustrated that you're not sounding great. Self-conscious about your ability, and you're confused how to make all these scales and arpeggios you're learning and practicing for hours on end actually sound like music.
Why do I know this? Because I was once in exactly the same place you are now.
About 17 years ago, I gave jazz guitar improvisation my first try. After having studied classical guitar for many years and reaching the highest levels in that style, learning jazz felt like starting from scratch again.
And I struggled. It felt like I was learning a new instrument. And it was made painfully obvious to me that, despite my rigorous years of classical training, I didn't have any real deep knowledge on how to relate the music in my mind to my hands on the fretboard.
So I gave up jazz for a long time. Inevitably though, I was again drawn back to the irresistible sounds of jazz…and decided to give it one more try.
And that's when things started to change.
I realized that it wasn't my lack of ability that was the reason I was struggling with improvisation. It was the lack of a clear method and a step-by-step process that's missing from most jazz guitar education.
Once I realized that, I started to develop a logical method for learning improvisation, based largely on my experience with language learning – rather than trying to improvise with a bunch of scale and arpeggio patterns. Once that happened, I was able to build my skills in improvisation incredibly quickly.
And you can do the same.
This free online course is the course that I wish that I'd had all those many years ago when I first started trying to learn to improvise and actually sound good.
I'm so thrilled that I can offer you this online course that is completely free – I believe it's the ultimate shortcut to building your improvisation skills in the shortest possible time."
~ Greg O'Rourke, BMus (Hons), ANU
Copyright 2019 FretDojo.com. All rights reserved