Videos From Watermelon Man Challenge Participants
Recently, I put the word out to Fret Dojo readers to get involved in a 30 Day Challenge to get their jazz guitar chops to the next level.
Entitled the 30-Day Watermelon Man Challenge, the goal was simple:
Learn how to play the head, comp, and solo over the classic Herbie Hancock tune, Watermelon Man – with the help of this lesson I put together recently on the tune.
The response was fantastic, with over 80 people participating!
It was great to see everyone working hard on the tune, and quite a few Challengers posted videos of their work, which you'll see below.
I can't help but share this really inspiring email received during the Challenge from one of the participants, Percy Farrell:
"Hi Greg,
Many thanks for the Watermelon Man lessons. I am a late starter. I, as I earlier mentioned, am near 86 yrs…Yesterday I started Watermelon Man from the video and boy I enjoyed it. I worked on the melody and blues licks, particularly blues licks I had previously learned but did not know how to apply. I hugged my wife after and said: "I am actually playing jazz!" – Many thanks for including me in your Dojo ~ Percy Farrell"
What struck me most about the Challenge was how the video performances were so different even though they were all of the same tune. It goes to show how creative you can be with jazz.
Without further ado, let's check out a selection of some of the videos of the Challengers…
(Note: most of the following videos were uploaded to Facebook, so you'll need to log into Facebook and request to join the FretDojo Facebook group after clicking the links below to see the videos – click here to request to join the group now)
First, check out Seppo Huittinen's awesome laid-back version of Watermelon Man in a very polished rendition of the tune: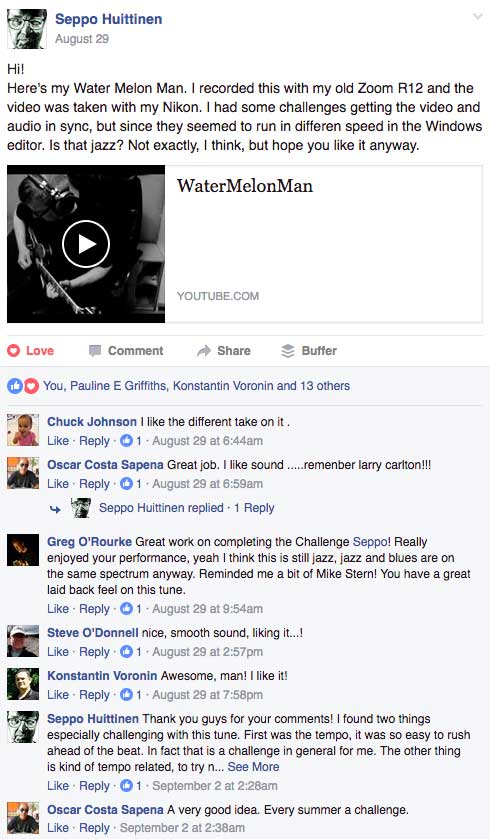 (You can watch Seppo's video on Youtube by clicking here>>)
Next is Oscar Costa Sapena: he gets brownie points for being the first video that was submitted as part of the Challenge, and I really enjoyed his smooth rendition – well done Oscar!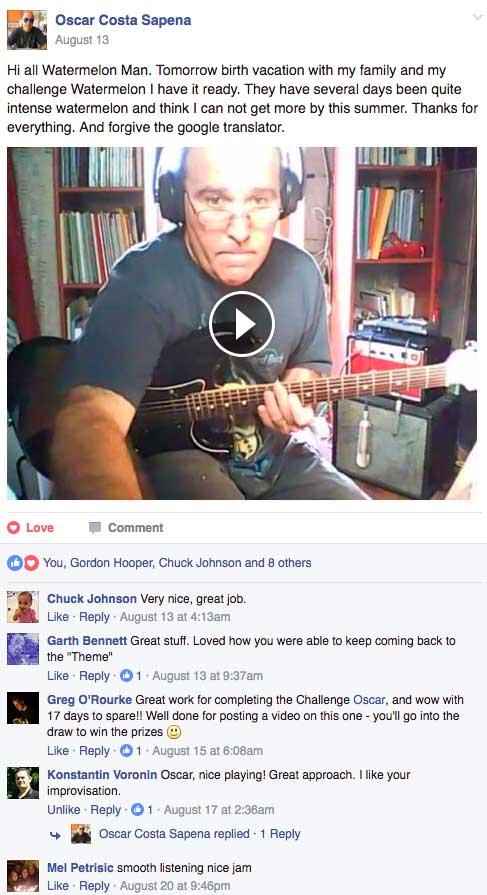 Check out Oscar's video on Facebook here>>
Notice the guitar that Challenge participant Tony Petrisic is playing in this next video? It's actually very similar to the archtop I've been playing lately:
They are both made by his old man, Garry Petrisic.
It looks like music runs in the Petrisic family – who says Aussies can't play the blues?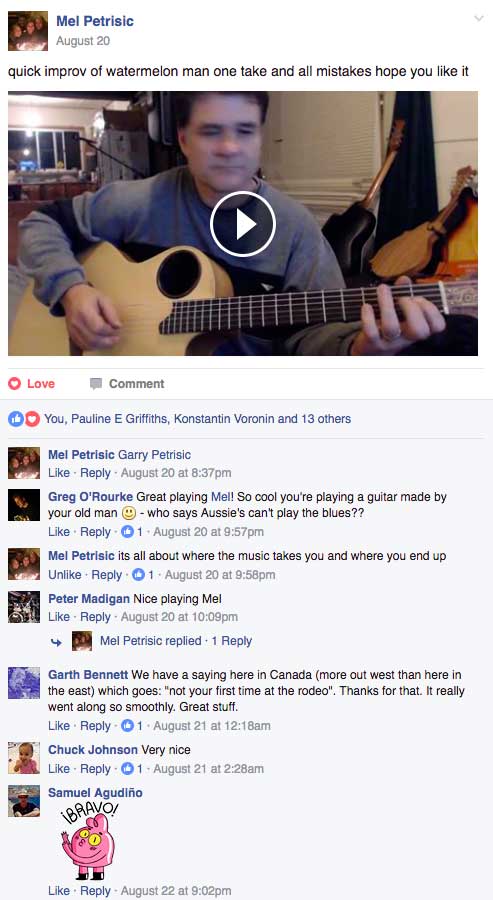 Watch Tony's video on Facebook here>>
The next video is from Travis English.
Travis has been a student of mine for several months, however I can't claim credit for this fantastic version he put together.
When I found out Travis was going to do a solo guitar version of this tune, I was scratching my head thinking how this was ever gonna work (given this tune doesn't naturally lend itself to solo guitar) – but he sure proved me wrong!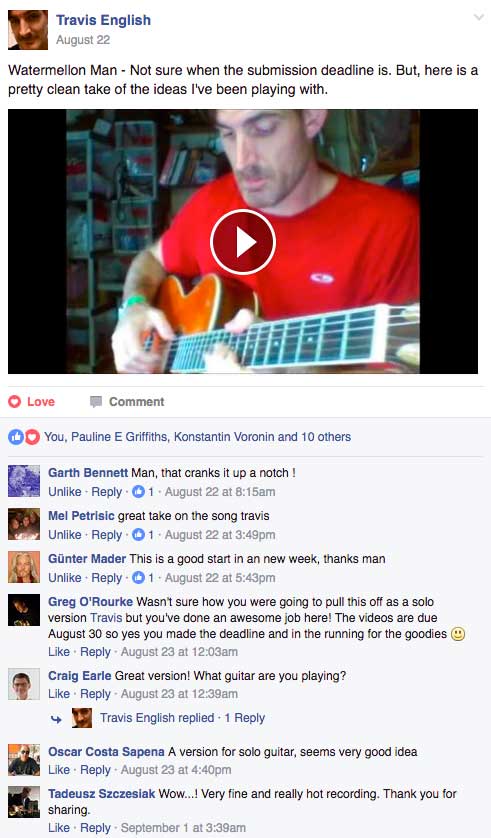 Watch Travis' video on Facebook here>>
Next is a video from Pauline Griffiths.
Pauline is our honorary guitarist, but she sure showed us up, playing a brilliant performance of the tune on her violin. Check it out!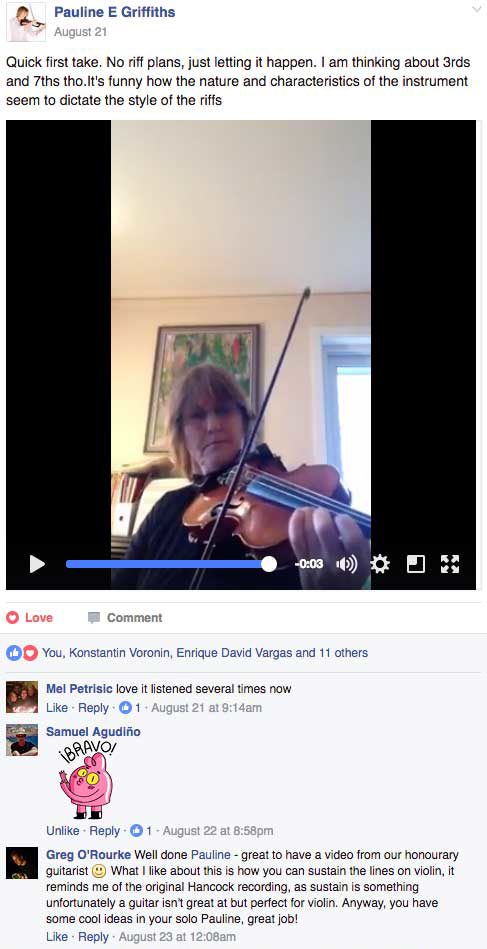 Watch Pauline's video on Facebook here>>
Here's Pauline's thoughts on the challenge:

Everyone who submitted a video got entered into a lucky draw for some prizes, and the winner of the draw was Steve O'Donnell, check out his great performance below!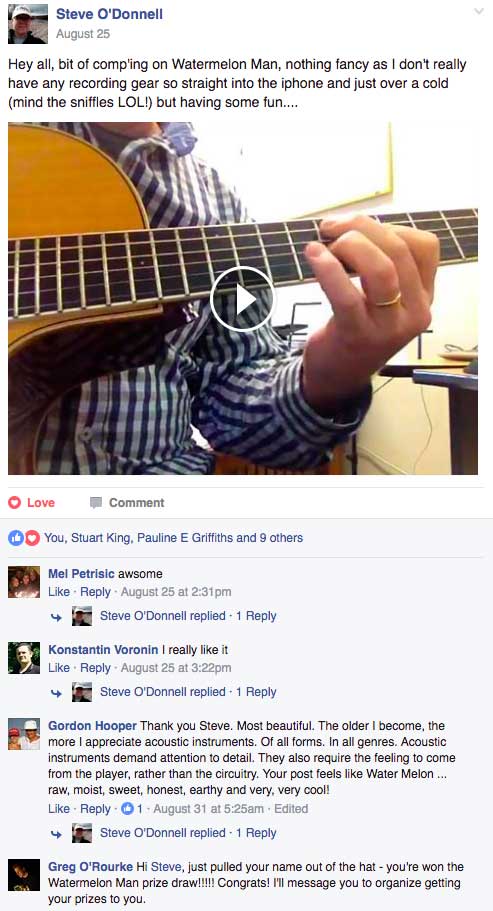 Watch Steve's video on Facebook here>>
One of Steve's prizes was a coaching session with myself, and this is what he had to say afterwards: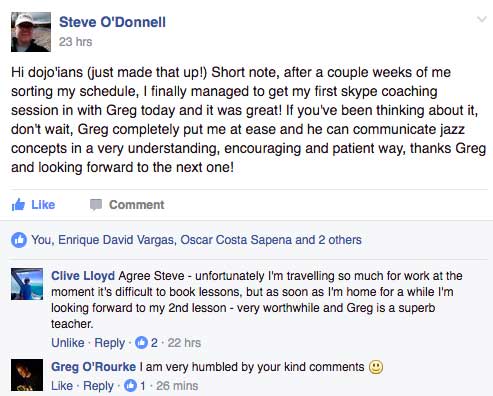 A huge thanks goes to everyone that participated in the Challenge and gave such supportive and encouraging feedback to everyone involved – you rock!
Overall, the feedback I got back from this challenge was very positive, and people were keen to do another one in the future.
Sign up to my mailing list in the box below if you want to be kept in the loop when the next one is coming up.
Let me know what you think the topic of the next challenge should be by leaving a comment below.
And, if you haven't joined the Facebook yet, you're clearly missing out on all the action – click here to request to join the group now!
Cheers,
Greg