"Fast Lane" Guitar Technique Course:
The Solution To Building Rock-Solid Coordination, Effortlessness,
and Jaw-Dropping Speed On Your Guitar.
"I thoroughly enjoyed this course and loved the lessons – each has clear purpose and moves your technique forward. I'm playing faster, but more importantly I'm playing with better articulation, clarity, and coordination… Even at slower tempos the lines I'm executing are tighter, and telling a better story. I would recommend this course for anyone. In fact, I wish I'd got this sort of training when I was more of a beginner player –  I would have developed better technique right from the jump."
"Greg and Stu, I really enjoyed your Fast Lane: The Total Technique Roadmap for Guitar course. We were presented with a treasure trove of living examples of the common problems guitarists face, and the ways to overcome them. We got the "Fast Track" to our new levels of playing facility, using your combined decades of experience. Thanks for a top course and please keep up the good work!"
"Before doing the course, I was aware that my technique wasn't good enough – I lacked speed, unable to play higher than 90 BPM, which is not fast enough for jazz. The Fast Lane course is very comprehensive, systematic, and offers a a lot of opportunities to improve. I really benefited from this course, and I think it is really worth the money I spent."
The First Ever Complete A-Z Guide to Building Your Technique on Guitar – FAST.
In a nutshell, Fast Lane: The Total Technique Roadmap for Guitar,  is a revolutionary step-by-step program in which you'll learn the secrets of playing fast, playing effortlessly, and developing rock-solid coordination on your guitar.
Too often, the bottleneck to a guitar student's progress is technique. If you can't change chords quickly, play lines at fast tempos, or pick accurately without missing notes, you'll find that your guitar journey will quickly come to a grinding halt.
This course has been designed from the ground up to give you the essential exercises and approaches for quickly supercharging your technical skills on the guitar so you can finally unlock your musical potential – and be a force to be reckoned with on the bandstand.
Meet Your Instructors:
Instructor #1 (Fingerstyle Expert): 
Greg O'Rourke – BMus (Hons), ANU
– Professional Guitarist, and Founder of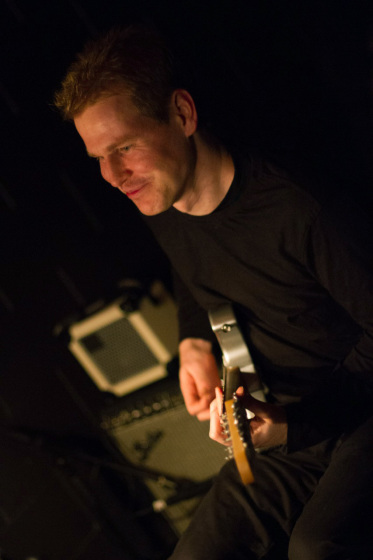 "Hi, I'm Greg O'Rourke, founder of FretDojo.com – one of the most popular guitar websites online today. I have over many thousands of subscribers to my website from all across the world, and am now also an established author, with my book The Easy Guide To Chord Melody Guitar that I collaborated on with my good buddy Matt Warnock becoming an international bestseller. My website has helped thousands of people improve their guitar playing, and I've been featured on several high profile guitar websites including Jazz Guitar Online, Fundamental Changes and Takelessons."
Check out one of Greg's highly acclaimed Youtube performances on the video below:
Instructor #2: (Plectrum/Hybrid Expert):
Stuart King, BMus (ANU)
– Nationally Acclaimed Pro Guitarist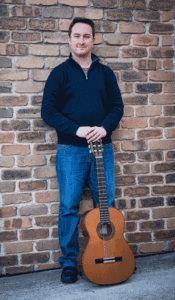 Stuart King is a guitarist and composer with over 25 years experience as a performer in an array of settings ranging from classical and contemporary through to jazz.
Stuart graduated from the Australian National University with a Bachelor of Music in 2005. Since then, Stuart has worked as a freelance musician and performs regularly as a bandleader, sideman, session guitarist and featured soloist.
Stuart has performed in jazz groups, musical theatre productions, symphony orchestras and rock bands, playing with leading musicians at gigs and festivals around Australia.
In 2016, Stuart released his debut album 'Qualia' (which Greg co-produced and also played on) comprising of original compositions which have been featured and broadcast nationally on ABC Radio.
Greg has brought Stuart on as a special collaborator of this course due to his supreme skill with plectrum and hybrid styles – simply put, Stuart is one of the fastest guitarists in Australia.
Check out one of Stuart's tasty performance of Midnight Blue on the video below:
What YOU will be able to do as a result of this course:
– Quickly develop your picking speed – nail those double-time licks and difficult phrases with ease
– Change chords fluidly and navigate the length of the fretboard without missing a note – all while keeping up with the rest of the band
– Get the security and fluidity you need for those dastardly fast tempo tunes that are the "bread and butter" of jam sessions
– Develop effortless coordination and finger independence in the fretting hand with ease
– Get a complete toolkit of techniques you need to play chord melody and solo guitar
– Pick, fingerstyle and hybrid approaches are covered in detail in this new course – learn them all or just focus on what suits your playing the most
– Extend your coordination and agility in both hands with a concise set of exercises that will get you rapid results with just 10 minutes practice a day
What You'll Get:
Over 50 Video Lessons
10 Hours of pre-recorded video lessons with backing tracks, diagrams, and sheet music. Watch the video lessons anytime, from any device!
Detailed Checklists
Every lesson includes a step-by-step checklist to keep your study and guitar practice on track.
*Lifetime Access*
Special offer: Join the course now and access the materials as long as you need them!
Some of the tips inside this course include:
How the hit TV show Seinfeld's George Costanza holds the secret for you reaching ultra-fast picking speed. (Remember his "do-the-opposite" theory? It's time to put that into practice.)
The missing link nearly all guitar students fail to realize when they are trying to "train their fingers" to build speed and coordination. (Hint: there's a much more direct – and easy – path to take if you know this secret.)
How a virtuoso Australian jazz trumpeter holds the secret of improving your guitar technique with less practice – not more. (Leverage your inborn natural abilities and access the parts of you brain that you never realised existed – UNTIL NOW…)
The counter-intuitive approach to structuring your guitar practice so you'll dramatically improve your technique while vacuuming your house or taking the dog for a walk. (I know it sounds crazy, but I'm serious – this really does work.)
The weird secret Olympic athletes know that could take your technique from novice to an expert in record time. (Cutting edge research you can use from countless studies to get immediate results. Elite athlete's have known this all along. It's madness no one has applied this to guitar – until now.)
The 3 things most guitar students get wrong about their technique that dooms them to failure before they even start. (Don't allow yourself to make these mistakes that are, unfortunately, very very easy to make.)
The easy way to approach building your technique using my innovative "Technique Triangle" system (We've deconstructed technique into 3 easy to understand "sides" – knowing what these are will eliminate the confusion and all those unnecessary exercises that are a waste of precious practice time.)
How to cut out 90% of the time devoted to your technique practice and, unbelievably, get DOUBLE the results. (Hint: The key is knowing what to focus on, in the correct order – and not getting distracted by all that useless stuff.)
What most virtuoso electric guitarists know about increasing picking speed, and the tricks you need to steal from them. (Ever wondered how those guys can play so damn fast? We'll reveal all you need to know.)
Why those huge books full of hundreds of boring technical drills can not only be a waste of time, but even cause your technique to go backward. (Hint: Improving your technique requires you to focus on less exercises and drills, not more – but only if you're focussing on the most important ones – like the exercises in this new course.)
The way to increase your top picking speed IMMEDIATELY with a counterintuitive, but incredibly effective practice approach – that takes only 5 minutes a day. (This "fool proof" method quickly worked wonders for myself and many of my students around the world).
And…
A concise set of essential exercises that are guaranteed to double your speed, improve your coordination, and make your playing fluid, effortless, and EASY like never before. (Even with only 10 minutes practice per day.)
Great! I want to learn the secrets of the "fast track" to building my guitar technique…
If you are interested, please apply: