Someone Special is coming to Fret Dojo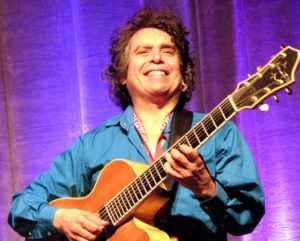 Well, this is exciting.
I'm pretty thrilled actually. And you should be also.
Why?
Because Howard Alden, internationally acclaimed jazz guitarist, has agreed to hold an online jazz guitar workshop for Fret Dojo!!
That's right – this is your chance to be able to directly ask questions live to one of the most highly regarded jazz guitarists alive today.
Jazz critics have said of Howard Alden that "He may be the best of his generation" and "the most impressive and creative member of a new generation of jazz guitarists…"
Nuff said.
Put simply, this is a once in a lifetime opportunity.
I'll be sending more details about the workshop soon and how to book for it, but in the meantime mark your calendars:
The workshop will be held on 24th November, 3:30 PM USA Eastern time.
(Not sure what time that will be in your timezone? Use this time zone converter tool to help work it out).
By the way, if you happen to not be able to make the live session, I'll give lifetime access to the video replay of Howard Alden's workshop to anyone that books a ticket.
I'll be in touch over the next few days with more details. Let me know if you have any questions.
Talk soon…
Greg
==
Greg O'Rourke,
Founder, Fret Dojo
World Leader in Online Jazz Guitar Education