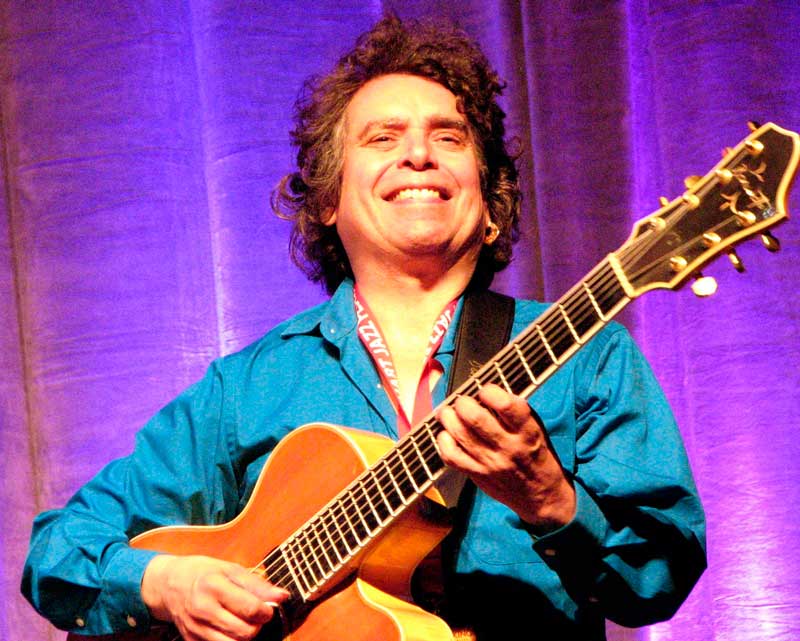 This week on FretDojo, I'm happy to share with you an interview I recently held with internationally acclaimed jazz guitarist Howard Alden.
Howard is one of the leaders of jazz guitar in the modern era. His accolades include:
– Student the Guitar Institute of Technology in 1977-78 with Herb Ellis, Joe Pass, and Howard Roberts
– Collaborations with Dick Hyman, Dan Barrett, Bucky Pizzarelli and many others
– Alden recorded the guitar performances for Sean Penn's character Emmet Ray in Woody Allen's 1999 film Sweet and Lowdown – and taught Penn how to mime the performances for the film(!)
– Recorded many albums with Concord Records as well as other labels, including four with the famed 7 string jazz guitar innovator George Van Eps
– Has been the recipient of many awards, including: Best Emerging Guitar Talent, JazzTimes (1990), Guitar Player of the Year, American Guitar Museum (2003), Top 75 Guitarists, Down Beat (2008)
Jazz critics have said of Howard Alden that "He may be the best of his generation" and "the most impressive and creative member of a new generation of jazz guitarists."
In the interview below, I go on a deep dive with Howard about his journey with jazz guitar from a youngster to where he is today. I also ask Howard to reveal his secrets for how to maximise the results you get in the practice room – there were some fantastic tips Howard gives in this interview that you should definitely pay attention to.
Get a 14-day trial for just $1 by signing up here: https://www.fretdojo.com/signup-offer
Podcast episode URL: https://www.fretdojo.com/alden/
*For more jazz guitar lessons, tips and free stuff, visit https://www.fretdojo.com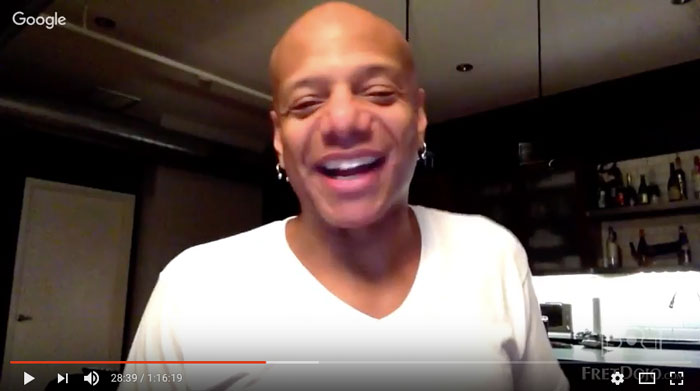 Mark Whitfield is one of the most highly regarded jazz guitarists alive today.
Throughout his career, he's collaborated with legendary artists including Dizzy Gillespie, Art Blakey, Quincy Jones, Ray Charles, Herbie Hancock, George Benson, and many others.
In 1990 the New York Times dubbed Whitfield "The Best Young Guitarist in the Business". Later that year, Warner Bros. released his debut album The Marksman.
I reached out to Mark after working on a transcription from one of the tracks from this album: The Blues From Way Back, a jazz guitar blues I've been featuring lately on my website.
In the interview, you'll learn about…
– Mark's special relationship with the blues, and how he's naturally been drawn to incorporating it into his jazz style.
– Mark's journey with jazz guitar, studying at Berklee College of Music, sessions at the Blue Note in New York, and beyond
– Mark's thoughts on how to learn jazz guitar to make solid progress, regardless of the time you have for practice.
– The essential ingredients of an effective and rewarding jazz guitar practice session
– How Mark met Joe Pass as a young man, leading to one of the most important (and unusual!) jazz guitar masterclasses he ever had.
Get a 14 day FREE trial to the FretDojo Jazz Guitar Academy here: https://www.fretdojo.com/free-trial/
Podcast episode URL: https://www.fretdojo.com/mark-whitfield/
*For more jazz guitar lessons, tips and free stuff, visit https://www.fretdojo.com