Big News – Carl Orr To Be Artist In Residence For FretDojo!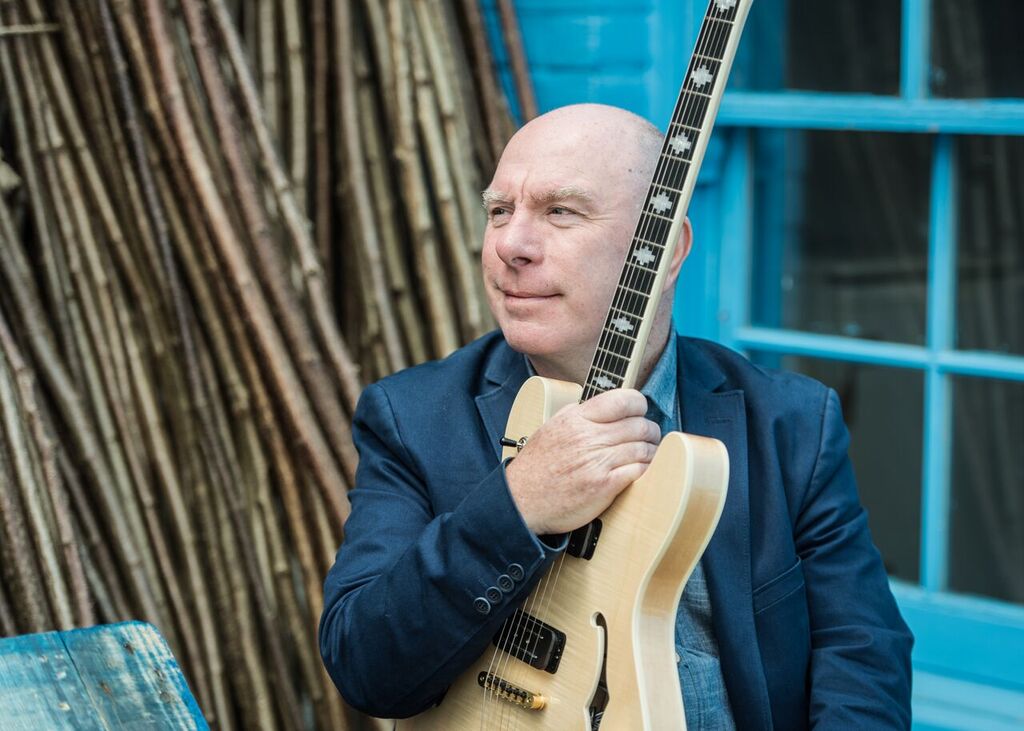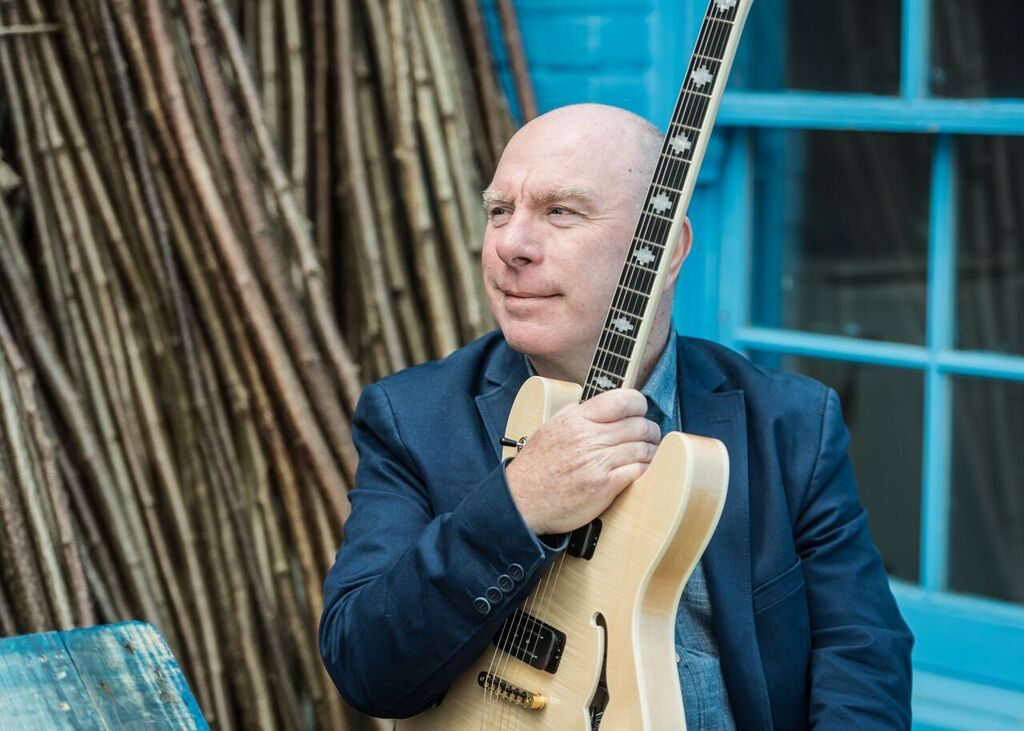 Exciting news today:
Carl Orr is going to be the official Artist In Residence at FretDojo for the next few months!
Which means Carl is going to be collaborating with me on courses for the FretDojo Academy membership, as well as bringing on fantastic guests artists for the podcast, recording Youtube videos and more.
Carl has performed and recorded with some of the finest musicians on the planet including Billy Cobham, George Duke, Ernie Watts, Randy Brecker, Gary Husband and Bennie Maupin.
He is a regular at London's legendary Ronnie Scott's Jazz Club in his own band and as a member of drummer Mark Fletcher's supergroup "Fletch's Brew".
Carl has taught guitar at The Australian Institute of Music, Brunel University, Middlesex University, London Centre Of Contemporary Music and The Academy of Contemporary Music.
A prolific composer, Carl has recorded eight albums as a leader and is featured on albums by Billy Cobham, Fletch's Brew, Geoff Eales and Nathan Haines.
In this special podcast, I introduce Carl to FretDojo so you can get to know about his incredible career – and he also gives some great tips out of the gate that you can instantly apply to your own guitar practice.
Check out the podcast here:
Podcast: Play in new window | Download (Duration: 21:06 — 14.7MB)
Get Notified Of Future Episodes Apple Podcasts | Google Podcasts | Stitcher | Email | TuneIn | RSS | More
Transcript:
Greg O'Rourke: Hi guys, Greg O'Rourke here from the FretDojo.com podcast. Visit my website FretDojo.com for a whole bunch of free resources, tips, and other stuff to get your jazz guitar playing to the next level. I'm very happy to have a special announcement today actually, that the fabulous Carl Orr, for the next few months is going to be the artist in residence at Fret Dojo, and I actually have Carl on the podcast with me here today. So welcome Carl to the Fret Dojo podcast once again.
Carl Orr: All right, Greg. Great to be here.
Greg O'Rourke: Yeah, it's really exciting that you've agreed to be an artist in residence. So over the next several months, we're going to be working on collaborating on some courses together. We're going to be doing some podcasts with some really fabulous guest artists from around the world, and a few YouTube videos, and all sorts of stuff. So if you guys are keen on working with Carl in the upcoming series of courses that we're doing, make sure that you look at the FretDojo Academy, which is where it's all going to be published. So today Carl, I thought it would be good to have a bit of, just a little introduction basically. I know you've been on the podcast before, but let's kind of hear the backstory, like where did guitar playing start for you? And maybe it'd be good to hear a bit about your career and some of the amazing players that you've played with over the years?
Carl Orr: Yeah. Okay. Thank you. Yeah. Well, the guitar for me, I suppose like a lot of people in my generation started with Beatles. I was born in 1960, and the earliest thing I can remember in my life of any kind, is of attempting to play a toy guitar. I can't remember anything before that, I must have been about two, playing this sort of plastic toy guitar and singing I want to hold your hand, and this quiet, little, horrible cacophony coming out of the guitar and thinking I've got to figure this out, that's the best thing I can remember. And I basically haven't had any other thoughts since, that's kind of been my whole life-
Greg O'Rourke: It's kind of amazing, isn't it? Because you started with that little toy guitar and you've gone on to play with some of the biggest names in jazz and other styles as well. So you're based in London now, aren't you? At the moment. Yeah, so tell us about some of the guys that you've played with over the years?
Carl Orr: Well, yeah. I played up in London for 24 years, and I've played with Billy Cobham. I know I'm getting a bit old and like old guys over the age of 50, I think I'm a fascinating storyteller, so here we go, get ready to be fascinated J So when I was 14, I started to get aware of jazz and I went to this secondhand record shop in Adelaide where I grew up, and I picked up an album of John McLaughlin's Mahavishnu Orchestra. And I looked on the back cover and there were pictures of the band, the album, Birds of Fire. And there was picture of Billy Cobham playing the drums and I thought, he looks like a nice guy, I'd like to be his friend and play in his band. I was just a kid, I'd never kissed a girl, I'd never done a gig, I was just this kid, and I felt, wow, I must be out of my mind, what am I thinking?
Well, when I was 17, I said to these friends of mine, again, I was still really naive and done much. I said to these two friends of mine, who I was having a jam with, I said, "I really like to play with Billy Cobham." And they looked at me like, what particular drug are you on today? I just had this real clear thought in my mind that I wanted to play with Billy Cobham. One thing after I worked really hard on my music, really practiced a hell of a lot, and went to Berklee College of Music.
Came back to Australia, wind up playing, I played with Jackie Orszaczky, he was the guy to play with in Sydney, sort of the closest thing Sydney would have to, Miles Davis or something like that, the guy to play with, and I wind up with him after a lot of effort. And then through him, in 1989, late 1989, I got this phone call from Jackie's manager saying, "How would you like to play with Billy Cobham, is coming up to Sydney?" Yeah, it was unbelievable. And I was really scared, I thought, well, this is what I've always wanted, and it was like 15 years after I had the original thought of playing with him. So then I played with him and he really liked me, and really like my character, and he liked playing a lot enough, and he gave all of us his business card. I stayed in touch with him and I sent him a CD.
My first CD was released in 1990, I send him a copy and then kept in contact. The thing that surprised me was, he was responding to my contact, he is replying, he send me a Christmas card or whatever, just some sort of communication, and then I thought, I got to stay in touch with him. Then I sent him my third album in 1994 and he rang me back and he said, "Carl, I really like this music, I want to come down to Australia and play with you again." In early 95 we did that, we did Australian tour and I'd made up my mind to move over to London, he said, "Well, make sure you stay in touch." I promised myself, I was going to ring him every two months until he either gave me the gig or tell me to go away, it was really terrifying.
I moved to London, October 95, and I rang him in October. And then two months later, two months later, two months later, and I think about the sixth phone call, he sent me a fax saying he wanted me to do a tour of Switzerland and Austria with him, which I did and then I was in the band for a while, and we played with some fantastic people as guests. Randy Brecker, did a UK tour with us, he's a really great guy, he's just as wonderful a person as he is a musician. Billy and I went to Los Angeles in 99 and played with the great Ernie Watts, who played in Charlie Haden's band of course. The biggest one of all was the great George Duke. We played at Monterey Jazz Festival with George Duke. So that was sort of the top of the mountain for me really, so that was incredible. Yeah, I've recorded with these people, as well recorded four albums with Billy Cobham, and Billy's on a couple of my albums as well.
Another highlight was two years ago, I got the call to play on Sting's show, The Last Ship, and Sting basically loves the guitar, he's crazy about the guitar. If you listen to Sting's music, you'll notice there is guitar on everything and very little piano or not much keyboard, especially recently. He just loves the guitar, and I was told this is a guitar based show, the guitar is the center of the band.
Greg O'Rourke: Awesome.
Carl Orr: Yeah, it was a really hell of a gig and Sting wasn't performing much, but he oversaw the band and he sat in on performances and he talked to us and he was really great, very exacting how he wants things. But a total gentleman and a really, really great guy, I must say, I really enjoyed his company a hell of a lot. I just wanted to do my best for him, because he's just such a lovely person, and I just gave a 100%. I think he just brought that out in all the musicians, everybody, he wasn't too radical or superior in any way, just won people over with his warmth, and everybody just did their best for him, so that was a really great experience. And I'm glad I came away with a good impression of him because you don't know with famous people, if their greatness ends once they put their instrument down…
If you're keen to have a structured, step-by-step approach to learning jazz guitar, it might be worth checking out my online learning system, the FretDojo Jazz Guitar Academy.
Here's what you get when you join up:
Detailed step-by-step video lessons on new classic jazz tunes and essential jazz guitar skills added to the club website each month. Includes listening recommendations, demonstrations of the melody, analysis of the harmony, and detailed explanations on how to solo over the tune.
Key improvisation concepts and techniques for soloing, and classic licks and example solos that relate to each tune, so you can continue to expand your jazz vocabulary and have more options when it comes to soloing.
Detailed comping ideas to suit the style of each jazz standard covered
Lessons on how to make chord melody and solo jazz guitar versions of tunes featured – play a complete jazz standard completely on your own like Joe Pass!
Members only forum – A worldwide community of jazz guitarists from all around the globe.
Regular workshops, masterclasses, and Q & A Sessions – get direct answers from me on anything holding you back in the practice room. Replays of all sessions are available to access for all members even if you can't make it live.
Massive searchable database of jazz licks and soloing concepts – the ultimate idea "grab bag" for your solos.
Optional monthly challenges where members participate to get feedback on their playing, reach new milestones and be eligible for cool prizes.
Go here for more info: https://www.fretdojo.com/signup-offer
Greg O'Rourke: So in summary, you are obviously a musician in high demand Carl, and one that has huge amount of experience in the jazz genre, but obviously in other styles as well. So, we've got a lot to learn from you in your capacity as artist in residence here for Fret Dojo. So, we'll obviously get into that into the coming weeks and the courses that we're going to do, but just for now, can we have sort of a big bird's eye summary. What do you think are the most important things for a jazz guitarist, an aspiring jazz guitarist to focus on when they're actually practicing? Because of course, just by spending a lot of time on the instrument doesn't necessarily mean you'll get results. So what are the things that do you think students should be focusing on the most when they practice?
Carl Orr: Okay. I think, the older I get, the more I realize the importance of really, really basic things. So first of all, make sure you play an instrument that you like, it doesn't have to be an expensive instrument, but make sure it's an instrument you physically like the feel of, and you like the sound of. It could be a £7,000 pound handmade guitar, or it could be a really nifty Chinese made thing for £300, but just make sure you like the sound of the instrument and the physical feel of the instrument. I'm not a big collector of guitars, I don't have many, but I know what I like to play. So that's the thing, it's not specifically to do with jazz, but I think it's extremely important to have an instrument that you look forward to playing.
Secondly, again, not specific to jazz, the two most important things are to produce a good tone, with your hands. I play the electric guitar, unplugged a lot of the time to make sure my plectrum is doing all the work and the amp is just sort of amplifying what I'm doing with my hands.
Greg O'Rourke: Oh, that's interesting.
Carl Orr: Yeah. So, and I play acoustic guitar more than half my practice time as well, I really concentrate on projecting a good tone, so good tone and also playing time. When people tend to play out of time, it's usually because they're trying to do too much. When people drift out of time, play too fast or too slow, it's usually because they're overexerting themselves. One of the things I learned, the biggest lesson I learned from all of these great musicians I played with is, don't over exert yourself, always play within your limit and if you stick within your limits, as you continue playing, your limits will expand. Whereas if you overshoot and make mistakes continually or repeatedly as a result, then your limits don't grow, they don't, they just kind of wind up in a deadlock, so always play within your limits.
So anyway, specific to jazz I think the important thing is, learn songs, and especially concentrate on songs that you like. You know what? All the standards, there standards because they're of a certain standard, but I'm a big believer that you like, what you like, and it's well written as they all are, where I like some of them more than others as we all do. And I would definitely encourage you to concentrate on the songs you like best because you'll learn them a lot more quickly and more thoroughly. So that's the thing, is I think learning songs is the important thing. I think, to me the basics are, be able to play the chords fluently, be able to play the melody fluently, and if possible memorize both the chords and the melody before you start to improvise on the tune.
Some people don't work like that, I have a friend who is an amazing jazz pianist and as amazing as he is, he's not capable of doing that, but if you hear him play, he'll just blow your head off. So I don't say one thing applies to everybody, but I think generally, memorizing is a good thing for most people. But as I've said, I do know people who are amazing or certainly know more than one musician, who's absolutely amazing, who likes to have the paper in front of them as a reference and it actually helps them to play better. But I would say get really intimate with the tune, so you can play it off by heart or nearly off by heart with just minimal referencing to the notation.
I always feel if you're improvising and reading chords, you're doing two things at once. Whereas if you know the chords that one, you maybe just have to glance at them. If you know the chords and you're not looking, you're only doing one thing, your brain is just doing the one thing of improvising. So I think obviously it's not ideal for everybody, but I think the closer you can get to just improvising without reading that's a good thing.
Greg O'Rourke: I think it's a good practice technique, even if you feel you know the music on stage. I definitely think it's something everyone should try to do, at least in the practice room, like turn the page over and just see what happens sometimes. You'll be surprised, you think you know a song until you turn that page over, then you realize you still have a little way to go.
Carl Orr: Yeah, and I think it's, I don't know about you. I mean, one of the things I love about music is the effect that it has on your brain. When you're doing that, you're memorizing something that active memorization, your brain just kind of goes… and it's really amazing. I think it's quite interesting that a lot of musicians look very interested in neurology, and there's a couple of leading neurologists who are actually ex recording engineers, like Daniel Levitin, who's featured extensively in Stewart Copeland's recent documentaries about music on the BBC. He was a top notch recording engineer in the USA and he got more and more interested in what music is doing to the brain and his now a neurologist.
And another one is that I don't remember her name, but she was Prince's full time recording engineer for seven years, working around the clock with Prince as a young woman and she is now a neurologist.
Greg O'Rourke: Yeah, really.
Carl Orr: I think people become so fascinated with the effect of music on the brain, and I think there's something about that thing of memorizing your brain just goes, Oh yeah, give me more of that, I love that. It's really tremendously beneficial, your brain just is like singing.
Greg O'Rourke: I think what's interesting, about what you said then about the link between the study of the brain and music, is that… I guess as a musician, when you really deeply get into instrument, you start getting very interested in what the brain responds to. It's sort of your practice room is your laboratory, and you try this and then you notice the effect that it has. Because in the end, that's what it is basically, it is a way of studying the mind and sort of learning to work with your mind, and so I could really see that connection really clearly with myself anyway.
Carl Orr: Anyway, I don't want you to think I know anything about neurology because I know nothing, but I do know that my brain likes it when I learn a new song. And I do think it's interesting that people who are accomplished at music are interested in neurology, but mine is not an expert opinion.
Greg O'Rourke: That'll be the next podcast. Carl Orr talks neurobiology.
Carl Orr: That'd be a good listen, yeah.
Greg O'Rourke: All right man. Well, I think just a little short and sweet introduction to everyone. Carl's going to be connecting with a little high profile players that he's connected to, I'm going to bring them on the show. I'm going to be taking a little time out here and there because I'm in the midst of creating a brand new chord melody course, that's going to be coming out hopefully in just a few weeks, so stay tuned for that, I'm going to knuckle down over the next few weeks. So it's great to have you as an artist in residence Carl, and yeah, we're really looking forward to learning from you and you can share your wealth of, a lifetime of jazz guitar, knowledge and experience with us, and I think the students of the Academy, as well as all the subscribers from all around the world to Fret Dojo, are really going to benefit from you being with us. So thank you so much.
Carl Orr: Thank you, Greg. I'm very much looking forward to it.
Greg O'Rourke: Okay guys, we'll leave it there. Check out the website FretDojo.com, as I mentioned before, to get a lot of free resources to get you started on your jazz guitar journey. And make sure you check out the FretDojo Academy, which is the complete collection of Fret Dojo courses by myself and other wonderful guest instructors like Carl. Okay guys, until next time, look forward to hanging out with you on the Fret Dojo podcast. I'll talk to you soon.
Before you go…
Join my 30 Day Jazz Guitar Challenge
Instant access:
•  A step-by-step guide on building core improvisation skills
• Fundamental comping techniques to be a hero on the bandstand
• Discover the biggest mistakes made by aspiring jazz guitarists…and how YOU can avoid them
• The ultimate fast path for establishing a foundation in jazz guitar
• Instant access – find out more and sign up by clicking the button below: