The Nicolas Meier
&
Pete Oxley
Jazz Guitar Duo
An
Online Concert Event
By FretDojo.com
"A masterful performance of jazz guitar duets, from the comfort and safety of your own home…"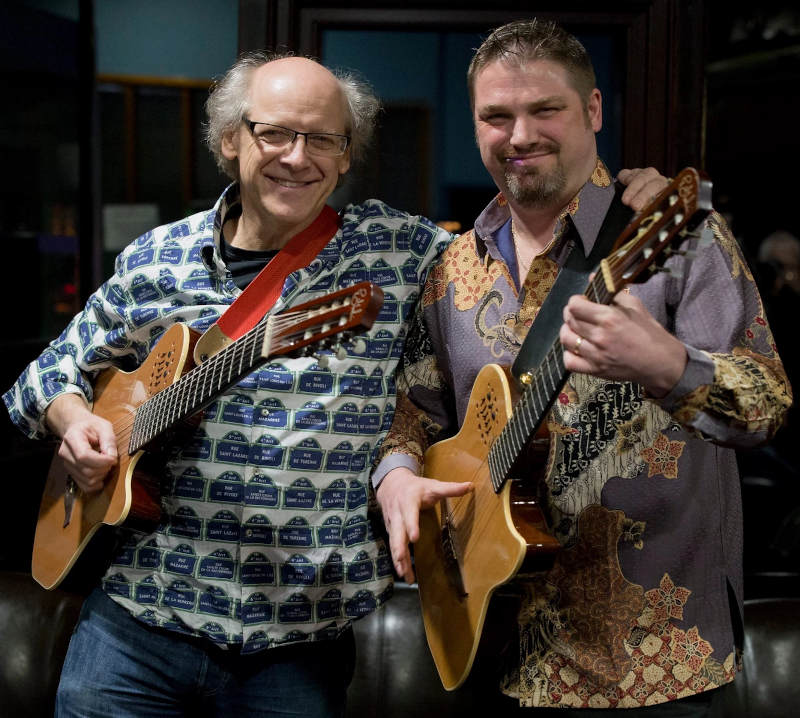 The Oxley – Meier Guitar project began working in earnest, following their second release in 2015, 'Chasing Tales', which was supported by three tours, totaling 90 dates. Pete and Nick then toured the UK and Europe a further three times, promoting 'The Colours of Time', also performing at several major jazz festivals over this time.
Expect a dazzling display of contemporary fare, ranging from Turkish panache to soundscapes of latin America to English pastoralism. Hear this played on nylon string, steel string, electric, 12 string, fretless, slide, guitar-synth, glissentar guitars and more!
For their live gigs, the Oxley-Meier Guitar Project aim to entertain by playing with a spontaneity and an intuitive interplay between them that keeps them fresh and fired up from gig to gig. The duo therefore comes to the performance with what they hope are the audiences anticipations: to expect the unexpected!
DATE AND TIME:
HOW TO ACCESS:
Access the concert via live video stream over the internet (compatible with all devices) – the link to the live stream will be sent to you upon receipt of booking.
TICKETS:
$19.99 USD
Ticket includes:
Live online concert and (access to video replay)
Bonus #1: Digital download of Nicolas and Pete's album 'Chasing Tales'
Bonus #2:  Download of FretDojo's recent video workshop with Nicolas Meier: Guitar Scales Unleashed
Nicolas Meier ~ Guitar
With his unique style that is a blend of Metheny-esque jazz and Turkish inspired world music, Nick has toured extensively around the world with his band the Meier Group. This wonderful band (featuring sax maestro Gilad Atzmon and Dave O'Higgins) won the overall prize for 'best band' at the Juan-les-Pins jazz festival!
​His recent album Kismet is a wonderful heady mixture of Flamenco, jazz, Latin and Middle Eastern music. His prodigious jazz talent is matched by his other great passion: playing heavy metal guitar in his scorching group 'Seven7'.
​Nick was, for the last three years, guitarist in guitar supremo, Jeff Beck's band, with whom he toured all over the world, performing at major venues and festivals. He has recently recorded a stunning album with the A-lister rhythm section of Jimmy Haslip (Yellowjackets) and Vinnie Colaiuta (Sting, Frank Zappa etc).
Pete Oxley  ~ Guitar  
Pete began his musical career in Paris in the mid '80s before relocating to the UK in 1997. Shortly afterwards he opened The Spin jazz club in Oxford which in 2012 won the Parliamentary jazz award as 'The Best Jazz Venue In The UK'. Pete regularly performs with some of the world's leading jazz artists including Chris Garrick, Gilad Atzmon, Tim Whitehead, Dave O'Higgins, John Etheridge and his own band Curious Paradise. He has now released 14 critically acclaimed CDs featuring his original compositions.
As a composer, Pete was selected as one of only a handful of British jazz musicians to have his compositions included in the definitive 'European Real Book' (Sher Music).
"Virtuosity across a range of guitars and guitar-related instruments…creating a sense of calm serenity."
"[Chasing Tales]…turns out to be one of the best guitar albums you will hear all year"
"Two masterly guitarists creating an array of changing moods."
Get These Cool Bonuses With Your Concert Purchase: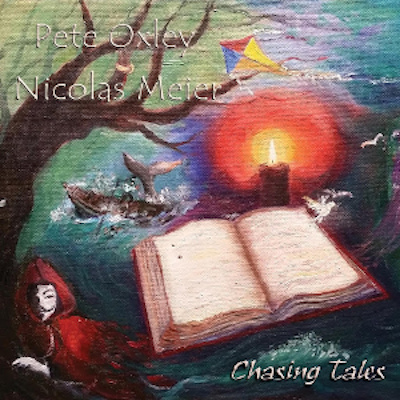 BONUS #1: Chasing Tales
by Pete Oxley & Nicolas Meier Album
Get a FREE complimentary digital download of Chasing Tales when you purchase a ticket for this exciting upcoming concert!
"The sheer depth of the album is outstanding. Looking at the listed personnel for this album blew my mind. Not only do Oxley and Meier have writing credits for eleven of the twelve tracks but they also play all the instruments that bring them to life. The fact that it only takes two men to achieve the beauty and warmth of Chasing Tales is a true testament to their level of ability and talent." ~ Review by Ben Calverley (excerpt)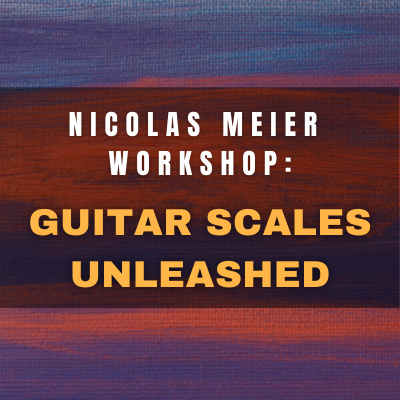 BONUS #2: Online Jazz Guitar Course:
Nicolas Meier Workshop: Guitar Scales Unleashed 
Nicolas goes behind the scenes in this very special video workshop, where he reveals his secrets on how to incorporate Turkish and Eastern inspired 'spice' into his jazz lines through manipulating scale patterns to great effect – and a showcase of his fretless guitar! Essential instruction for anyone interested in bringing more life to their improvisation on guitar. Presented by Carl Orr and Greg O'Rourke.
Watch Nicolas Meier & Pete Oxley's live performance of 'Riversides' from their album Chasing Tales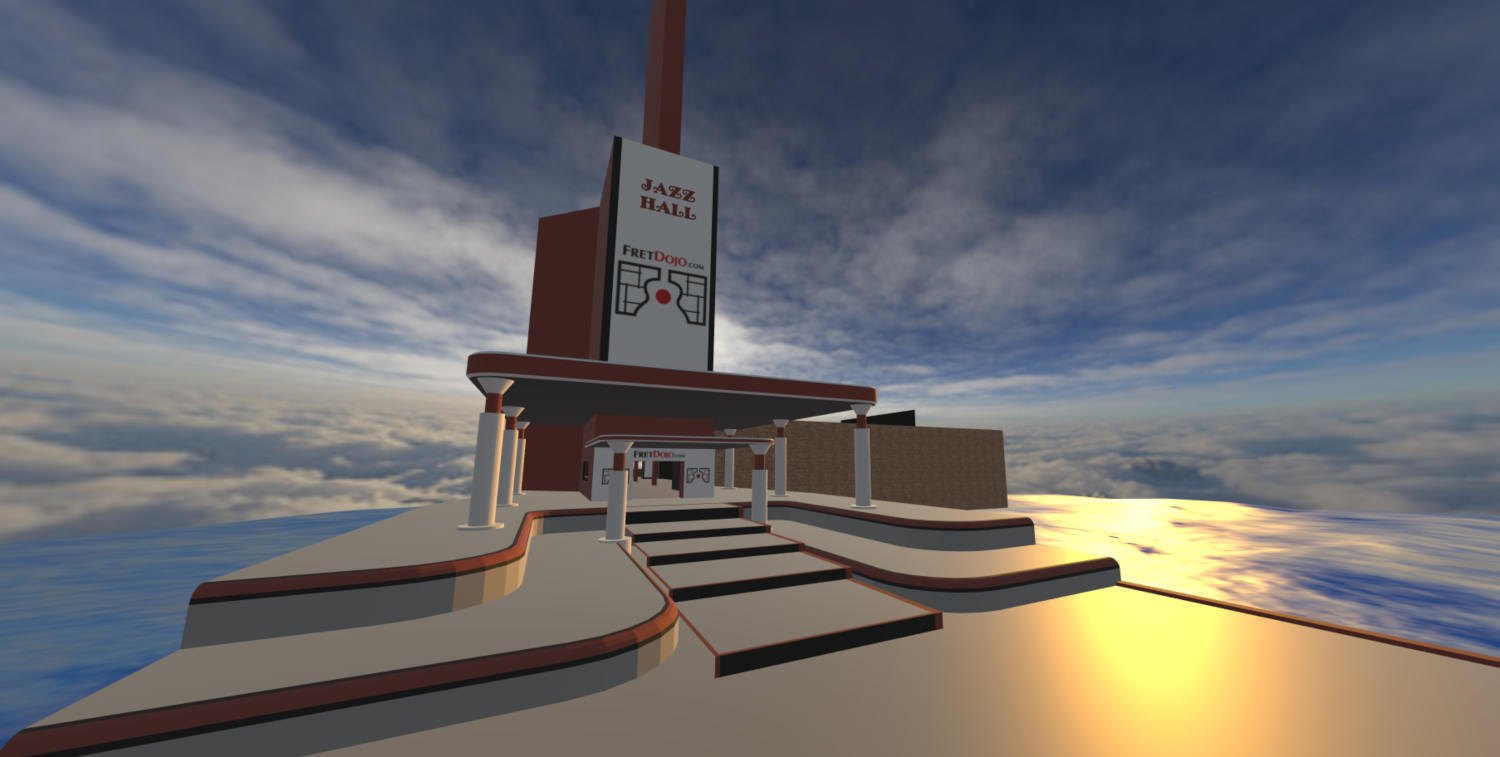 Try Out FretDojo's 3D Virtual Jazz Hall!
Experience the feeling of attending a live concert – from the comfort and safety of your own home! Interact with your fellow concertgoers in a realistic 3D environment, and get to socialize with the players after the show.
(Standard video view mode also available, compatible with all devices)


Any questions, click the green Help icon at the bottom corner of your screen to submit your enquiry.