Book Review: The Jazz Guitar Practice Guide by Matt Warnock
By Dr. Matt Warnock, DMA
eBook with audio examples, 178 pages
Published 2015
Price: $19.99 $14.99 – 25% exclusive discount for FretDojo.com readers!
(enter 'jazz' as the discount code at checkout)
Rating: 4/5 stars (Great)
The Jazz Guitar Practice Guide by Matt Warnock is a comprehensive go-to manual on the art of practicing jazz guitar, for all levels of ability from beginner to advanced.
This hefty 178-page manual is kind of like a 'playbook': a comprehensive compendium of ideas and best strategies for getting the most out of every minute of your jazz guitar practice session.
Why does this book matter?
Because so far, I haven't come across any other book like this, with a focus on how to make every second of your practice time count.
A book on this topic is long overdue, as how to practice jazz guitar effectively is a mystery for many aspiring jazz guitarists.
I'm excited to review this book as I've been interested to check this one out for quite some time. Read on for what I thought of the book and some of the main takeaways I got from each chapter.
But first…
About Matt Warnock
Many members of the Fret Dojo community are already well acquainted with Matt Warnock, one of the most highly regarded experts of jazz guitar instruction alive today.
Matt is certainly well qualified to talk about the art of jazz guitar practice, with degrees from McGill and Western Michigan Universities, as well as a Doctorate in Jazz Performance from the University of Illinois.
But that's not all…
Besides his academic qualifications, Matt has also played countless gigs with many high profile players around North America, Canada and internationally.
I've studied jazz guitar improvisation with Matt for many years, but until now I've not had an opportunity to delve deeply into one of his books yet, so this was an interesting process for me.
First Impressions
The first thought that came to my mind when I read The Jazz Guitar Practice Guide was:
"Why wasn't this written earlier?"
There are so many books out there on essential licks, chord soloing, comping and so on, but this book is the first time I've seen an integrated approach to jazz guitar practice being put forward.
When it comes to jazz guitar practice, there are many ways to skin a cat of course, but this guide outlines the most important exercises and drills to incorporate into your practice regime, and gives a solid framework for implementing them in a meaningful way.
A Stroll Through The Jazz Guitar Practice Guide
Each chapter in The Jazz Guitar Practice Guide fleshes out an aspect of jazz guitar practice in detail. The end of each chapter features a useful checklist of suggested exercises and approaches for each concept covered.
Chapter 1: Introduction to Effective Practicing
On the very first page of this chapter, one sentence I read really stuck out at me:
"One of the biggest problems jazz guitarists face is how to build a well-balanced practice routine." (page 5)
I couldn't agree more with this, in fact:
I think working out how to build a well-balanced routine is the number one problem for jazz guitar students.
I know this from personal experience.
Even though throughout my university studies I attended classes in jazz guitar, jazz theory, and even studied one-on-one with some very competent players, something that was never clear to me was how to actually practice jazz guitar.
Sure, I learned the odd lick here and there, worked on some comping over various tunes and could botch my way through a bunch of charts…
But:
To actually focus my practice time in an integrated fashion seemed totally bewildering.
Some of the key takeaways for me in this chapter were:
The importance of setting long-term goals (and short-term goals to meet them),
Working out how much time you can realistically devote to your jazz guitar playing each week, and
Tips on keeping a consistent routine.
This section also emphasizes the need to record yourself periodically for review – a great idea for any aspiring jazz player.
Chapter 2: Well-Balanced Practicing: The 7 Essential Elements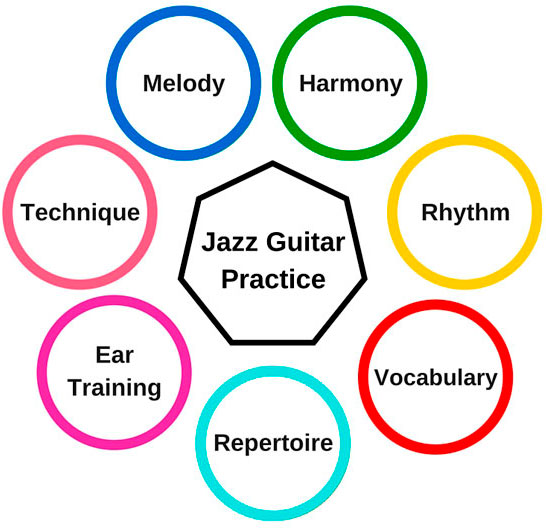 This chapter outlines the framework for the rest of the book, and lists the 7 essential elements for a well-balanced jazz guitar practice regime, which are:
Melody
Harmony
Rhythm
Vocabulary
Repertoire
Ear Training
Technique
Matt then gives a brief overview each of the elements and gives some sample exercises to work out each of these elements.
Chapter 3 – Building Technique
This chapter contained plenty of interesting ideas for building your chops, with creative and fun technical exercises to work out things like hand coordination, speed, and dexterity on the guitar.
But that's not all…
Something I found particularly useful here was the 'endurance' exercises.
These are practiced to extend how long you can keep the energy going in long sessions e.g. at a 3-hour gig call. This is something I struggle with sometimes as a gigging musician so I found these really useful.
One thing:
There is an abundance of great exercises in this chapter – perhaps a little too many! Something I would have liked to see here would be a list of 'essential' exercises, e.g. an "if you only had time to play 4 exercises, play these…" kind of approach.
Chapter 4 – Importance of Learning Tunes
Here's the best bit.
This chapter of The Jazz Guitar Practice Guide contains the real gold of this book and has many valuable lessons for any jazz guitarist, in particular:
"The story I often hear from people is that they were at a party and a friend handed them a guitar and asked them to play.

After tuning up, they found they had nothing to play but scales and a few chords, which didn't go over very well.

The best way to avoid this type of situation is to put a heavy focus on tunes when developing your jazz guitar practice routine." (page 53)
Likewise in my own one-on-one lessons, this is the biggest problem I see jazz guitarists fall into.
Bottom Line?
Even if you have an amazing technique or know every chord voicing in the book, you won't survive any gig or jam session if you don't have a solid repertoire of tunes under your belt.
Another important point in this chapter:
Pick one tune only and work on it for one month at least.
Why do this?
For newcomers to jazz, this point is often missed with students 'glossing over' tunes too quickly at the early stages, and thus not fully developing their foundational skills.
Other highlights of this chapter include using the melody as the basis for soloing, tips on comping, creating chord melody arrangements, and mastering walking bass lines.
I particularly enjoyed the innovative and fun improvisation exercises, such as limiting yourself to one fret position, and soloing on one string only.
How crazy is this:
There was even an exercise on soloing with just one finger!
Another valuable resource in this chapter is a great list of essential jazz guitar tunes that you can use for building your own set list and suggested practice routines for each level of study.
Chapter 5 – Jazz Guitar Fundamentals
This chapter deals with the "meat and potatoes" of jazz guitar practice, scales, arpeggios, chords and vocabulary.
Also contained are exercises for developing awareness of guide tones, and how to work with jazz guitar licks to develop your own sound.
Chapter 6 – Learning From the Masters
Here, The Jazz Guitar Practice Guide emphasizes how important transcribing is for any jazz musician:
"If you look back at the history of jazz, one thread that you'll find is that great players learned directly from those that came before them.

From Miles writing down Parker lines in New York clubs to Wes learning Charlie Christian solos, great players learn by imitating.\

Transcribing, analyzing, learning to play, and applying material and concepts from solos is a right of passage for any serious guitarist.

It'd be hard to find any player who has reached the advanced stages of jazz who hasn't transcribed at least a few classic solos in their studies.

Because of this, it's important to make time for transcribing in your studies at various stages in your development as a jazz guitarist." (page 129)
Included in this chapter are fantastic ideas for recordings you can use for transcription projects, classified by beginner, intermediate and advanced levels.
Here's the best part:
This chapter isn't just about what to transcribe, but what to do with a transcription once you've worked it out. Several practical techniques are outlined to integrate ideas and concepts used in a transcribed solo into your own playing.
Chapters 7 – 9: Suggested Practice Routines (Beginner, Intermediate, Advanced)
In these three chapters the book outlines, for each level of ability (beginner, intermediate, advanced), suggested practice routines and the level of knowledge that should be focused on for each of these three levels.
To be honest:
I found the suggested practice routines in this chapter a bit too 'piecemeal' for my liking, e.g. the beginner routine involves switching tasks every 10 minutes.
This might work for some people, but…
I found in my experience it's much better to focus all your energies on learning one tune at a time as the focus of your session. This tends to work out each of the seven elements in a more organic way.
Perhaps try both approaches and see which one works for you the best.
Chapter 10 – Practice Journal
The final chapter highlights the importance of using a practice journal to review each session in the woodshed.
Why is this important?
Keeping a diary of how you felt after each session, what you covered, and what you'd like to do in the next session should definitely be part of any serious jazz guitarist's practice routine.
Key Takeaways
Some of the highlights for me out of reading The Jazz Guitar Practice Guide were as follows:
Set long term goals for your practice session, and set short term goals as a way to reach the long term ones.
Sing as much as possible everything you are learning in your practice session!
Have an integrated approach to practice. Base everything you do in your practice session around learning a particular tune and apply all exercises on comping, technique, transcription, vocabulary, etc. on that one tune.
Record yourself regularly for self-assessment purposes
Learn everything from memory as soon as possible
Keep a practice journal and refer to it regularly
Pros:

Excellent ideas for working out each of the seven elements of jazz guitar practice.
Handy checklists at the end of each chapter
Has a nice meaningful structure to the book
Incredibly comprehensive
Loads of fun, creative exercises to try out in the woodshed


Cons:

A bit wordy – could be condensed by using diagrams
Suggested practice routines could have room for improvement
If anything it's a little too comprehensive – the amount of ideas and exercises in this volume could overwhelm beginners
Final Verdict
The Jazz Guitar Practice Guide is a wonderful reference book on every aspect of jazz guitar practice for students and teachers alike.
On the front cover of this guide is the byline 'The Complete Guide to Learning Jazz Guitar'. By and large, I would have to agree with this statement. If you're only to get one book on how to improve your jazz guitar playing, this would be it.
Now let's get this straight:
I think if you try to fit everything in this guide into your practice routine, you will be totally overwhelmed. But that's not the purpose of the book.
It's more like a "recipe book" for your guitar practice, rather than something you would read from beginning to end in one setting.
The Jazz Guitar Practice Guide is cleverly laid out in being able to cater for all skill levels, whilst still making sense as a single volume. It has a "pick your own adventure" kind of feel, rather than a one-size-fits-all approach, which I think is a real credit to Matt Warnock's teaching ability and understanding of his students.
So how can you actually use this?
I can see this book being beneficial when you hit a roadblock such as picking speed, rhythm issues or soloing challenges. By consulting the relevant chapter of the book, you'll find a plethora of ideas to resolve the problem.
Or, if you simply feel a bit stuck in your playing, you can just choose a page out of the book at random – there will likely be several exercises you've never tried before that might help you progress in new and exciting ways.
Bottom Line?
The subject of how to practice is probably the most confusing one for jazz guitarists, yet the most important. The Jazz Guitar Practice Guide is a definite 'must have' for any serious jazz guitarist's collection, and I think this will end up on every jazz guitar teacher's shelf as a handy reference: I know I'll definitely be using it with my students.
Special Offer – 25% discount for FretDojo.com readers!
Before you go:
You'll be happy to know that for readers of this blog, Matt Warnock has kindly offered a 25% discount on the book for readers of this blog! Click the link below and enter the discount code 'jazz' at checkout if you would like to purchase a copy at this heavily discounted price.
I can't emphasize this enough:
The Jazz Guitar Practice Guide is a definite 'must have' for any serious jazz guitarist's collection, so this is a good opportunity to get it for a fraction of the cost you would normally have to pay.
To purchase your copy, click here>>
Thanks for reading, and over to you. For those of you that have purchased The Jazz Guitar Practice Guide already, what are your thoughts? What did you find most valuable about the book, and what were things you thought could be improved? Feel free to leave a comment below.
Greg O'Rourke
BMus (Hons), ANU