FretDojo.com proudly presents…
Online Jazz Guitar Clinic with Howard Alden
24th of November 2017. 3:30 PM USA Eastern Time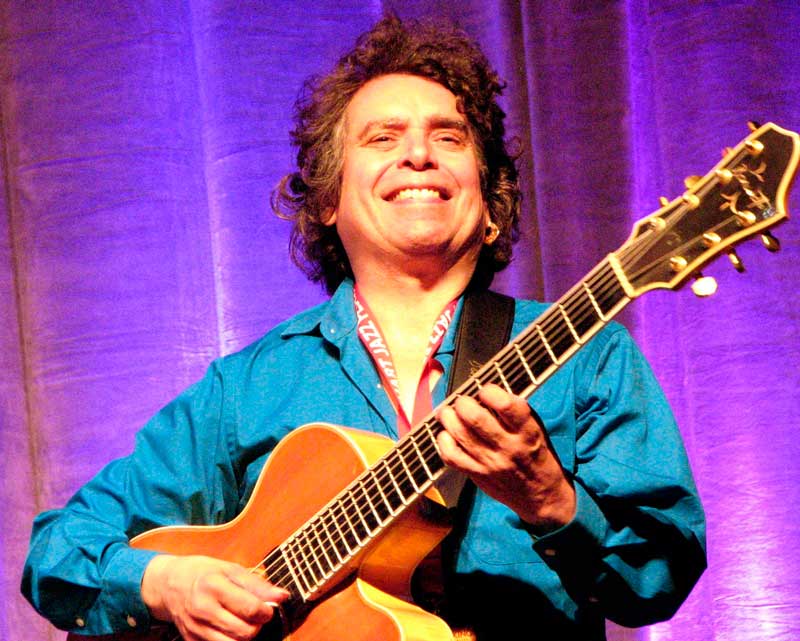 In this exclusive live clinic you'll learn:
The "practice room secrets" of how Howard Alden became a master jazz guitarist
The simple and easy tricks for jazzing up your melody playing like a pro
The shortcut to opening the door to effortless improvisation – through the simple but powerful 'parallel 3rds technique'
The top techniques Howard uses to make chord melody playing a breeze
Ask questions live and get feedback and personalized advice from Howard himself
Plus you get Lifetime Access to the recording of this masterclass
Workshop Ticket
 Workshop Features:

Access to an interactive online jazz guitar clinic hosted by Howard Alden
Opportunity to ask Howard Alden questions LIVE during a Q & A segment of the session

*BONUS*

Lifetime Access the workshop replay (Even if you can't make the workshop live!)
If you're an existing FretDojo Academy Club member, you'll get 20% off the workshop cost – down to just $39.95! (To get the discount, log in to your account before purchasing).
Limited number of seats available. Reserve yours today! 
24th of November 2017 at 3:30 PM USA Eastern Time
Frequently Asked Questions
What if I can't make the live session? Can I still book a ticket and get the replay?
Yes, that's correct. You can also submit questions to me in advance and I'll pass them onto Howard for him to answer in the session. That way, you still get all the benefits of being there, even if you can't make the session live. I'll send you a link to the replay shortly after the session concludes to everyone that books a ticket.
When exactly is this live online workshop?
The workshop will be held this Friday 24th of November 2017, 3:30 PM USA Eastern Time. (Hint: If you're not sure what time that will be in your timezone – Use this time zone converter tool to help work it out).
Who is Howard Alden?
Shame on you for asking that! Howard Alden is one of the leaders of jazz guitar in the modern era. His accolades include:
– Student the Guitar Institute of Technology in 1977-78 with Herb Ellis, Joe Pass, and Howard Roberts
– Collaborations with Dick Hyman, Dan Barrett, Bucky Pizzarelli and many others
– Alden recorded the guitar performances for Sean Penn's character Emmet Ray in Woody Allen's 1999 film Sweet and Lowdown – and taught Penn how to mime the performances for the film(!)
– Recorded many albums with Concord Records as well as other labels, including four with the famed 7 string jazz guitar innovator George Van Eps
– Has been the recipient of many awards, including: Best Emerging Guitar Talent, JazzTimes (1990), Guitar Player of the Year, American Guitar Museum (2003), Top 75 Guitarists, Down Beat (2008)
– Jazz critics have said of Howard Alden that "He may be the best of his generation" and "the most impressive and creative member of a new generation of jazz guitarists."
You can tell why I'm so excited Howard is putting on this workshop for you guys. You can find out more about Howard's accomplishments here.
How long will the workshop go for?
Howard has confirmed he is available for 2 hours for this special online workshop. The first part of the workshop will be Howard presenting on the topic (see below), whilst the second part will be devoted to the audience asking Howard questions about the content covered and anything else besides.
What exactly will Howard be covering in this workshop?
In the workshop, Howard's going to show you some easy but powerful techniques to transform your jazz melody playing, improvisation, and chord melodies by use of the 'Parallel 3rds' technique. Along the way, he's going to give you his top tips for making rapid progress with your jazz guitar playing based on his many years of experience as a world renown player and teacher.
How do I join the live session?
It's very easy – you just need to install the web conferencing software in advance of the workshop. I provide full instructions on how to do this when you sign up. The software works on all systems (PC, Mac and all mobile devices and Tablets). If you have the software installed, you simply need to click on a link in an email I send you and you'll get straight into the session.
How will I be communicating with Howard?
You have a choice between audio, video, and text based-chat, depending on what you're most comfortable with. If you just want to watch the session without interacting, that's perfectly fine as well.
Ok I'm convinced - how do I sign up?
Great! You can do so here.