Step 2: Complete!
Step 3: See Below…
EXCLUSIVE Coaching Upgrade:
For a limited time get HUGE DISCOUNTS on Online Coaching Packages with Co-Creator of the Fast Lane course, Stuart King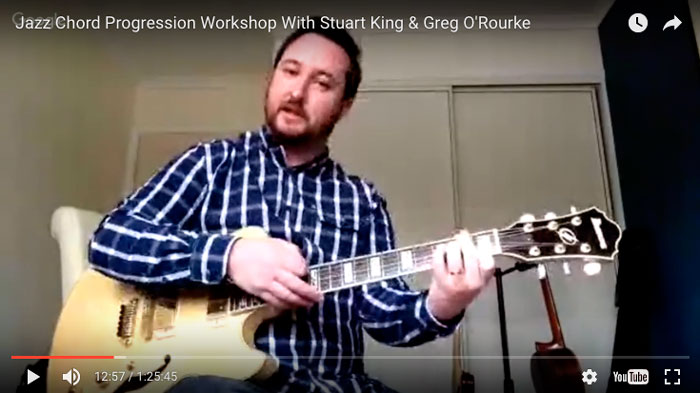 This is an incredible opportunity for you.
Here's the deal:
To a limited number of participants enrolled the Fast Lane course, Stuart King has generously agreed to offer personalized one-on-one online coaching to you – at an unbelievably (exclusive) discounted rate – keep reading for all the details.
Stuart doesn't usually offer this because he's a full time gigging jazz guitarist and needs to carefully consider what he can spend his limited time on…
But he's willing to make an exception for you because you are an early adopter of the Fast Lane online course.
This is a once in a lifetime chance to be able to work directly with a world leader in jazz guitar instruction – and a rare master of guitar technique.
If you'd like to nab this incredible offer, see below for what the options are.
But remember:
You won't see this offer anywhere else…and once you leave this page, this offer will be gone.
You're only seeing it because you're clearly a jazz guitarist that is committed to improving your skills.
This is the ultimate way to take full advantage of the investment you've just made in the Fast Lane course. Imagine being able to get individually tailored advice from Stuart in a live videoconference – where he will coach you directly on how to improve your biggest technical obstacles and relate it directly to YOUR particular playing situation.
You'll also have the chance to ask him about anything jazz guitar in general (soloing tips, comping, chord melody, harmony, or anything else) – any questions you have about jazz guitar will be answered in an instant.
We use Zoom.us for hosting the online coaching, which is very easy to use and suits all devices (computer, mobile or tablet).
Here's the thing:
Usually, Stuart offers live online coaching at a rate of $97 per hour for a one off session.
But, if you purchase a coaching option before leaving this page, you will be eligible for an unbelievable discount:
Coaching Discount Rates: (Time Limited Offer)
Book 1 Coaching Session: 

$97

$77 (You'll Save $20!)

Book 2 Coaching Sessions:

$194

$140 (You'll Save $54!)

Book 3 Coaching Sessions: 

$291

$195 (You'll Save $94!)
Sign up now to this upgrade before leaving this page, and you'll have a chance to get advice directly from one of the world leaders in jazz guitar instruction, using the latest in video conferencing technology. Times can be offered to suit your time zone and availability.
If you're seeing this offer, it means there's still spots left.
This is your chance – to finally overcome all your technical obstacles on the guitar, and bring your playing to a pro level, through the guidance of the master himself, Stuart King.
You can make your decision below…
You don't even have to re-enter your credit card. Simply select whether you want 1, 2 or 3 coaching sessions, then click the big green YES button below and you'll get this upgrade added to your order automatically:
Price Range:
WC 1CU Variable Product selectors will replace this text during checkout.