5 reasons you should upgrade your jazz guitar chops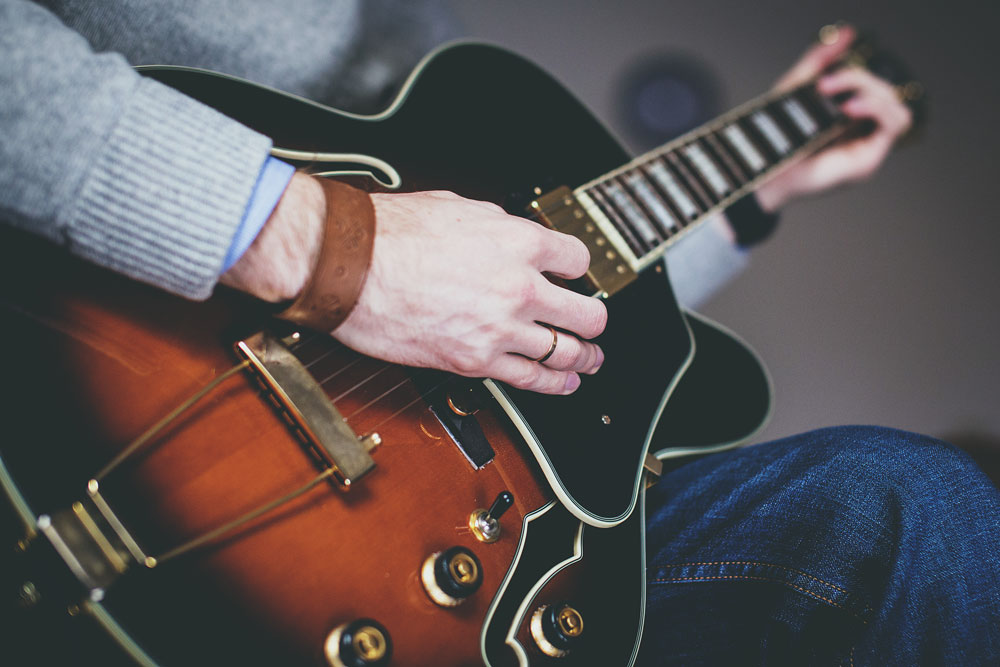 There's no doubt about it:
Technique (or "chops") is one of those things that often gets left by the wayside by jazz guitarists.
I want to show you why this is a horrible mistake to make, and why you need to include it as a core part of your practice.
Here are 5 compelling reasons why it's time to up your game:
#1 – Access to a far larger amount of jazz vocabulary: Good technique is a pre-requisite for attempting any transcriptions by Joe Pass, Charlie Parker or Wes Montgomery. If you can't play double-time lines or complex chord phrases, you'll be "left in the dust" without many options when it comes to vocabulary.
#2 – Greater expression on the instrument: Good technique is like driving down a four-lane highway with no roadwork or traffic jams – no obstacles between your musical ideas and your hands on the fretboard. Even your slower tempo material will sound far more secure if you have better technique.
#3 – More confidence/lower performance anxiety: Performance is like one of those science experiments kids do at school when they build a model building, and then put on weight on top of it to see if it will still withstand the tension. Poor technique is like a model made of paddle pop sticks, instead of steel. Performing adds additional 'stress' overhead on your playing, and good technique will improve the tolerance that you have to those situations – you won't "buckle" under the pressure.
#4 – Prevent injuries: This is pretty obvious. If you have poor technique you're walking a dangerous path towards carpal tunnel syndrome, tendonitis, musculoskeletal disorders and all sorts of other nasty conditions.
#5 – Make a good first impression at a jam session: Good technique is the first thing that other players notice about a musician, and first impressions last.
Now the exciting bit:
If you're keen to have a structured, step-by-step approach to learning jazz guitar, it might be worth checking out my online learning system, the FretDojo Jazz Guitar Academy.
Here's what you get when you join up:
Detailed step-by-step video lessons on new classic jazz tunes and essential jazz guitar skills added to the club website each month. Includes listening recommendations, demonstrations of the melody, analysis of the harmony, and detailed explanations on how to solo over the tune.
Key improvisation concepts and techniques for soloing, and classic licks and example solos that relate to each tune, so you can continue to expand your jazz vocabulary and have more options when it comes to soloing.
Detailed comping ideas to suit the style of each jazz standard covered
Lessons on how to make chord melody and solo jazz guitar versions of tunes featured - play a complete jazz standard completely on your own like Joe Pass!
Members only forum - A worldwide community of jazz guitarists from all around the globe.
Regular workshops, masterclasses, and Q & A Sessions - get direct answers from me on anything holding you back in the practice room. Replays of all sessions are available to access for all members even if you can't make it live.
Massive searchable database of jazz licks and soloing concepts - the ultimate idea "grab bag" for your solos.
Optional monthly challenges where members participate to get feedback on their playing, reach new milestones and be eligible for cool prizes.
The best part:
You can access this all of this and more for just $1 by signing up to a 14 day trial. Go here for more info: https://www.fretdojo.com/signup-offer
Greg O'Rourke,
Founder, Fret Dojo
World Leader in Online Jazz Guitar Education